Ganito ka nalang ba palagi??



Pagod kana bang sa katatrabaho??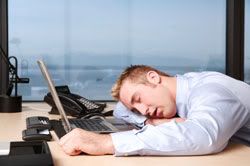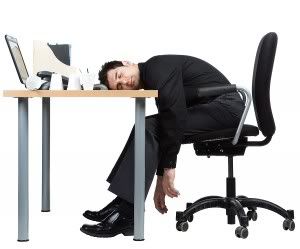 NO WORK NO PAY???




BAYAD, UTANG KANALANG BA??? WALANG NA IIPON???



MAY NATITIRA PA BA SA WALLET MO???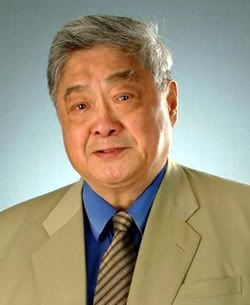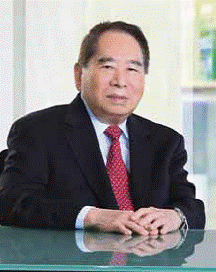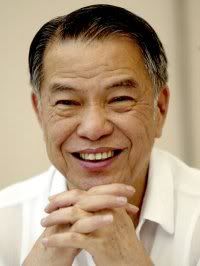 SILA BAKIT SILA MASAYA???

DAHIL MAYAMAN SILA!!!:D
KUMIKITA KAHIT NATUTULOG!!!
NAG SIMULA SA MALLIT NA CAPITAL, MGA DATING
ORDINARYONG TAO NA NGAYON MULTI BILYONARYO.
NAG NEGOSYO, NAG TYAGA, NANIWALA SA TAAS,
AT SA SARILI.

TANONG KO SAYO?


GUSTO MO BA MAG NEGOSYO???
EXTRA KITA, PART TIME MAN O FULL TIME
ANO BA MAGANDANG NEGOSYO NGAYON???
FRANCHISE FOODCART? COMPUTER SHOPS? SARISARI STORE?
ANG TANONG KAYA MO BA MAG INVEST SA MGA BUSINESS
NA YAN?? KAHIT ORDINARYONG TAO KA LANG???
DI BA HINDI???
MABABAWI MO BA AGAD ANG CAPITAL MO???
DI BA HINDI ???
ANO BA MAGAGAWA MO SA 4,000 MO?Smile
SHADES? IPOD? MGA DAMIT? PANG GAMIK?
TANONG, KUMITA KA BA???
YUMAMAN KA BA???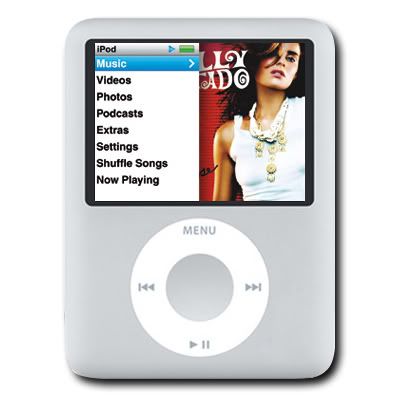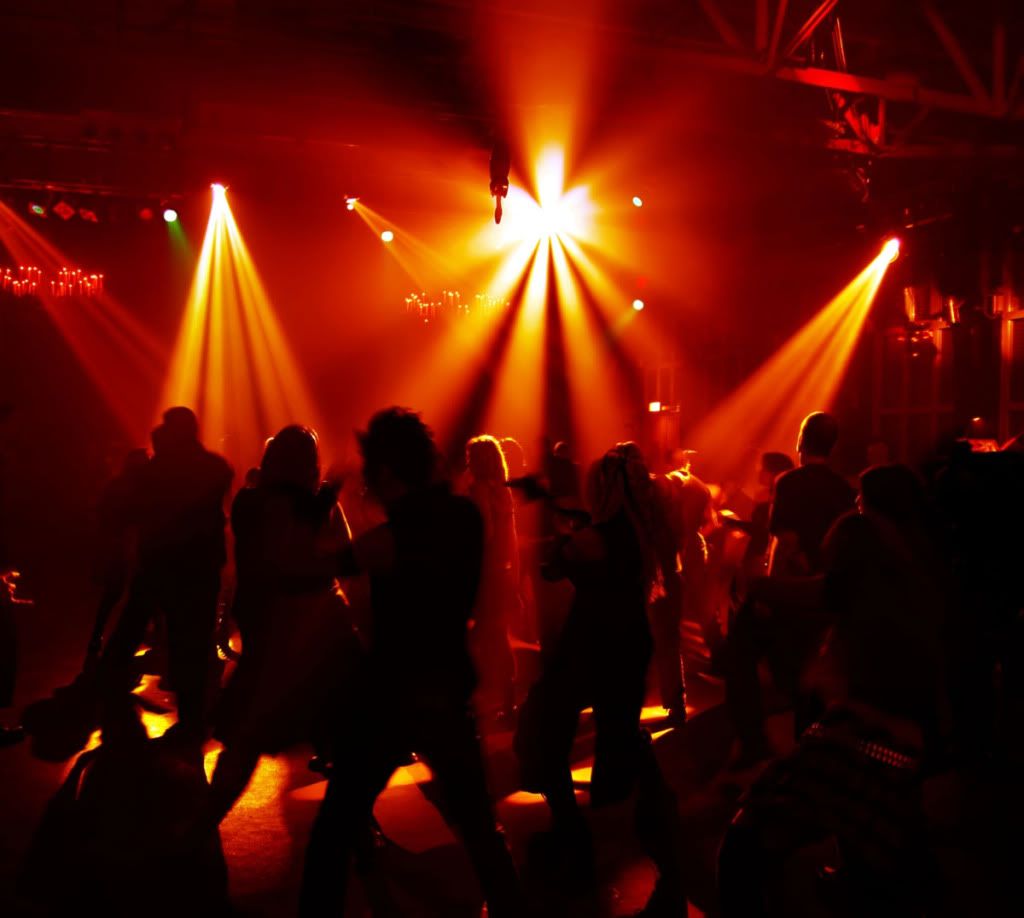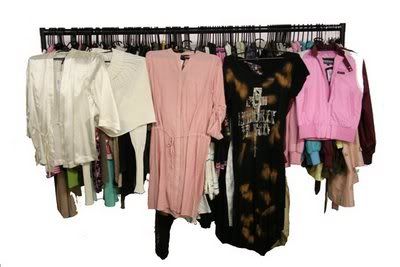 GAMITIN ANG CELLPHONE!!!


SUBUKAN MO TONG NEGOSYO NA TO!!
OOFER KO SAYO, PATOK AT KAKAGATIN NG MASA
ANG UNILOAD 1 SIM LOAD ALL ELOADING BUSINESS
SA HALAGANG 3,988 LANG PWEDE KANA MAG NEGOSYO
SA MALIIT NA CAPITAL PERO MALAKI ANG KITA !!!
GET INTO ELOADING BUSINESS 1BRO 1SIM LOADS ALL!!!

MY1BRO COMPANY IS A NEW ELOAD BUSINESS COMPANY!
Income of not only 5 ways BUT 8 WAYS TO EARN
1PHONE 1SIM LOAD EVERYTHING!
ANG MY1BRO IS PRO NETWORKER ANG INCOME 25% SA COMPANY AT 75% SA NETWORKER
UNLIKE SA IBANG NETWORKING COMPANY UPLINE LANG ANG YUMAYAMAN! UNG THE REST MAGTITIIS NALANG SA PRODUCT NA NKUHA NILA OR ONETIME PROMO NA BINIGAY SA KANILA...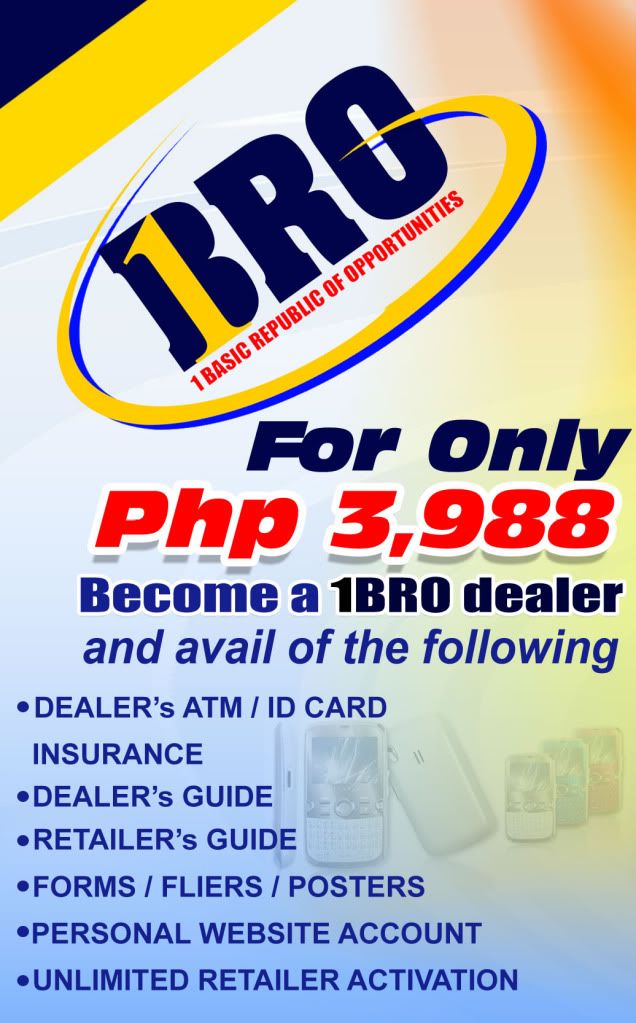 Be a Dealer of 1BRO (1 Basic Republic of Opportunities)

One Sim Loads All Dealership Powered by LoadCentral

Income of not only 5 ways BUT 8 WAYS TO EARN

THE MOST GENEROUS COMPENSATION PLAN as compared with other One Sim Loads All Companies.

COMPENSATION PLAN

WATCH THE VIDEO PRESENTATION!!
1. DIRECT SELLING OF LOADS.

Earn up

to

25% of loads for more than 400 Prepaid Products.
ex. P500 loads sell per day.
P500 x 30DAYS= P15,000 X 13%= P1,950 Profit/Savings per Month..
2. UNLIMITTED RETAILER SIGN UP.

1BRO Dealers can Register Unlimited RetailersEarn P200.00 each per Retailer Registration under your Account..

Not just 20 but UNLIMITED

Retailers ONLY AT

1BRO
Ex. 50 Retailers x P200.00 = P10,000
(sa iba, 20 Retailer Activation Card lang! Dito sa 1BRO, UNLIMITED PO! kaya san ka pa? )
NOTE: yung iba kasi ang akala yung 20pcs. na card na sinasabi sa kanila ni Pare V. ay prepaid card! SIM ACTIVATION lang po yun! Lagi kasi sinasabi 20pcs. x P250=P5,000 BAWI na daw agad ang capital! alin ang mas Maganda UNLIMITED RETAILER REGISTRATION x P200 sa 1BRO??? or 20pcs. x P250 kay Pare V.???
o pede mo naman ibigay ng libre diba??take note unlimited retailer registration tayo
3.GROSS RETAILER OVERRIDE

Dealers Override up to 5% from unlimited number of Retailers ONLY AT

1BRO
(Dun ulit sa iba, up to 2% Lang.. tsk!!!)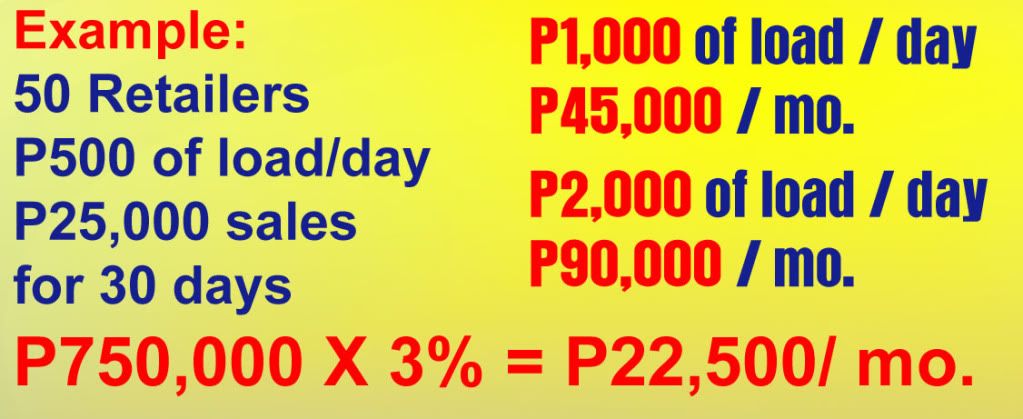 What if you have more than 20 Retailers?
What if they load more than P500/day?

4. DIRECT REFERRAL. Dealer can refer anyone to become a Dealer also and earn P500.00 per Dealer (Unlimited number of Dealers). ONLY AT 1BRO
Ex. 50 Dealers x P500 = P25,000



5. INDIRECT REFERRAL BONUS. Earn additional P50.00 for every referral of your Direct Referrals and Indirect Referrals up to 8th Level. ONLY AT 1BRO



6. PAIRING BONUS - No Flush Out. Earn P500.00 per pair. Not only 60 pairs BUT Maximum of 142 PAIRS A DAY. Earn not only 30K BUT up to P71,428.00 per day / 500K a week / 2M per month! ONLY AT 1BRO



7. LEADERSHIP OVERRIDING BONUS. Earn 10% - 50% from the total income of your 3rd to 7th Direct Referrals. ONLY AT 1BRO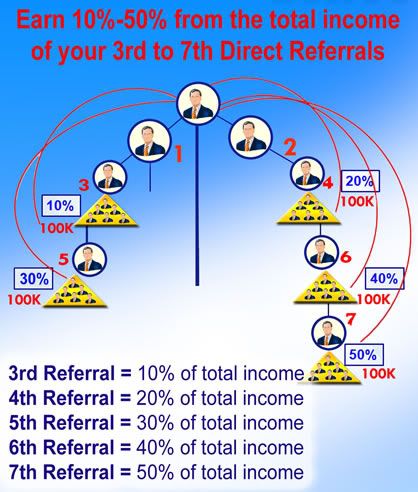 Not to be deducted from your Direct Referral's income (It is to be paid by the company)
Kaya ang bawat isa ay gaganahan ng husto para mag Direct Referral at kapag kumita ng husto yun downline mo, kikita ka din panigurado aside from pairing bonus.
EARN EVEN IF YOUR TEAM A AND TEAM B (Left and Right) is NOT BALANCED)

MERON BA SILA NITO?????? ONLY AT

MY1BRO

!!!!!!!
8. UNILEVEL INCOME ON PERSONAL CELLPHONE LOAD. ONLY AT 1BRO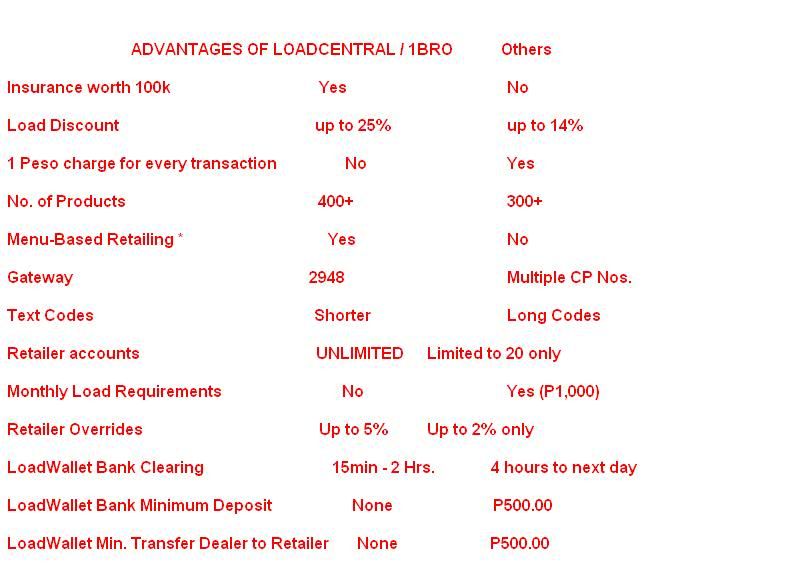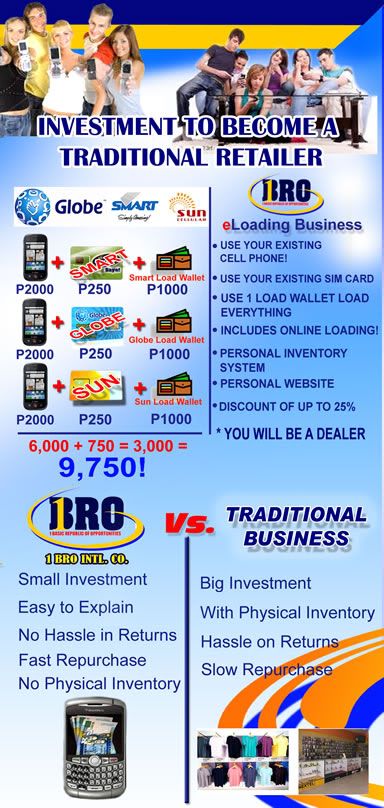 Why is LOADING BUSINESS so GOOD?
Everyone have cellphones and what do they have in common? LOADS!!!
Don't you know that loads are easier to spend on unlike other items?
No need to sales talk, demo, testimony or explain things, when you say LOAD!!! Everyone knows it.
You can bring it anytime, anywhere to any place like office, school, house, store, etc. and for sure you can save more from it.

WHY LOADCENTRAL??



FREE ang Registration o Activation just buy Loadwallet
No Text Cost everytime you sell load using the webtool and cellphone through 2948 gateway number
Minimum lang ang capital na kailangan pa-ikutin
Available lahat ng Prepaid Loads at Online Games
Wala kang problema sa stocks, walang risk na mawalan ka ng cards at hindi pa nag i-expire
Hindi nakatali ang iyong capital sa isang produkto lamang
Meron sariling System Generated Sales Transaction Report
Pedeng magbenta gamit ang iyong cellphone o sa Internet
Walang monthly quota na i me meet for Retailers and Sub Dealers
Ang iyong existing SIM na ang gagamitin
Dagdag kita sa COMPUTER SHOP o kahit sa SARI-SARI STORE nyo!



*with the use of Myphone Cellphones (otherwise, use text codes for other cellphone units)

HOW TO SELL ELOADS

<Product Code>space<Retailer's 6 Digit Password>space<Customer's Mobile No.>
SEND TO ANY LOADCENTRAL GATEWAYS
Example:
GMXMAX30 123456 09358712539

or Via Webtool
www.loadcentral.net
** Must Use Latest Myphone


BALANCE INQUIRY:
<BAL>space<123456>
Send To Any Loadcentral Gateways

GATEWAYS
09228504340 09209456856
09178662418 09209456857

FYI:

Before you read 8ways I donts PROMISE instants YAMAN instants business YES! to EARN more you need to buy effort, The good thing in this BUSINESS you can have UNLIMITED Retailers work for you and 8ways to EARN!!!!! pls read carefully... wag maakit sa magandang promo ng iba review the marketing plan!ANG PROMO ay 1time lang after that kikita kapaba? THE BEST BUSINESS ung kikita ka talaga lalo na pag masipag ka kumuha ng retailer mo or makapag sponsor ka. Ang ELOADS BUSINESS DAPAT PAG NAGLOAD KA WLANG BAWAS PERSONAL LOAD MO UNLIKE OTHERS

MY1BRO

was power by LOADCENTRAL which has own GATEWAY! anyway to give you more ideas pleased read carefully OUR MARKETING PLAN!
" Network Marketing gives people the opportunity, with very low risk and very low financial commitment, to build their own income generating asset and acquire great wealth. "
- Robert T. Kiyosaki, Entrepreneur and Author

It is hard to fail, but it is worse never to have tried to succeed.
-Theodore Roosevelt

Self-trust is the first secret of success.
-Ralph Waldo Emerson

The journey of a thousand miles begins with a single step.
-Lao Tzu
"Success in this industry is not in finding the right person, but in becoming the right person." – Dr. Forrest Shaklee, Founder of Shaklee
"You don't have to get it perfect, you just need to get it started" — Joe Schoeder, Network Marketer and Trainer


WATCH VIDEO
Contact:
SMART - +63-908-303-0196 (Verified)
GLOBE - +63-917-488-3146 (Verified)
SUN - +63-942-645-9954 (Verified)
Look for Raymond
How to Join and Start Load Business??
1. text me for schedule at
SMART - +63-908-303-0196 (Verified)
GLOBE - +63-917-488-3146 (Verified)
SUN - +63-942-645-9954 (Verified)
2. attend our

1BRO

Seminar/Orientation
@ our
main office UG10 MEGAPLAZA BLDG, ORTIGAS CENTRE, PASIG CITY
3. study the business, duplicate and help your team!


How about if your in province?and can't go to our office
Pwede ka pa din maging member at maging Dealer itext mo lang Ang Iyong (FULLNAME,ADDRESS,EMAIL AD)

At ipadala po ang Iyong payment sa kahit anong money remittance o sa BDO
at aming ipapadala ang iyong package kits(flyers,materials,tarpaulin,retailers at dealers guide)
sa LBC
Wag nang ipagpabukas pa, ngayon mo na simulan ang pagpapayaman mo para maabot ang iyong mga pangarap at mahawakan ang iyong sariling oras.
ABUTIN MO ANG IYONG PANGARRAP SA

1BRO

!