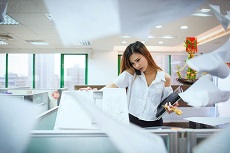 Every business has been there, particularly during the holiday or flu season; the Phone rings… and rings… and rings… going to voice mail or sending customers in a circle of pressing buttons until they give up. It's not fun for the customer trying to get hold of somebody, and it's not fun for the business suffering the guilt of not being able to meet expectations. But what can you do? How can you provide better phone answering services for your customers?
Well, the first thing is to test out for yourself what happens when no one answers your phone. Is the message they hear polite, welcoming and does it leave you with the feeling that the company really does regret that they can't speak to you? Is there hold music that makes you cringe? Do you get stuck in a frustrating loop of pressing buttons hoping a real person will pick up if you get the combination just right?
Yet, even with the most beautiful on-hold music, or the most enticing of voice messages, people who go to the effort of actually picking up the phone to call a business want to speak to a real person. So yes, you need to make sure your backup systems are in place, but in an ideal world you need someone providing answering services.
You could always try to forward the phone lines to someone's mobile and create a roster (unsure about phone forwarding? Learn more here: https://en.wikipedia.org/wiki/Call_forwarding); and that's possibly a great idea for a small business that doesn't receive many calls, doesn't work on international time zones and has people dedicated enough that they want to work beyond the office hours. In a perfect situation you just need more people answering phones.
As your financial controller recoils at the idea of increasing the payroll ledger, remind them that this doesn't have to be a permanent increase to your payroll, you can look at outsourcing phone answering to professional specialists.
The number of options for phone answering support is amazing. There is a lot of variation in the skills and expertise offered. Rather than being an add on, it has become a whole industry, and the advantage of this is that you can chose the answering service that fits your business perfectly.
Some business, particularly smaller organisations or businesses which are primarily on the road, such as plumbers, electricians and other tradespeople, may simply need someone who can answer the phone politely and schedule an appointment. However, businesses with hundreds of employees, receiving thousands of phone calls a day are more likely to need answering services that can transfer calls, take messages and maybe even provide a standard script of information.
Using a service that can provide your business with the phone answering support that you need makes most sense if the timing of your incoming calls fluctuates. It means that you don't have people on your payroll who are sitting waiting for phone calls for half the day then frantically patching calls through for the other half. Further news to make your accountant happy.
More than just keeping your accountant happy, hiring someone to provide you with phone answering services helps to keep your customers happy. Which in turn helps keep your staff happy, as they don't receive emails from upset clients who were unable to contact them.

Another excellent use of an outside phone answering service might be initial sales calls – we're not talking telemarketers, but people who can call your current clients to make sure that they are happy, do they need repeat business, do they need a top up of your product, should they be put through to their account manager? Imagine being an accounting firm having end of year returns out easily because someone had called your clients and reminded them what they needed to get to you. Or your cleaning business having constant work because someone can call your clients on a regular schedule to see if they need an additional spring clean service.
A phone answering service isn't there to replace your staff, but to make their lives easier, and to increase their productivity. Let your staff do the job you hired them to do and look at a professional service supporting you by answering your phones.