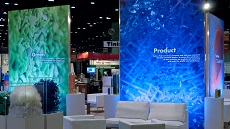 Over the last decades, trade shows have proven to be among the best platforms to generate Brand awareness and make sales. However, several businesses have been doing it all wrong when they attend such shows with purely sales and awareness goals. Non-sales-related objectives can significantly have measurable results to your Business as well without limiting the effectiveness of your program. Here are 7 reasons why you should become an exhibitor at a trade show. Please read on.
Gain Valuable Customer Feedback
Are you having a new product or service in development or are interested in improving your product quality? Perhaps you can use some customer input for the product and know how you can rank your customer-service skills. In-exhibit surveys, product comparisons, in-booth focus groups, and informal polls can be very effective ways to collect valuable data for your business' problems. You'll present the data to the management for them to make informed decisions concerning the business. You can create powerful presentations using Beautiful.AI presentation software for quality and convenient presentations.
Get to Know of New Developments in the Industry
Different businesses announce and display their new developments and innovations in the trade shows that can have an impact in your Industry. Attending such shows will give you the opportunity to learn cutting edge innovations and developments in the industry and associated opportunities that can benefit your business. You may decide to send both the sales team and technical team to the trade shows to stay up to date on the current trends, techniques and technologies.
Meet and Connect with Prospective Customers
Trade shows allow you to meet and connect with prospective clients in person. Establishing the connection will be easier and more convenient on trade shows than on the phone – you'll be just another voice. This will give you the chance to convince your clients and can sure establish some trust and make a good number of sales.
Introduce Your Workers to the Industry
Trade shows have proven to become a microcosm of any business participating in the show. These places can be the perfect options to introduce key individuals to the market and to bring new workers up to speed. The workers will get to benefit from the educational services, exhibits, and after-hours events. They'll get to meet and build relationships with existing prospects, customers, and key individuals in the industry.
Strengthen Your Bond with Existing Clients
Trade shows give you the chance to meet with both prospective and existing customers face-to-face and are effective in strengthening your relationships. And, perhaps, you'll agree with me that it can be almost impossible to convince a customer through email or phone to commit to large deals. However, this can be very possible with trade shows where you'll get to know your clients' long-term plans and offer them effective solutions.
Establish or Strengthen Your Brand
It's only in trade shows where you get similar access to prospective clients as your major competitors do. The displays and free giveaways allow you to strengthen your brand and position your business as a leader in the industry. This will provide a sizeable boost to your brand and can easily make it to an established industry leader – if you'll attract the right attention.
Expand Your Database of Sales Leads
Trade shows have the potential of giving you quite a number of qualified leads, unlike using phones – which could only give you several unqualified phone numbers. This number could hardly be reached while using outbound sales calls. This will give your sales team an opportunity to market your brands and you'll be working to fulfill the deals closed during the show.
Conclusion
Trade shows have countless opportunities that your business can enjoy. However, to enjoy such opportunities, you'll need to stop approaching the trade shows with only awareness and sales goals in mind. The above objectives are vital to establish your brand identity and hence improve your sales leads. These are just some of the most important benefits you'll get from exhibiting at trade shows. You can also look out for other relevant themed blogs to learn more about trade shows and benefits to your business.