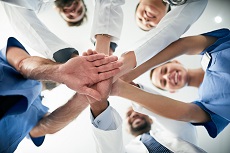 Marketing is one of the reasons that some of your favorite brands exist. It is a tool used in every business that enables a product, service, or brand to be noticed by their target audience. However, if you look deeper, you will see that successful marketing isn't the work of a single person; instead, it's usually the result of the joint efforts of a whole team. You may be the head of a marketing department, or perhaps you own your business and are looking for ways to build an effective marketing team, which applies to you, you're going to find out how you can do so below.
Hire Diverse Skillsets
One thing that will determine how well your marketing team does is the people you choose to hire. You should, therefore, put careful thought into this or evaluate the people you presently have on your team. One thing you should aim to do is hire people with diverse skillsets. For instance, instead of hiring someone who is solely excellent at sales, it may be better to have someone who has copywriting experience as well. By doing so, they should be able to solve problems that arise in your department a lot quicker as well as get a lot more done.
Provide Breakfast & Team Building
If you want to ensure productivity amongst your marketing team members, you can try providing them with the most important meal of the day; breakfast. Doing so should keep them energized throughout the day and help increase the chances of maximum productivity. Depending on the budget, you could offer something simple like fruit such as banana, dark chocolate, apples, and tangerines. Also, providing freshly brewed coffee every morning may also help give them the morning boost they need. For additional help and information about getting coffee delivered to your office every day, you can find it out online.
In addition to hiring diverse skillsets, you have to work on team building if you want a Strong Marketing team. There are a number of approaches that can be taken in this respect and a common one is carrying out regular team-building exercises. Although employees may be resistant, it should help break any ice there may be and teach your employees to work as a team. You could, for instance, decide to arrange a scavenger hunt where everyone breaks into groups and chases around the city. For something indoors, a board game tournament with games like Jenga or Uno would be ideal. Remember that team building exercises can be a lot of fun, so be creative and feel free to create your own.
Deploy Technology
Another vital way to build a strong marketing team is by getting the right technology. There are so many tools and software out there that help marketing teams reach their goals efficiently and quickly. For instance, apps, chatbots, and messengers are a great way of communicating with customers and answering questions or concerns. In the same respect, email marketing tools like MailChimp make it easier to carry out campaigns in a way that reduces the risk of mistakes and saves you time. There are various technologies for different aspects of marketing, so do your research and see which would work best for you. Don't forget to teach your team how to use the tools and software so that they get the most out of it.
Clear Objectives
Marketing objectives are so important as they help guide all of your activities as a team. If you want to get the most out of your teammates, you've got to ensure that everyone is on the same page. When setting marketing objectives, remember to separate them into four specific groups, which are profitability, market share, promotional and growth objectives. You also need to know what the purpose of your targets are, whether it be to get brand recognition or increase revenue. Ensure you go over these objectives on a regular basis to avoid confusion and a lack of direction. Also, clarify that everyone understands them and knows what their individual contribution to making them a reality are.
Building a strong marketing team often means teaching everyone how to work together. This is key because it's the only way that you'll be able to reach your marketing objectives. For starters, you could write a mission statement for your team so that everyone knows what they're working towards. This statement usually answers questions such as why you have a marketing team, what it does, and what it doesn't do. Also, remember that it should be clear and concise as well as outlining how you're going to achieve your purpose.
Make Market Research a Habit
Another core aspect of an effective marketing team is one that has the right research skills. Market research is one of the things that will make your marketing efforts worthwhile as it's needed to ensure you're on the right track. It can be carried out in numerous ways, but it also depends on how much you have to invest in it.
As a business, primary research can be useful as it tells you the interests of your market and customers. It is typically done through activities like surveys, phone interviews, and focus groups. Primary research is especially useful when you're segmenting your market and creating buyer personas. On the other hand, secondary research like trend reports, industry content and market statistics can be used to analyze your competitors.
Offer Rewards
When a team is doing well, it's important you offer rewards. Doing so should help encourage your team so that they put in more work. In addition to this, bonuses for meeting objectives and targets can make them feel like a valuable part of a team. Some rewards to try are paid days off, tickets to a theatre show, or a financial bonus.
Marketing is one of the lifelines of any successful business. As you will know already, it's needed to ensure a business sees the level of success it aspires to. Always remember that no matter how great your marketing team is, there is always a way to make them better.