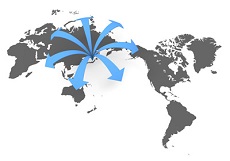 As consumers at large are more comfortable than ever shopping online, the concept of going international is becoming less and less of a pipe dream for digital brands. Meanwhile, the growing global economy worth tens of trillions of dollars is a potential goldmine for businesses who can cover multiple territories.
Whether it's someone working abroad in the United States to send remittance to South America or American expats living in Southeast Asia, the possibilities are potentially endless when it comes to how diverse any given Market can be. This spells good news for businesses who can equip themselves to hone in on new target markets and expand into territories where competition is scarce.
That said, online businesses do need to tread lightly when it comes to doing business in a new region or market. After all, Expansion can be the silent killer of would-be success stories that try to go through the process too quickly
As such, we've broken down four distinct expansion tips for online business owners who are mulling over the idea of entering a new market.
Do Your Due Diligence
This really can't be stated enough: you can't dive blindly into a new territory.
Whether through an in-person visit or digging on relevant government and agency sites, doing your homework will help you avoid any unexpected regulatory snags.
Another key point to look into is whether or not you have a slew of competitors in the region. This could be good news or bad news, after all.
On one hand, little competition could mean a window of opportunity. On the flip side, it might mean that your audience simply isn't there. Given the legwork involved in expansion, you can't afford to second-guess your market.
Make Your Website User-Friendly in Multiple Languages
Maybe this is a no-brainer, but you can't assume Google Translate will do the legwork for you when it comes to customers from a new territory.
There are multiple ways to translate your website to a new language which don't require you to start from scratch. That said, in some cases it might make more sense to have a second, foreign-language version of your site or storefront if your copy and descriptions translate poorly to your new audience.
Account for Global Shipping
For those selling physical products, this is a big one. Customers today expect fast shipping, but the cost of international shipping can quickly spiral out of control for certain territories. Not only that, but timing can be an issue as customers end up waiting weeks on end for delivery.
Setting clear expectations is an important part of expansion, and shipping is definitely one of the most critical pieces of the puzzle. If the costs or timing are just too inconvenient for you or your customers, you mind want to rethink your target market.
Take Culture in Account for Marketing Campaigns
Simply put, don't assume that marketing campaigns that work at home will necessarily fly when marketing abroad. Difference territories have different values, pain points and motivators when it comes to what makes them tick.
For example, the United States' difficulty breaking into the Chinese market isn't just a matter of regulatory red tape: there are cultural differences at play, too. Being sensitive to other cultures is easy to overlook when you are laser-focused on products, shipping and pricing. Even so, you can't afford to ignore the personal lives of your newfound customers.
If you're fortunate enough to have a business that's on the cusp of expansion, don't let your momentum go to waste. By sticking to these principles and taking a thoughtful approach to growth, you can go to market in a new territory with a newfound sense of confidence.