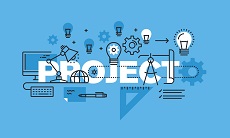 In today's world, projects are vital for the success of a business due to the fast-paced and constantly competitive market environments. A project is 'a temporary endeavour undertaken to create a unique product, service or result.' i In other words, projects are new initiatives that businesses undertake to improve their operations or to gain a competitive advantage over their competitors. Projects are characterised by uniqueness, something that a company has not undertaken before, and temporary nature ending potentially when the new practice becomes a new 'business-as-usual' output or outcome.
Many non-project Management post holders increasingly observe and become involved in a number of project management activities and may, therefore, consider transitioning to a project management career due to various attractive aspects associated with it. The same applies to individuals who aspire to become professionals and consider getting started on their career ladder by entering a project management.
Below are the 5 reasons why you should pursue a project management career today.
High demand
The Project Management Institute (PMI)® have identified 66 million project management jobs for year 2017 within 11 countries. ii This figure includes 1 million project management jobs in the UK in 2017. The number of project management posts that need to be filled is constantly growing and PMI® forecasts an increase of 33% (circa 22 million) within the next 9 years; by 2027. ii Demand in the UK is predicted to increase by 20% (200,000 new posts) and as such, there is likely to be a vacancy gap that many aspiring project management professionals could aim to fill.
Ease of entry
There are a number of globally-recognised project management certifications allowing aspiring project management professionals to gain the required knowledge, skills and competency level for the job. Getting certified in project management will enable you to evidence your readiness for the project management career, significantly improve your job prospects and increase your chances of getting a job offer for a project management position. The following 3 certifications are considered a good starting point in Project Management: APM Project Fundamentals Qualification (PFQ), PRINCE2® Foundation and the Certified Associate in Project Management (CAPM)® qualifications.
No repetition or boring routine
If you do not like repetitive tasks or get bored of them, project management is likely to suit you as an area where every day is different. You are likely to be undertaking different tasks each day depending on which stage of the project you are at. For example, you might be negotiating funding at the start, managing risks and issues in the middle and recording lessons learned for the end of the project, amongst various other activities and tasks required for a project's progression and success.
Putting the variety of tasks to the side, you may also find yourself working on projects of a completely different genre (tangible change / intangible change), industry (Telecommunications / Rail) or sector (Private / Public), for example, you may be implementing a new software solution on one occasion and managing the construction of a building project on another.
Thomas Brockway MAPM MCMI, Managing Director of Thomas Brockway Consulting Ltd, who has provided project and change management services across a number of different sectors and industries, said:
"For over 8 years now, I have worked in project management and found the profession to be highly attractive due to its variety and constant change. No two days are ever the same and for people who relish a challenge, are comfortable operating under pressure and want to learn new things, the profession is an ideal choice."
Progression opportunities
There are a variety of roles within project management such as Project Assistants, Project Co-ordinators, Project Leaders, Project Managers, Senior Project Managers, Programme Managers, Portfolio Managers, Programme Directors and Project Sponsors. Therefore, there are plenty of opportunities within the project management to enter from and choose between, alongside the variety of industries and sectors the profession is available in.
Project management is required in most of the industries today, but the breadth of opportunity does not cease there as the project management skill set includes specific competencies such as communication, human resources and procurement. Therefore, it enables project management professionals to transition into other disciplines by bringing cross functional knowledge, skills and experience. By realising the synergies between your experience, skills and knowledge, you could unlock the opportunity to market yourself, change career and secure the job and career that is right for you.
Good earning potential
According to a 2018 PMI Survey, $81,000 USD is the median annual salary of Project Management Professionals with $81,227 USD (£65,000) median annual salary specifically in the UK. iii Also, the trend is observant of certified professionals earning up to 20% more per annum when compared to those who are not certified.
As per the overview above, with its benefits and opportunities, project management might be a good career choice for you, so why not take the opportunity and see where it takes you?