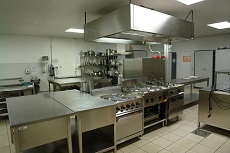 The Restaurant industry is extremely competitive and getting the details right can be the difference between a successful chain and a restaurant that closes after only a few years. Most people starting a restaurant have worked in the industry before but have not been responsible for purchasing key materials such as the raw ingredients and the appropriate commercial kitchen equipment. In addition to the cooking appliances needed, ventilation Hoods, fans and ductwork also have a lot to do with how productive, comfortable, safe and clean a restaurant kitchen can be. This article will focus on the two main kinds of restaurant hoods- Type 1 and Type 2, which differ immensely and depend on what you need to have filtered out of the kitchen air. The following overview discusses how type 1 hoods differ from type 2 hoods and how they each benefit restaurants.
Type 1 Hoods
Also known as smoke hoods, they are designed to remove heat, smoke and oil vapor from the air. Everyone knows some appliances in the kitchen will create grease and smoke, the cooktops are the perfect example of this. It is important that these smoke hoods do their jobs to maintain good air quality and reduce the risk of a grease-induced kitchen fire. Those kitchens that do quite a bit of deep frying are going to need powerful smoke hoods as the grease produced from frying is immense. The ducts for Type 1 hoods must be installed in an area where the ventilation system reaches from inside the kitchen to outside of the building. This can sometimes limit the areas in the kitchen where one can actually position a smoke hood. These type I hoods are often seen in BBQ and Southern food restaurants where the smoke is a constant.
Type 2 Hoods
The main difference between Type 1 and Type 2 hoods is that these do not go above grease producing appliances. Type II hoods, also known as condensate hoods, are placed in an area where there is plenty of condensation and high temperatures. That environment is a breeding ground for bacteria which is obviously bad for both your staff and patrons. This means restaurants doing a lot of steaming should have these condensate hoods, and most large restaurants will have one for their dishwashers based on the high volume they do.
As you can see, condensate and smoke hoods both serve an essential role in running a successful restaurant. Do not skimp on commercial cooking and kitchen safety equipment as that would only set your business up for failure. So, don't let your dream of running a successful restaurant evaporate from a fire that could have been prevented.