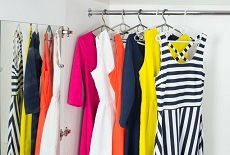 The internet is one of the best places to do Business, and the copious technological advances in the past years have only made it easier. Industries, from food to sanitation, have flocked the internet marketplace to reach their audience. Fashion is among the many things making a lot of noise in the e-commerce industry.
Majority of clothing stores are launching websites left and right to cater to the demographic that prefers online shopping to the actual mall browsing. But major stores are not the only ones benefiting from the ease of selling online. Small businesses are practically flourishing, especially independent online clothing stores.
Interested in taking your clothing business online? Here are a few essentials to help you start.
User-Friendly Website
Your website is where you are selling your clothes. Just like a physical shop, it has to be easy to navigate. Customers should be able to easily find the products they want, browse through what's available, access their shopping cart, enter their information, and do a number of things while shopping.
Your website should also suit the demographic you're serving. If you're targeting the young demographic, your website should have a trendy aesthetic while maintaining functionality.
It should also be mobile-friendly since majority of young people mostly use their smartphones for online things. For the senior demographic, you should focus on being clear, straightforward, and easy-to-use.
Interested customers will head to your website to know more about your business, so create one that's informative and helpful. Include pages about your business, frequently asked questions, and contact information.
Catchy Brand Name, Tagline, and Logo
An excellent brand name, a tagline, and a logo are essential marketing tools. With something catchy, you can embed your brand into the minds of your target audience.
Be creative. Try different ways to create your business name and tagline. For your brand, you try using your own or a nickname, like Disney, which was name after its founder. Or you can take a page from Nike, which took its name from the Greek goddess of victory, and borrow from mythology and literature. Your tagline should also be short and sweet but no less compelling.
For the logo design, consider commissioning a professional to create it. It may cost you, but you'll be using it for a long time, and it will be the basis for further design on your website, Social Media accounts, and promotional materials.
Social Media Pages
Social media platforms are a boon to small-business entrepreneurs. There, you can market your products and reach out to your customers for free or for a small fee.
Social media is also where you can build relationships and join conversations to get the word out about your business. You can leverage your Social Media Accounts to stay updated and be relevant to your target audience. Learn how you can do that with this helpful guide.
Attractive product photos
Customers look at photos first before they look at the price or read descriptions because people are visual creatures. The ideal product photos should attract and convince customers to click and learn more about the clothes you're selling.
Learn how to take photos of clothes for your online shop. You don't need expensive equipment. An excellent smartphone camera, a clean background, and good lighting can go a long way.
Competitive Pricing
Pricing is one of the primary selling points of a business. You have to ensure that you have to come up with competitive pricing. Otherwise, you risk being brushed off by budget-conscious customers (who are likely to make up majority of potential customers).
Do your research first. Compare the prices of similar shops. See if it's feasible to offer lower prices without undercosting.
Pricing too low can be detrimental to your business, as much as pricing too high can. Learn how to price products properly to avoid future problems brought about wrong pricing.
Helpful Descriptions
After pictures, descriptions are the next customers check to know about the product they want to buy.
Whether you're selling used clothes or new ones, you have to write helpful and honest descriptions of your product. Include the color, clothing materials used, defects (if there are any), and special instructions on the description. Be creative, but don't lie.
Without the physical experience of seeing, touching, and trying on the actual clothes, you customers will rely on the information your provided to determine the quality of what they're buying.
You can market your clothes with attractive descriptions, but don't disappoint your customer by setting wrong or too-high expectations. They won't return to your shop once they know they can't trust your business.
Excellent Customer Service
Another primary selling point is excellent customer service. Customers pay for a pleasing experience as much as they do for quality products. As a business owner, you place priority in providing your customers with a shopping experience that will leave a good impression and make them come back for more.
The way you handle your customers and their concerns will be one of the deciding factors if you gain a loyal following or not.
Reliable Shipping
Your obligation to your customer doesn't stop until the products they buy are in their hands (and even after that). They may be satisfied by the great customer service and low prices, but it can all be undone by a bad shipping experience.
Before choosing a shipping service, get familiar with everything that has to do with product delivery. You have to pick not just the most affordable service, but also the most efficient and reliable one.
Final Thoughts
Opening a business requires a lot of preparation, even when you're doing it online. But compared to opening a brick-and-mortar shop, launching an online store takes lesser time, money, and energy.
You can successfully open your own online clothing store if you cover the basics, from a user-friendly website, to marketing tools, to quality products. The online marketplace is not short of customers and clients. With patience, vigilance, and hard work, among others, your online clothing store will also flourish.