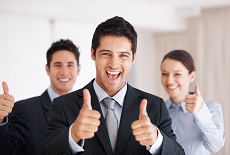 The success of a company largely depends on its employees. They are the face of your business in front of your customers. Having a bad Employee face off with a customer is not only bad for that one customer, but when he tells 10 of his friends and family members about that bad experience you stand to lose lot more customers. This is why successful companies such as Amazon and Google spend so much time, money and effort to make sure they hire the best talent and keep them.
The question is how do you find the best talent?
Use employee referrals
Your current employees are the best bet for finding the best talent. The fact that they are working for your company means that they are the best talent you could find. There are high chances that they would refer other employees of similar caliber and whom they believe can fit-in with the culture of the company.
Employee referrals also know the goals of the company and its culture, which removes a lot of guesswork for both the employee and the employer. Also, candidates who are referred are assured that a previous colleague or a friend wouldn't refer them to a company that has unclear goals.
Statistics show that referred employees have a higher satisfaction with their jobs at 65% and they have more confidence that they can fulfill the requirements of the position.
For this to work, you need to set up an employee referral bonus program that specifies how the program works.
Internal mobility
Your already existing best employees can fill other positions in your company as they progress in their career. Other than ensuring you have the best talent for a particular post, it also helps to retain employees as they progress in their career. The company should always be on the lookout for the upcoming internal talent that can fit into a particular position.
However, be careful not to mismatch an employee with a particular role. Ensure you hire an expert in a particular field in the position.
Internal talent acquisition helps to save time used to fill positions, motivates and adds value to the employees and helps in employee retention.
The biggest cause of employee attrition is lack of career growth in a company. Therefore, by hiring internally, you keep the best talent and at a lower hiring cost.
Use recruiters
Recruiters, employment agencies or headhunters can have a better chance of finding the best talent for your company given that they have a large pool of candidates.
Note that you will be required to pay a fee to the recruitment agency, which can be fair in comparison to the cost of the time you could have spent looking for the best talent.
Just make sure you use a professional recruiter who has access to the best talent and has the required tools to weed out candidates and be left with the best.
Recruiters can also reach out to passive candidates who would not be actively looking for employment.
Also, the best recruiting firms have HR experts who have the skills to assess the right candidate for your company, advice you on the best candidate and negotiate job offers for you. They know the market; know where they can find talent, their skill sets, career expectations and salary rates.
Recruiters take a shorter time in finding the best talent than the company would, considering that they schedule interviews with the candidate, verify candidate's information and communicate with the applicants.