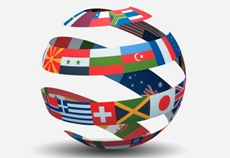 The technological advances in recent years have enabled any Business, no matter how small, to go global. You can reach to customers anywhere in the world with a website, you can warehouse your products in any country and even ship them to any place from wherever you are located. No wonder many start-ups and small business owners are doing significant business globally. Before you embark on this global journey you should learn few things about selling globally. Use these tips to prepare yourself before jumping in.
Pick the right country
The first step is figuring out where you want to plant your international roots. Different companies have different priorities and objectives when it comes to international expansion, but ultimately basic logistics and government policies will dictate how suited a country or city is for your company.
When considering potential international locations, you need to consider; access to talent, access to markets and Language barriers. Expanding to a country that speaks the same language and has little tax barriers like levy's, will be a lot more straight forward than expanding to an isolated country that speaks a different language.
Understand cultural differences
Working abroad can be stressful. Aside from language issues, even basic things can seem unfamiliar, whether it's attitudes to personal space, using public transport or simply finding everyday items. So, if you are going to move employees to a new country, need them get to know the country and its people before deciding to stay long term.
Make sure you get help in the countries you want to move into. Trusted business partners and professional advisers with expert local knowledge are critical to developing a successful overseas business strategy. They can help you navigate complex issues such as local workers' rights, protecting your intellectual property rights, and dispute resolution.
Find international shipping for your products
If you are planning to stay in the country you are in, but expand your business internationally, then you need to find fast, and reliable shipping for your products. You need to find trusted international shipping before you think about anything else.
Try find a delivery service that will do most of the heavy lifting for you and organise delivery using the most cost-effective and efficient carrier which suits your timing and tracking requirements.
Set up a global team
Even if your start up doesn't employ too many people, you should make sure that you have a separate department for your international dealings.
Set up regular check-ins to help make sure that teams based abroad don't feel as though they're on their own. Make sure you are patient with the international side of things because they can take much longer to show success than domestic business.
So, follow those steps to put your best foot forward when taking your start up to a global market and you should reap the rewards that come with doing business internationally.