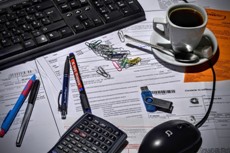 Running a small Business means having few employees at first. You can't afford to pay for several employees at once, especially since you have already spent a lot building the business up. The good thing is that there are online tools that can substitute the need for more manpower. Using these free tools, some processes are automated while accuracy is not sacrificed. Online Invoice generators are among them.
You issue an invoice to your clients to ask them to pay for the products or services you've provided. Once the invoice is issued, they will pay you and you will close the transaction or move on to the next. Some clients tend to be very particular with the details written on the invoice.
It takes time to make one if there are several details that need to be included. This is true especially if you are using the old technique of paper and pen. This can be done online now through a free invoice builder, and you should consider the benefits you will get from these online invoice generators.
Automatic invoice generation
There is no need to manually put the information needed. You don't have to ask an employee to spend several minutes or even hours creating just one invoice. Everything can now be managed online. Just enter the relevant data into the system and it can automatically generate the invoice. The specific amount plus the taxes will becalculated based on the relevant data entered.
You can generate invoices any time
As a business owner, you might be travelling all the time to make pitches or meet with potential clients. Even while you are on the go, you can still generate an invoice and provide this to your client right away. The invoice generator will do it for you. This helps a lot since business transactions progress even if you are physically not present in the office to work on certain documents. Being able to generate invoices in real time hastens the process and this is a good thing for your business.
You are now moving towards a paperless office
You will significantly reduce paper use when you digitize everything. Rest assured, if you have clients who still want to see their invoice as a paper document, they can do so by printing it on their end. It is their choice. On your side, everything is online. You might say this is just a simple change, but you can save more money by transforming your office into a paperless office.
Accurate information
With the automatic invoice generator, you are guaranteed that the information is accurate. You can also easily keep track of the invoices and match them with your records. You are certain that you are not losing anything in the process. You will not look back and realise you have missed a payment.