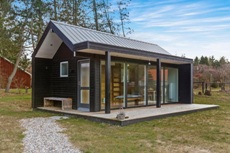 Over the last couple of decades, house prices and availability have started to make it hard for new buyers and investors to get a foothold in the field of property. With many people struggling to make the deposit they need, it's easy to see why you need to look at another approach. Building your own home is often cheaper than buying the one that is already around. Of course, this project will be a massive one, and most people will want to wait until they have some experience before they get started.
An Extension: When you already have a perfectly good home but lack the space you need to be comfortable, it would be a shame to throw away what you already have and start fresh. Instead, you just need to find a way to build onto your existing home, and this can often be done in the form of an Extension. This is a great way to begin on your journey into home building, as won't take long for you to get into the rhythm.
A Cabin/Shed: Of course, in some cases, you may not be allowed to build an extension on your home, and this will leave you looking for other options to help you. If you have an outdoor area with a good amount of space attached to your home, building a cabin or shed can be a great way to avoid having to get planning consultants to guide you through the process. A lot of these options come packaged like flat pack furniture and won't be hard to put together at all.
Something Smaller: For some people, the idea of working hard on something large only to move onto a full build later won't make much sense. Of course, though, you don't need to build a house to learn the skills you need, and there are loads of other projects which could teach you what you want. For example, if you were trying to learn how to lay bricks, building an outdoor pizza oven could be a great way to do it.
The Learning Curve: When it comes to a skilled trade like construction, there will always be a steep Learning Curve which can put a lot of people off, as it makes the work very inaccessible. With the right time and energy, though, it should be nice and easy to start making a big difference to your skills. A lot of people find it hard to know where to start with this sort of project, making something small one of the best options there is.
Hopefully, with all of this in mind, you will be ready to get out there to start improving your construction skills. This is one of the oldest professional fields in human history, making it extremely diverse. Along with diversity, though, you will also find plenty of guides and support to make sure you're going down the right track. In some cases, you may even be able to get some professional builders to help you if you find the right forums.