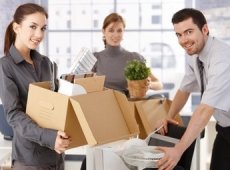 As a start-up business, you will experience many exciting events during your growth, including the prospect of a move to bigger and better premises.
Moving offices can seem quite straightforward on paper, whereby you can just simply pack up and go. But if mistakes are made it can be a disruptive period and have a negative effect on the productivity of the business if any additional downtime that was not accounted for occurs.
Avoid these 5 common office move mistakes below to make the whole moving process run as smoothly as possible, saving you time and money.
To have not fully assessed the new office space
When making the decision to move offices, it is important to make a list of requirements for your new office space and categorise them into 'essential' to your business running efficiently and 'can be negotiated', which would just be nice to have. When looking for new premises, be sure to fully assess the space and Ensure it meets your initial criteria.
An often-deciding factor to move, is that the current space is too small. In selecting a new space consider if the pace of growth of your business is reflected in the availability of space in the new premises and that it can accommodate the growth in number of employees and additional equipment and furniture when necessary.
It is also recommended to carry out a survey to ensure the building's structure is in good health before moving in, or risk costly repairs in the future.
Not setting a budget
You have carefully assessed the premises and found your ideal new office space – now it is time for the fun bit, kitting it out! But particularly for start-up businesses where the monitoring of cash flow is essential, not setting a budget for your office move can lead to costs adding up and put pressure on finances.
Forgetting to plan ahead
A common mistake for start-up businesses that may not have undertaken an office move before is that they leave it to the last minute, not taking into consideration how time consuming and stressful an office move can be. By leaving it last minute moving can lead to costly mistakes. Therefore, it is important to plan.
Planning allows you to feel in control of the situation and not be overburdened as there are so many areas to consider with an office move. Whether it is to keep on top of key moving deadlines, thinking about your IT infrastructure or even planning for something as simple as reminding utility companies you have changed address, having a checklist to plan from ensures nothing is missed.
Remember to always keep everyone in the office regularly updated so everyone is prepared and ready for the key dates of a move.
Ensure you find a removals company that is right for you
With the complexities that come with office moves, it is essential to hire a professional removals company. This is particularly important as a start-up business since you may not have the time to manage the move yourself. It also eliminates risk since professional removal companies will assess the requirements of a move and are well experienced in ensuring moves are conducted in an organised way. In addition, they will provide packing materials and help with the heavy lifting.
Though it may be tempting to choose the removals company with the lowest price, it would be wiser to choose one that is reputable and that you can fully trust to safely move and transport your possessions on time and have shown to consistently manage moves to a high standard. Anthony Robinson, Managing Director of Oxford removals company, Robinsons Relocation agrees. He says: "When deciding on a removals company, ensure that they are accredited and members of the British Association of Movers (BAR) as this will mean they have the necessary training, expertise and experience to carry out your move. Take your time to explore their case studies and read reviews to check the mover's reputation."
Underestimating the complexity of moving technology
A vast majority of businesses now operate on computers and rely on the internet for their day to day activities. As well as the physical move of computers and equipment, consideration is also required for the safe move of sensitive data.
The moving of equipment itself can be logistically challenging. A myriad of wires and cords to untangle, making sure each adaptor correlates with the right equipment can be the cause of much frustration. However, simply labelling cords and cables can help resolve such headaches.
Much sensitive data is now on computers, therefore if you are not storing this information on the cloud, if a computer is damaged during a move that holds this information, you may find yourself in a very difficult position in not being able to retrieve it. Therefore, it is strongly recommended to back up your data.
In relation to data, there is also sensitive information that exists in paper form. When moving ensure that confidential documents are not left behind or are shredded and disposed of.