Sponsored Post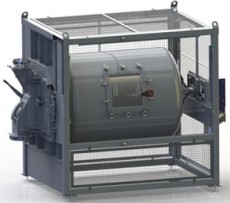 Rotary Drum Mixers and Dry Mortar mixers are vital machines in the industrial mixing. The drum mixer is predominantly suitable for fragile products that do not withstand abrasion or heating such as certain types of granules, powders, or other bulk products. The mixing process is undertaken by grooves inside the vessel which picks up the product and create crossflow. It uses very low rotation speeds that ensure products do not overheat and preserve their original characteristics.
Rotary drum mixer come with a capacity range of 25 liters to 10,000 liters which can be used either for batch or continuous processes. It is made with standard configurations that include a frame and wire mesh protection which makes installation of these mixers at your workshop easy and simple. We manufacture various designs of rotary drum mixers such as those with liquid injection or control panels. You can also order a custom-made drum mixer to fit your needs. Our rotary drum mixers are used in many industrial applications including the food industry, polymers, regeneration of catalysts used for a refinery.
The dry mortar mixer is an effective mixing equipment, which is specifically made for mixing of dry powder and fine granulated materials, such as, dry powder mortar, cement, putty powder chemical materials, organic fertilizer and gypsum. The dry mortar mixer cannot work self-sufficiently to produce several mortars but requires a complete set of dry mortar production machinery. When the mixer is operating, the raw materials rotate in the opposite direction and repeats the cycle nonstop, mixing materials fast and thoroughly. The Dry Mortar Mixers take on the horizontal cylinder, and the inner and outer spiral belts have unique construction, which can significantly reduce scratches, improving mixing speed and quality. Mortars which are known as dust-free are manufactured by integrating the liquid spraying system to the mixer. Our mixer for dry mortars have stable performance, reliable quality, stable performance, low working noise, a wide range of applications, and durable for a smooth, long operation and maintenance.