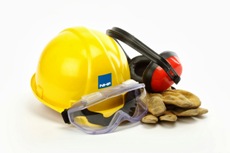 Security and Safety are important concerns in any workplace setting, but the proportions grow exponentially in manufacturing facilities. As hard as you and your site safety team work to create and maintain a safe and secure work environment, the fact is that working around heavy machinery and large equipment with large moving parts is necessary but incredibly dangerous without proper rules, regulations and strict compliance.
As your business continues to grow, while also building strong relationships with your valuable employees, you need to take every precaution to keep them safe to keep them productive on the work floor, avoid accidents and costly workers' compensation claims and to ensure compliance with all safety regulations. The first and best step that you and your safety team can take to maintain peak safety in your manufacturing facility is to design a security and safety guide.
Incorporate Industry-Specific Training
Cover as many bases as possible by learning about all possible situations that could pose a risk to your employees, and plan a training class, along with a manual that they can later review on their own. Some training courses you may add to the roster include:
Fire Safety
Slip and Fall Prevention
Stairways and Ladders
Motor Vehicle Operations
Hazardous Materials Handling
Evacuation Procedures
Emergency Preparedness
Respiratory Protection
Flammable Liquids Exposure Risks
Occupational Noise Exposure
Powered Platforms for Building Maintenance
Regular sessions available through OSHAon various safety subjects
Regularly update your safety training when updates are available and as your team needs a safety boost, and make sure everyone stays on top of all safety regulations through training class attendance and easy access to manuals.
Use Mobile Surveillance for Extra Focus on Safety
Make setting up mobile Surveillance units around the perimeter of your job site a priority. As the surveillance market continues to expand, adopting all the latest technological advances, it also becomes more affordable for growing manufacturing companies that want to keep a closer eye on operations to ensure peak safety and security.
A few key benefits to investing in mobile surveillance security include:
Stopping Accidents Before They Happen – The right mobile surveillance unit can help you spot hazardous issues on the premises, such as a spill, before one of your team members comes into contact with it. You can shut down the area and proactively dispatch a clean-up crew before any risk is incurred.
Reduced Cost –Mobile surveillance can eliminate the need to hire a security guard to monitor your site overnight.
A Variety of Options –The variety of mobile surveillance service options available to you gives you the chance to choose the right safety and security approach for your needs and budget. Mobile surveillance cameras can record locally or remotely via your camera provider's central station. Furthermore, you can augment your service to include motion detection cameras, license plate recognition and much more.
As you put these points in place to build your security and safety guide, you can add finer and more specific details. In the meantime, getting started will help keep everyone safe.