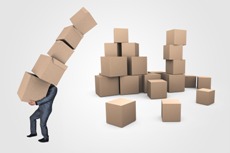 When it comes to choosing a reliable and dependable Third-Party Logistics Company (3PL), there are many ways that they can help to improve and grow your Business. Choosing a company that understands your business will help you to achieve your goals, and you can get some excellent insight online into the potential benefits it can offer. Working with a quality 3PL company will allow you to focus on the growth of the business, while they take care of the logistics.
You Gain All Their Expertise
Many logistics companies have been in the business for a long time, so they have gained decade's worth of experience from which your company can benefit. The 3PL warehousing and logistics that are on offer to modern businesses can streamline your efficiency, and simplify processes, allowing you to focus on your core business and allowing them to deliver it to your clients.
A Vast Network of Resources
It can take a very long time to build up a reliable network of resources for your business, and when you use a 3PL company, it gives you access to a massive pool of resources that can suddenly simplify your logistic problems. No matter what type of freight you need to ship, or where you need to send it, your company can benefit immensely from partnering with and using the resources of a quality 3PL company.
You Can Save Both Time and Money
When you are running a business there just never seems to be enough time in the day! However, when you partner with a 3PL company they can not only save you money by streamlining your logistics, they can also save you time as well allowing you to concentrate on other areas of your business. A quality company will be able to provide you with the peace of mind that they will take care of the logistics for you, and all of the headaches that they can cause. So you save time, save money, and can also be under less stress, allowing your business to thrive.
Scalable Services
If you are in an industry that has a peak season, then you will need to be able to handle the increase in workload during your busier times of the year. A 3PL company can take care of this for you and plan in advance for the increased work. The services that they offer are also fully scalable, so as your business grows, they can increase the service that they offer allowing your business to grow organically.
A Continuously Refined Process
As new technologies come out, processes and techniques change in business, and they can sometimes be expensive to implement. Most 3PL companies are continually looking towards the future and refining processes and procedures used to increase productivity, quality, and efficiency. As the new technology becomes available, you can rest assured that you will stay ahead of your competition as your logistics partners use the latest technology to meet your demands. So if you want to drive your business forward and embrace the future, choose a reliable and reputable 3PL company and see how they can help you achieve your company ambitions.