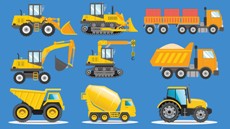 For businesses such as mining, agriculture or manufacturing purchasing a big Machinery is a very important decision. You do not buy them every day, or even every year. Not only you need to spend tens of thousands of dollars, but you also need to make sure you make the best use out of it to justify the expense. You also need to understand and figure out how you will obtain the financing. That is why you cannot take this decision lightly. Below we describe some important factors you need to consider before making that big decision.
Budget the costs
You can expect to pay thousands on most big machines. Many company owners will have to take out a loan. On top of this you have maintenance costs to consider such as servicing, fuel/power and repairs, as well as the training and insuring of staff. All of this is worth budgeting first.
Fortunately, there are many ways to cut costs. Some machines may have uses that you don't need – don't be tempted into Buying these expensive fandangles. You should also consider the fuel your vehicle is using – a gas oil such as red diesel for example may cost less than white diesel. By buying second hand you can also save cost on the purchase price. However, the age of the machine and the use that it has had is worth considering as an older machine could need more repairs.
Consider rentals
Hiring machinery is a good way of saving costs and is perfect if you only need equipment on a temporary basis. Hire companies can often afford modern equipment and will service it regularly, guaranteeing reliability. You may however not be able to rent the same machine every time, which could mean familiarising yourself each time you rent equipment. On top of this, you will have to be more careful about damaging the equipment as it won't be yours to scuff up and scratch.
When it comes to fixed machinery, you may be able to outsource it from other factories. If you're looking for an industrial printer or a die casting machine to do a short batch, you may be able to send your materials there to be processed, freeing up the need to buy and make room for your own machine.
Read reviews
When purchasing such a big piece of kit, you'll most likely want to know that it's reliable. Look up reviews of the product online so that you can make yourself aware of the specs and common faults. You should also read reviews of sellers so that you know you're buying from someone reputable. Comparison guides may be able to help you in these respects.
Giving the machine an in-person inspection before buying can also be worthwhile, both to see how it work and check that it has been well-maintained if it is second hand. This may not be possible when buying specific tech from overseas, however if your seller is local you should definitely give them a visit.
Get qualified
Many machines may require a specific license to operate. This will mean training up you and your staff. You could do this before or after you've ordered the machinery in, although some sellers may only sell to you if you've got a license. Research into this first so that you've got all the right qualifications.