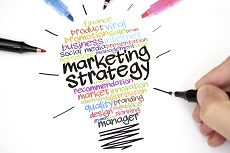 Starting a Business is a thrilling endeavor for every new business owners. Once all the paperwork is done, the business plan is set and the doors finally open, many breathe a sigh of relief. Knowledgeable business owners know that the real work in starting a new business is getting your first customers, though, and getting them to come back.
Direct-mail Marketing is one of the fastest and most efficient ways to reach your intended audience. Brochures, sales letters and other materials mailed to your potential customers cuts out aspects such as ad servers and publications, allowing you to deliver your message exactly as planned. Before launching a direct-mail marketing campaign, make sure you have developed a suitable mailing list.
Online marketing, while not as effective as direct-mail marketing, can help you reach customers economically and without hassle. Beginning with your business website (yes, you need one) and then on down to search engine and content advertising, article marketing and e-mail marketing, online marketing has many tools you can use to your advantage. One warning: be wary of scams, as there are a lot of them that will pop out at you on the web. If an offer sounds too good to be true, it probably is: If someone promises you 20 million website visitors for $30, the chances are you're wasting your money, leading to invoice finance.
Advertising through offline marketing in newspapers, magazines and trade publications and through printed posters, signage and racks can add up to a lot of business in small order. Again, the trick is to find publications that your target audience reads and to position your marketing materials where they'll be seen by the same audience. A restaurant, for example, might leave brochures or coupons on a local hotel's countertop because they share the same audience. You've seen the hundreds of rack cards significantly displayed in local tourist centers. When advertising in publications, make sure that your advert goes in applicable sections – a new coffee shop and deli would want to advertise in the newspaper's food section or a bridal shop would want to advertise in an annual bridal column, for example.
Join chambers of commerce, trade associations and business networking groups to create a base in your business area. This is essential if you're selling B2B, for example, but also has many benefits for other businesses.
Trade events, conventions and seminars all provide brilliant opportunities to gain new leads while learning more about where your industry is heading. You can also use such events to check in on the competition.
Tell your family, friends and other associates about your new business and ask them to spread the word to drum up sales. Word of mouth referrals are still the best marketing medium in the world, and for good reason – people trust recommendations.
Issue press releases announcing your new company, volunteer for charitable events and even donate free articles to trade publications, newspapers and magazines to earn free of charge press that is both trustworthy and imposing.