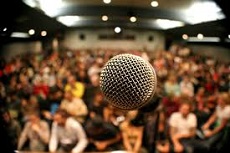 Hosting a Conference can help business owners build credibility and brand for their business. It can also provide you with number of leads to grow your business. Successfully hosting a business conference, however, requires lot of effort and advanced planning. If it is not done right it can do more harm than good to your business. That's why it is important to pay careful attention to every minute detail and start planning well in advance. Listed below are 5 key ingredients you need to keep in mind to host a successful business conference.
Determine Topic
You need to determine what the conference is about. Selecting a very broad topic will dilute the message, while a very narrow topic will limit the number of attendees. You need to strike a careful balance in selecting the topic that will enable your goal to host the conference and attract large number of attendees you are targeting.
Book Speakers Early
Inviting well-known speakers will help you attract large number of attendees. Those speakers also tend to be very busy so booking their appointment well in advance help you secure their spot for your conference. Once you find a speaker that is perfect match for your conference, get in touch with him quickly and provide him with full details of your event. Make sure you know how much they want to be paid before you confirm a booking too and don't be afraid to ask them to promote your event socially after they have agreed to make an appearance.
Decide Timing
A successful conference is hosted at a time when it can attract large number of attendees and that aligns with a key industry event. For example, a conference for toy manufactures is best hosted around Christmas time when parents are going to purchase gifts for their children.
Pick the Right Location
Location of a conference plays a very critical role in determining its success. Some of the key questions you should ask yourself to help you decide the right location:
Will you be able to host all the events in the one hall or will you need separate meeting rooms?
Will you need hotel rooms in the same location or can you find other hotels nearby?
Will there be Wi-Fi access available at the venue?
How far is the venue from nearby airport?
Conference rooms from well reputed hotels such as Cairn Hotel are certainly worth considering.
Fix the Budget
Hosting a conference not only is time consuming, but also expensive. There are number of different expenses you need to consider, including rent for the venue, speakers, food catering, staff, travel and so on. If you are not careful you can end up losing significant amount of money without much to show for it. That is why it is important to decide on a budget ahead of time and plan to stay within it. This handy guide by The Balance will help you choose the correct pricing strategy for your conference.