Brexit, this term is getting people confused and many of them are facing panic attacks as well. The term, Brexit, is referred to as Britain's exit from the European Union. Indeed this is a concerning matter for each and every sector, be it business or foreign policies.
Here in this article, we are going to focus on the impact of Brexit on the education sector. We will also look at how Brexit can trigger heavy brain drain in various universities of Britain.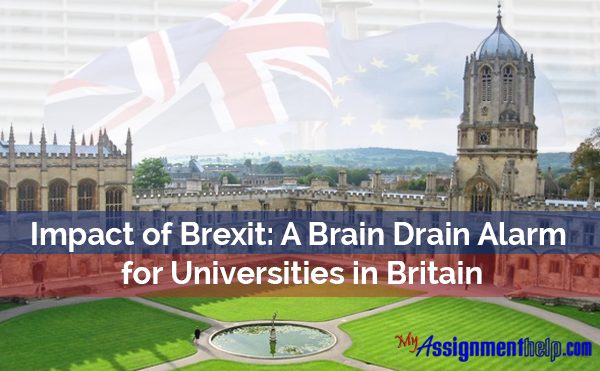 Brexit and the European Union
Let us understand this at first. Britain's being a part of the European Union allowed students from European countries as well as other countries to migrate in UK for pursuing education.
But with Britain's exit from the EU, there will be numerous problems alone in the educational sector that is not only a matter of concern, but a matter to act upon immediately.
Students' Global Exposure
When various provinces get accumulated under the European Union, there is healthy exchange of students and intellect that allows students to grow up globally as they reside with students from all over the world.
This was a better way for acquiring education as parents from all over the globe felt the need of their next generations to get a global exposure and learn things that is just not limited to the borders of the country but extends to the farthest parts of the world.
Brexit Shatters the Dreams of Many
Students, not only from European countries but from various other countries too, will now face problems in pursuing higher education in UK. The primary reason is nothing else but the impact of Brexit on the education system.
Most of the international students will now look to shift to other countries rather than going to UK. They will find it beneficial because if Britain is not a part of the European Union, the country will have its own terms and conditions that will not be in correspondence with EU. This will make students to pay more and also there will be diplomatic issues as well as problems with Visas.
Hike in Course Fees
In accordance with "Free Movement Principle" of the European Union, students from other countries of the European Union pay the same amount as educational fee that is paid by the local students. The price ranges from £9000 to around £12000 (approx). Students were also eligible for loans as per the UK loan facilities.
But with Britain's exit from the European Union, students from other countries of the European Union will experience a severe hike in course fees.
Lower Number of Professors and Teachers
Statistical analysis reveals that almost 0.4 million International professors and teachers work in the United Kingdom. But with Brexit, they will face a loss of certain facilities like free NHS care and also a no-guarantee of the immigration status. When certain privileges will be limited for International teachers, they will definitely start shifting elsewhere.
When much of the international teachers constitute the educators strength in UK, their shifting to other countries in the European Union will make Britain lose precious employees as well. Students will also feel the need to shift to other countries when the level of education will drop in UK. This is an alarming concern for students who are studying in UK.
A Tug of War between Economy and Space
It is now a concern for supporters and the defenders of Brexit to bring up the necessary points in vision. There are some, who say, with the control of the state over the migration status, it will free up a lot of space taken up by students from the European Union.
Again, there are many, who have brought into light that the money invested by parents of students from the European Union plays a major role in shaping the public finances.
Britain May Cease to Exist As a Global Leader in Science and Innovation
With most of the students and teachers shifting to various other countries in the European Union, the impact of Brexit will lower its position in the world as the leader in Science and Innovation. Here we can directly relate this to a situation of Brain Drain.
When most of the intellectuals will stop moving to UK, there will be a potential loss of ideas among the people. It will be tough to compete with the world only depending on self-sustainability. Considering the odds, there will be students who will pay international fees and educate themselves in UK. But, the number of students in this case will be very minimal.
Impact on the Economy
When we are concerned about the educational issues that will follow with Britain's drawing out of the European Union, let us look at the total economical value that comes only from students of the European Union.
Almost £73 billion (approx) is generated by the universities in United Kingdom. From which almost £4 billion is generated by the students from various countries under the European Union itself. When such huge economical value is concerned, it is seen that Brexit will be a greater issue when the country will limit most of the facilities for abroad students. More than 350,000 jobs are supported by the countries under the EU. This will soon be falling at an alarming rate with no coagulation of the European Union.
Brain Drain to Hit Britain's Universities
Well, with such statistical analysis and the growth of UK on its own, let us now look at how Brexit will remain as the sole convicted for experiencing a huge Brain Drain.
When much of the international students and professors will have to go out of the country, there will not be many of the scientists left over for continuing their research and experiments. It will happen because no matter how much focus on the present economic balance Britain puts, most of the universities depend upon funds given to them by the European Union.
When there will be lack of funds, creating job opportunities will eventually decrease. There will also be a decline in facilities and students will face numerous problems without appropriate maintenance of the infrastructure.
How Much is Britain Dependent on the Funding from European Union?
We can easily clear this fact if we keep a close eye on the college and university names and their percentage of dependence on EU. We will proceed in an ascending manner.
| | |
| --- | --- |
| UNIVERSITY | Funding From EU |
| St George's, University of London | 59 % |
| University of Greenwich | 64 % |
| Edinburgh Napier University | 65 % |
| University of Wolverhampton | 67 % |
| Middlesex University | 69 % |
| Coventry University | 72 % |
| Anglia Ruskin University | 75 % |
| Teesside University | 76 % |
| University of Bedfordshire | 91 % |
| Southampton Solent University | 92 % |
This table will directly provide you with an idea about the necessity of the influence of EU for universities in Britain. We can thus analyze how much of an issue will Brexit cause to the area of education.
Are People Defending or Opposing Brexit?
People are both defending as well as opposing Brexit. Some want Britain to remain with the European Union, others don't! The ratio between "remain with EU" and "exiting EU" is almost 50 percent. It is a balanced situation.
Alarmingly, it is found that 83 percent of the active researchers are against Brexit. They feel the necessity of the global exposure that students of UK require. But without the support of European Union, students will face a significant problem in knowing various cultures and in growing and educating at the global level.
Perspective of Stephen Hawking
Stephen Hawking, the world's renowned physicist, clearly states that Britain will become culturally isolated with its moving from the European Union. This is because there will be a limitation for the scope of foreign exchange.
He further adds that European Union protects scientific research by accurate funding. But with Brexit, it will be a matter of concern for the scientists and the technical developers in UK.
The Insular UK
If Britain gets out of European Union, British students will be less exposed to various cultures. Many people are also bringing up points that student's upbringing with companionship of students from other countries helps British students to graduate in a rounded manner. They also get better chances in the international job market as well.
With such impacts and issues that will be experienced by people of UK as well as the world, let us look at educational assignment help services that can act as a boon to the international students studying in UK.
MyAssignmenthelp.com Provides the Best Assignment Help Globally
In such delicate situations when Brexit may probably cause alarming problems in the field of education, MyAssignmenthelp.com provides the best assignment help services at the cheapest price possible in the industry.
To keenly analyze the features of this portal, let us look into details.
100+ subjects: MyAssignmenthelp.com offers assignment help on a wide range of subjects
1000s of Samples: Students can judge the quality of assignments by going through numerous samples available on the portal
3000+ Ph.D. experts: We have with us in-house experts who are highly qualified and are profound in writing assignments for any syllabus belonging to any country
No Plagiarism: Our experts prepare only unique and non-plagiarized contents or assignments
Turnitin Report: Get plagiarism report for your respective assignments at the cost of only $2
Cheapest Price: Our services are available at the cheapest price in the industry. Our experts are provided with all the resources by MyAssignmenthelp.com, hence allowing us to cut down costs for you
PayPal Payments: We use only PayPal for receiving Payments
Discounts Available: Avail discounts from us easily. If you are a new customer, you will be receiving discounts at initial purchase. Also students can place order for 3 assignments and get 1 assignment absolutely free
Live Chat and Voice Communications: We have both the options for Live Chat and Calling. No miscommunication is expected at any cost.
Our experts strive to prepare the best assignments by going after excellence so that you can experience the success in academics. Connect with us. Our services are available 24×7.