You must've heard this a lot from your near and dear ones when things are bad, and you feel down –
"Don't worry; you're not alone."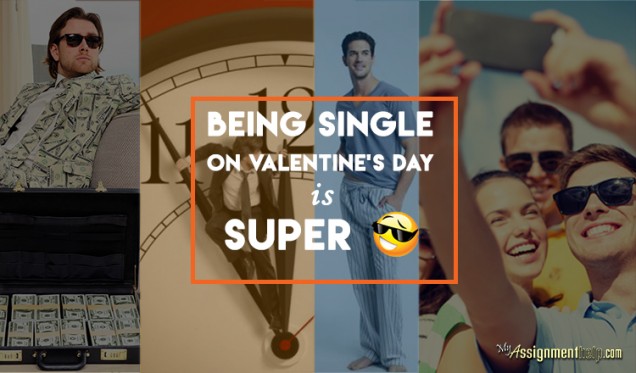 Well, this common axiom especially holds true on the universal day of love, i.e. Valentine's Day. But honestly speaking, if by looking at your friends and people all around, you end up feeling like you are the only single soul on this planet on this particular day, you are mistaken. Because according to statistics released by US Census Bureau, there are currently 124.6 million people in the US (aged 16 years and above) who are single. Now that's 50.2% of the total population of the country; which means singles are majority by 0.2%! This number has gone up way too much since 1976 when singles accounted for just 37.4% of the total population. So you see, you're really not alone after all if you're single on the day when Cupid claims most of its victims. Cupid is maybe just tired of hitting all those arrows and is taking a break.
Now that we've already established that you (lucky singles) rule this lovey-dovey couples-only Holiday, check out the brighter side of it now (more reasons to be happy)
1. You will have more Money in your Bank
Okay, so you won't have to buy new clothes to wear, won't have to Spend a dime on chocolates or flowers, or shell out your precious dollars on that ridiculously expensive Valentine's Day dinner at a fancy restaurant, and you don't have to a buy a gift either! All in all, you'll save a cool $512.03 if you happen to be a blessed single soul on Valentine's Day (Source: LPL Research). You can almost picture yourself humming 50 cents' song 'I'm heading straight to the bank with this' while wearing your hoodie and all your precious jewels. Or maybe, you can make use of that money and buy yourself something you've been wanting to for a while such as a DSLR or that pricey pair of shoes.
2. You'll End up Saving most of your Time
Gearing up for Valentine's Day is such a hassle and so time-consuming! You have to put in several hours of preparation to ensure that whatever you've planned for your soul-mate goes as smoothly and perfectly as possible, which means that you have to wrack your brain to think of something creative to do, and that takes a few more days! Then you have to wake up particularly early on this day to look your super best, and stand in front of the mirror for what feels like an eternity to make sure you look picture perfect! We can already hear you groaning just thinking about it. Well, the good thing is that if you're single, you can save all that time and devote it completely to yourself.
3. You won't have to Feel the Pressure and Stress of the Holiday
We know it's conventional to think that singletons are the ones who have to face all the social stress of not having a date on this day, but don't go about envying your hooked-up friends just yet. Trust us, when we say that couples are the ones for whom this holiday can be the most pressurizing and stressful. As mentioned above, they have to create elaborate plans, and they have to outmatch their own selves every year, or their partner will just be upset with them. That also means buying a more expensive gift than last year. Plus, these days, you also have to show off whatever you're doing on social media which means that you'll have to find a truly out of the box way of celebrating this holiday or you won't get as many likes! All of this can add up to a lot of stress for couples. So feel lucky that you're single and don't have to go through these rigors.
4. You can Stay in your Pajamas all day long and not feel Judged
There's something really awkward about going on a last-minute forced date on Valentine's Day and being judged by the person on the other side of the table to know if there's going to be a second date or not. We mean, you take the effort to actually find a date, work so hard to dress up, and then you get judged, and for what? Fortunately, you can spare yourself the torture by staying in bed in your comfiest jammies and doing whatever the hell you want to do. Being single on V-Day has its own perks after all.
5. You can Hang Out with the People who Matter
These days, life is so busy that you don't get the time to give your friends and family the attention they rightfully deserve. So the day of St. Valentine can be the perfect excuse just to go out and have a great time with your friends or stay in and create some warm memories with your family. In fact, some interesting stats released by Chillisauce.com reveal that 68% percent of single women and 31% of single men prefer to spend Valentine's Day with their pals. As for those who like to spend it alone, the numbers are reversed, and 69% of single men and 32% of single women will choose not to be with anyone at all on this holiday. We suggest you have a good time in the company of good people, although the choice is yours.
6. You don't have to Share the Exquisite Chocolates
If you're one of those who've decided to spend this holiday all by themselves, binging on some Netflix and exclusive Valentine's Day chocolates (Lindt, Godiva, Hershey's – almost every brand comes up with their own special 'love' edition this time of the year), the good news is that you won't have to share even a morsel of those delicious treats. You can have it all on your own and not even care about your waistline as you don't have to be your fittest best to impress your bae or anyone else for that matter.
7. You can focus on what's important – YOU
Remember what you've been told by almost everyone you know at some point in your life? It goes something like this – you can't truly love anyone if you don't love yourself. Now Valentine's Day shouldn't necessarily focus on loving someone else, and showing that you do. How about this year you focus on you? Show yourself some tender loving care and splurge on yourself. Treat yourself to relaxing home massage session and take this opportunity to introspect or just chill out – whatever floats your boat. At the end of the day, you'll feel happier that you spent your entire day with a cool, funny and sexy person – YOU!
So cheer up and this year don't be sad that you're single but relish in the fact that you can do some pretty awesome things on your own; that you don't need anyone to make you feel happy or complete. After all, St. Valentine didn't have a story like Romeo and Juliet. He died because he wanted to do a good deed and help soldiers get married when they were forbidden. So if you want to honor him, do something good and don't bother about finding a girlfriend/boyfriend for you.
Celebrate V-Day Even If You're Single And Leave Your Assignment To MyAssignmenthelp.com!
Who says you have to sit and do your assignments if you're single on Valentine's Day? Enjoy this holiday to the fullest by giving us the responsibility of handling your Assignment. While you have fun, our writers will work diligently on your assignment to ensure to its error and plagiarism-free. Our services will comfortably fit in your budget, and you'll get your assignment on time. Call us on +66261003843 to know more.