Ashtavinayak – अष्टविनायक यह भगवान गणपति के प्रसिद्ध आठ मंदिर हैं जो महाराष्ट्र में हैं। पश्चिमी महाराष्ट्र और कोंकण के इन मंदिरों का स्वतंत्र इतिहास है। चूंकि इन सभी मंदिरों में पेशवाओं की शरण थी, इसलिए पेशवा के समय उन्हें महत्व मिले। अष्टविनायक का विवरण मुदगल पुराण में भी पाया जाता है।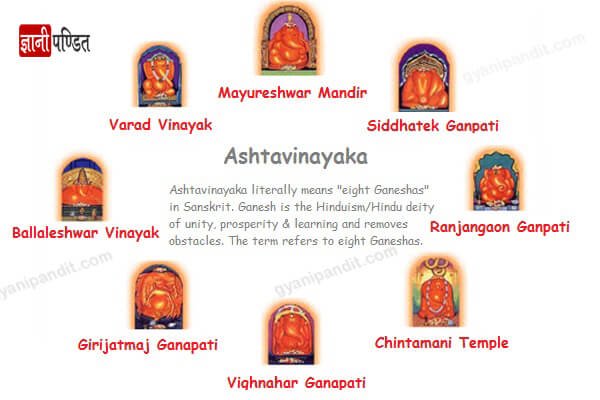 भगवान गणपति के प्रसिद्ध आठ मंदिर "अष्टविनायक" – Ashtavinayak
महाराष्ट्र के हर गांव में श्री गणेश के एक या दो मंदिर पाए जाते हैं। उन मंदिरों से हजारों भक्तों ने गणपति के हर रूप का अनुभव किया है। ऐसा होने के बावजूद महाराष्ट्र में विशेष 'आठ' जगह के गणेश मंदिर, मूर्तियों का विशेष महत्व है। इन आठ मंदिरों को 'अष्टविनायक' कहा जाता है। विनायक गणपति के कई नामों में से एक है; यही कारण है कि ये इन आठ मंदिरों के समूह मतलब अष्टविनायक हैं। महाराष्ट्र के मंदिर न केवल महाराष्ट्र में बल्कि पूरे भारत में भी जाने जाते है। गणपति शिक्षा का देवता है, वो सुखकर्ता दुखहर्ता और सभी का रक्षणकर्ता हैं, ऐसी गणेश भक्तों की भावना है।
इन सभी गणपति के बारे में विस्तृत जानकारी इस प्रकार है:
1. Moreshwar Temple, Morgaon, Pune district
2. Siddhivinayak Temple, Siddhatek, Ahmednagar district
3. Ballaleshwar Temple, Pali, Raigad district
4. Varadavinayak Temple, Mahad, Raigad district
5. Chintamani Temple, Theur, Pune district
6. Girijatmaj Temple, Lenyadri, Pune district
7. Vighneshwar Temple, Ozar, Pune district
8. Mahaganapati Temple, Ranjangaon, Pune district
Ashtavinayak Mantra – अष्टविनायक मंत्र
स्वस्ति श्रीगणनायकं गजमुखं मोरेश्वरं सिद्धिदम् ॥१॥
बल्लाळं मुरुडे विनायकमहं चिन्तामणिं थेवरे ॥२॥
लेण्याद्रौ गिरिजात्मजं सुवरदं विघ्नेश्वरं ओझरे ॥३॥
ग्रामे रांजणनामके गणपतिं कुर्यात् सदा मङ्गलम् ॥४॥
Svasti Shrii-Ganna-Naayakam Gaja-Mukham Moreshvaram Siddhidam ॥1॥
Ballaallam Murudde Vinaayakam-Aham Cintaamannim Thevare ॥2॥
Lennyaadrau Girija[a-A]atmajam Suvaradam Vighneshvaram Ojhare ॥3॥
Graame Raamjanna-Naamake Gannapatim Kuryaat Sadaa Manggalam ॥4॥
Read More: History in Hindi
Hope you find this post about "Ashtavinayak" useful. if you like this article please share on Facebook & Whatsapp. and for latest update download: Gyani Pandit free Android app.
Note: We try hard for correctness and accuracy. please tell us If you see something that doesn't look correct in this article About Ashtavinayak Temples in Hindi… And if you have more information History of Ashtavinayak Ganpati then help for the improvements this article.
The post भगवान गणपति के प्रसिद्ध आठ मंदिर "अष्टविनायक" | Ashtavinayak appeared first on ज्ञानी पण्डित - ज्ञान की अनमोल धारा.