Foreign Exchange Remittance Card (FERC) is for the facilitation of Overseas Pakistanis and it has been implemented by the Ministry of Finance in September 2001. Overseas Pakistanis Foundation has been assigned task to issue FER Cards among the overseas Pakistanis. FER Cards are divided in five categories i.e.
Silver US $2500 or more
Silver Plus US $5000 or more
Gold US $10000 or more
Gold Plus US $25000 or more
Platinum US $50000 or more
There are certain incentives for the Overseas Pakistanis remitting foreign currency equivalent to US$2500 to US$50000 per annum i.e.
Separate counters for special handling at arrival and departure lounges at all international Airports in Pakistan
Free issuance and renewal of passport on urgent basis
Duty Credit as per Category of Remittance Card
Duty Credit can also be utilized for seven items with fixed duty i.e. television, deep freezer, refrigerator, microwave oven, cooking range, washing machine and air conditioner.
Check out the complete details about how to apply for the card, who can apply, where to get the card and other details about the Foreign Exchange Remittance Card in Urdu language.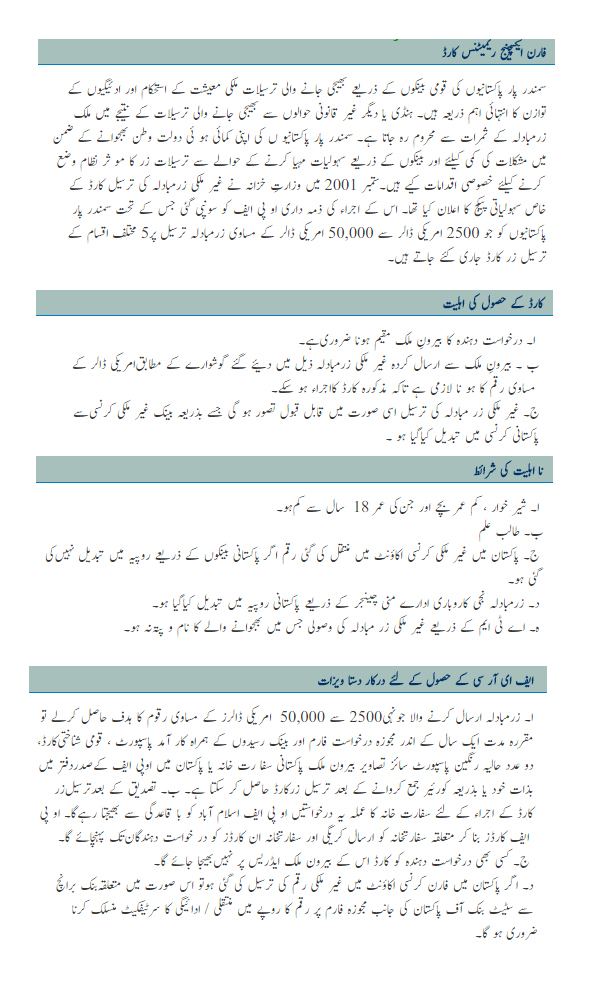 The post Foreign Exchange Remittance Card in Urdu appeared first on Pakistan "The Land of Pure".