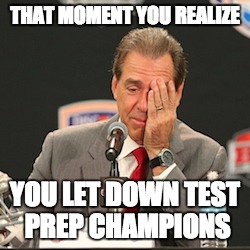 It started out with a click...
...how did it end up like this? It was only a click! It was only a click!
Okay, so I just happen to be a fan of The Killers, but that's irrelevant here (see Mr. Brightside by The Killers)! I'll never forget the feeling when I finished writing the the first post in the What Coach Nick Saban Can Teach Us About Tests series. This was back in November of 2016, just a few weeks after I first launched Test Prep Champions. At that point I was admittedly happy enough just to be completing another blog post for our website, and I really had no idea what to expect. With one final click, I published the post for the whole internet to see!
When I had a break at work a few days later, I ran a search for Test Prep Champions on google simply to pull the page up. What I saw about halfway down the first page of the search results immediately grabbed my attention! A very prestigious national honors society at a top university in Texas (which I won't name here) had shared our post on their Facebook page! I've never been to Texas and I don't know anyone from Texas, so how it got there, I didn't know...
...but I felt really honored to see they shared my work! As I continued to scroll down the page, I was pleasantly amazed to see that my post had also been shared by many others across the internet! Today, this post is still getting tons of views daily, and the recently released sequel is doing about as well!
You might ask, if people like this series so much, then why start off with the meme you chose? The reason is because in part 2 I made the erroneous prediction that coach Saban and the Crimson Tide would defeat Clemson in the championship game! This clearly didn't happen. In part 2, I said I would complete the trilogy with a part 3 if Alabama won. I even had the perfect idea planned for the post! Unfortunately for Test Prep Champions, Clemson defeated the Crimson Tide, which spoiled my whole plan! That being said, I've decided to go ahead with the third post anyway (although I'll have to come up with a new plan 😭). The final post will be released on Test Prep Champions EXACTLY two weeks from today! You really won't want to miss my upcoming attempt to spin Alabama's loss and my failed prediction into a motivational/informational post related to test taking and academic success!
If you're new to the series or want to read the earlier posts again before the final post is released, here's where you can find them:
Don't Look at the Scoreboard: What Coach Nick Saban Can Teach Us About Tests
Champions are Rare: What Coach Nick Saban Can Teach us About Tests Pt. 2
If you're a fan of these posts, here's another "football related" post you might like:
How Tests Are Like Sporting Events
If you enjoy our content, please subscribe to our mailing list! You'll get the full experience of being with us from shortly after our launch to wherever we end up in the future (and we're aiming high). Thank you!