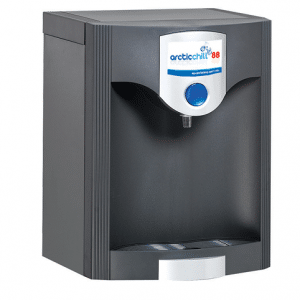 Direct Chill Technology is an efficient means of cooling water extremely quickly. In a Direct Chill System, the water is continuously flowing throughout the system, which prevents bacterial growth, a huge problem with other cooling systems and also keeps the water cooled. This provides water coolers with Direct Chill Technology a distinct advantage over other water coolers.
The water in a direct chill water cooler passes through a stainless-steel coil that is in contact with a copper evaporator coil that contains refrigerant gas. The direct chill system works via conduction; the cold emitted by the refrigerant gas is transferred into the coil through which the water is flowing but does not touch the water, which in turn becomes icily cooled.
Living-Water has a range of water coolers that use Direct Chill Technology.
Fountain Water Cooler
Living-Water's Fountain water cooler has a drain away system and offers a combination of dispenser jet and/or a swan neck dispenser. It is perfect for use in an area where there is a lot of traffic such as factories, schools, gyms, and sports clubs where there is a need for a large cooling capacity.
The Fountain water cooler has a rugged and durable body and a very small carbon footprint. It comes in wall-mounted and floor-standing models, has optional filters and an extensive range of taps that allow one to accessed the water directly or dispense it into a cup.
Pure Water Cooler
Living-Water's Pure Water Cooler is a top-of-the-range mains water cooler that provides hot or cold water 24/7/365. The Pure has Direct Chill Capacity, an Activated Carbon Triple Action Filter System, and added lime scale control.
The Pure is sleek and stylish in its design, has a large porthole ideal for filling sports bottles and coffee carafes; sports an effective cooling system that can provide 8 consecutive cups of water at below 10°C and can dispense up to 40 cups per hour. It also has an internal cup dispenser, Pressure Vessel Technology, push-button taps with indicator lights and a drainage facility that is available via a drip tray.
The post Benefits of a Direct Chill Technology Water Cooler appeared first on Living-Water.