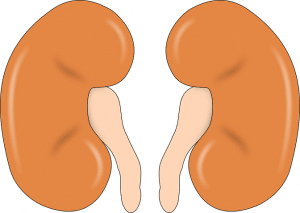 According to new research by the Natural Hydration Council (NHC), the number of patients admitted to hospitals with Kidney stone emergencies has risen by 115% over the past decade.
Kidney stone disease, also known as urolithiasis, is when a solid piece of material (kidney stone) occurs in the urinary tract. The stones generally form in the kidneys and leave the body via the urinary tract which is fine if they are small stones, but large ones can cause a blockage of the ureter resulting in severe pain in the lower back or abdomen.
Kidney stones can occur as a result of a variety of factors, including genetics and environmental factors, obesity, high urine calcium levels, certain types of medication, calcium supplements, hyperparathyroidism, certain foods, gout and not drinking enough fluids.
Between 1% and 15% of individuals across the globe are affected by kidney stones at some point in their life. Out of around 49 million cases recorded in 2013, there were 15,000 deaths.
According to NHC advisor Tom Sanders, Emeritus Professor of Nutrition and Dietetics at Kings College London, many kidney stones and other chronic kidney diseases can be blamed on the growing obesity rates.
Sanders said: "The best dietary advice available to prevent these conditions is to maintain a healthy weight, avoid adding salt to food, eat five portions of fruit and vegetables a day and choose water as your first choice beverage. People who have adequate fluid intake could be up to 30 per cent less likely to suffer from the condition, and water is one of the healthiest choices when it comes to maintaining kidney health, as it has no sugar or calories. Yet two thirds of the population report drinking no more than one glass of water a day."
Dehydration is one of the key causes of kidney stones because insufficient water in the body results in it producing urine with a higher concentration of minerals and waste. When the urine is too concentrated, the kidneys cannot filter out all the waste products and excess salts, which then form "stones."
Tips on How to Prevent Kidney Stones
The best way to Prevent Kidney Stones is to ensure that you drink sufficient water regularly, and that means throughout the day, not just once a day. If you do not like drinking glasses and glasses of water at a time, sip on a little water throughout the day. Keep a bottle of water with you when travelling in a hot car or when walking or exercising in warm weather.
On average, women should drink around 2 litres of water per day and men should drink 2.5 litres. Drink more water when being physically active or the weather is warm. Investing in a water cooler may be just the ticket to encourage you and the rest of your family or work colleagues to drink more water as water coolers provide chilled, filtered, great tasting water virtually 24/7.
The post Tips on How to Prevent Kidney Stones appeared first on Living-Water.