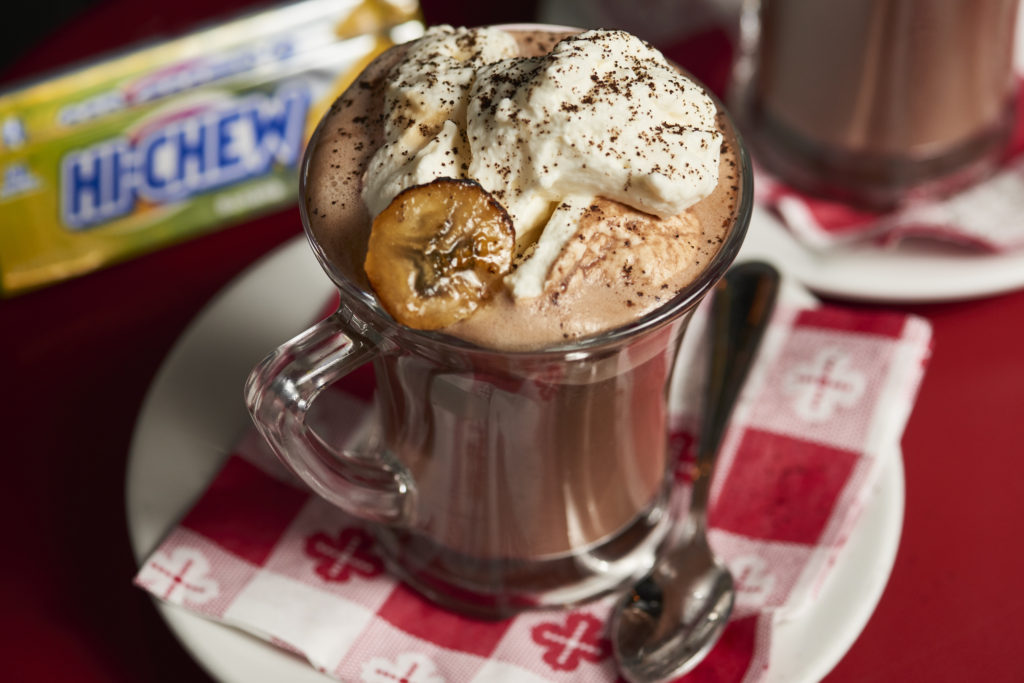 JBanana Choco Delight, a rich Hot Chocolate recipe that includes Banana HI-CHEW-infused dark rum for a delicious grown-up version of the classic childhood treat. Feel free to Skip the rum and garnish with a banana HI-CHEW for the kiddies.
Banana Choco Delight
Ingredients (Serves 2):
2 ounces Banana HI-CHEW Infused Overproof Dark Rum**

1.5 tablespoons cocoa

1.5 cups whole milk

3 ounces dark chocolate

1.5 tablespoons sugar

2 tablespoons peanut butter

Whipped cream and banana garnish
In a small saucepan, heat half of the milk until warm, then whisk in the cocoa until no lumps remain. Add the remaining milk, chocolate, sugar, and peanut butter, and whisk until all is melted, smooth, and hot. Remove from the heat, stir in the rum, and divide between two mugs. Top with fresh whipped cream and a slice of caramelized banana.
*The infusion ratio is one piece of candy per ounce of liquor. Soak the candy until dissolved.