We have heard a lot about different green teas by now and we often wonder what could be possibly different about this one. But the truth is that they might all have similar characteristics but there is always something unique about them that helps to solve an individual problem.
In as much as there are a lot of them and they can be used to solve problems, there are some that can't just be passed by – like this Japanese Matcha Green Tea.
Japan, one of the best and first producers of green teas have, created a reputation for themselves and now people can count on the Japanese to make a good green tea that is both reliable and good for healthy living.
One of the teas made by them is the Organic Japanese Matcha (by Jade Leaf)
About Jade Leaf Matcha Green Tea Powder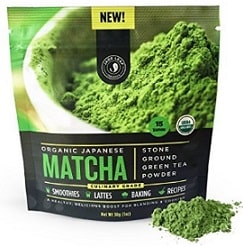 Jade Leaf Organic Japanese Matcha Green Tea Powder is 100% organic and USDA certified. It has directly been sourced from a single estate family farm in Uji – Japan, which assures better quality.
This green tea powder has its sole ingredient as matcha itself.
Purely organic with no artificial ingredients; can be used in recipes apart from a tea like smoothies, latte, pastries and even as face masks being a superior Culinary Grade Matcha.
It is naturally gluten-free and vegan, so anyone can take it.
The tea powder contains antioxidants and nutrients that help in metabolism, sound mind, and energy boost.
Apart from the antioxidants contained, the tea also has some amount of caffeine. However, Jade Leaf Organic Japanese Matcha tea also contains L-theanine which has a great calming effect and so helps to tone down the effects of the caffeine.
One more thing about this tea that can't be ignored is that the green tea powder is a complete blend of the jade leaf meaning that it contains all the ingredients and doesn't lose any to brewing.

The jade leaf matcha is a sure way to live a very healthy and happy life.
If the starter pack is too small for you, there are other sizes like 30gm 1oz starter pack, 100gm 3.05oz value size, 250gm super value size, and 454g (1lb) bulk size.
The Benefits
It's impossible to appreciate something when you don't know what it can do for you and so you need to know the benefits this green tea powder has.
There are several benefits attached to the use of the Jade Leaf matcha green tea powder and they range from health to psychological benefits and they have been listed below:
Helps you keep calm.
Gives you natural energy
Antioxidants that help to combat cancer
Helps you lose weight
Gives you a very healthy heart
Increases brain power
EGCgs help to improve your skin.

Who's this product for?
This product was manufactured in such a way that it could be taken by anyone except, of course, kids.
The jade leaf matcha green tea powder can be taken by adults and the aged. However, this tea cannot be taken by pregnant women or nursing mothers without a doctor's prescription.
Also, cancer patients can also take this tea to help combat cancer cells.
Proof that it works…

Jade Leaf Organic Japanese Matcha tea powder has got a 4.75 out of a 5-star rating and the information on the internet also proves that this product works.
You can also check out reviews from other customers on Amazon. This way, you can know the good and the bad about this product.
How to prepare it?
Mix into smoothies, lattes, baked goods, and other recipes for a healthy, delicious boost.
Enjoy two servings a day (about a teaspoon total) for maximum benefits.

To prepare this tea, you are going to need certain things.
One teaspoon of matcha tea powder
One cup of water at 175 degrees F
Procedure
Firstly, sift the powder into a bowl, preferably a glass bowl.
Add the hot water slowly
Whisk properly for about a minute.
Lastly, Drink immediately.
The Side Effects
As the saying goes, not all that glitters is gold. With all the good this tea offers, it also has a downside to it.
All green teas contain a considerable amount of lead and fluoride. But when they are brewed, the lead and fluoride come off and leaves little or no quantity.
In this case, it's different as the jade leaf isn't brewed. It's a complete blend and you're drinking the whole leaf.
Meaning you'll be consuming the whole thing, so taking an overdose shouldn't be an option, neither should taking this tea by pregnant women be considered.
Also, a convalescent with other medications should see a physician before taking this tea.
My Final Verdict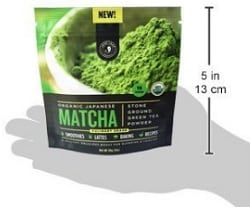 Product Name: Jade Leaf Organic Japanese Matcha
Price: Check here
Brand: Jade Leaf
Quantity: 30g (1 oz) starter size
Money Back Guarantee: 100% No questions asked.
The secret to living a very healthy life is simply doing it in the way that's most convenient for you. I mean what's the point of trying to live healthy by stressing yourself?
For me, there'll be no need.
It's important to find an easy route to this so you don't cause more harm than good. And one way to do this is right above this final verdict.
Taking the Jade Leaf organic Japanese matcha green tea powder is one way to it. With its calming abilities, mind clearing and anxiety reducing abilities, this powder, we can say, works some health and psychological wonders.
Outside those health benefits, you can also use this tea powder for baking, making lattes and adding to food recipes.
So this green tea isn't just for one purpose and even though it has its own side effects, it's but they aren't nearly enough to stop you from enjoying the awesomeness of this green tea, so if you're up to it, then I advise you get it now.

The post Jade Leaf Matcha Green Tea Powder [Organic Japanese] – Energy & Metabolism Booster appeared first on Green Tea Lobby.