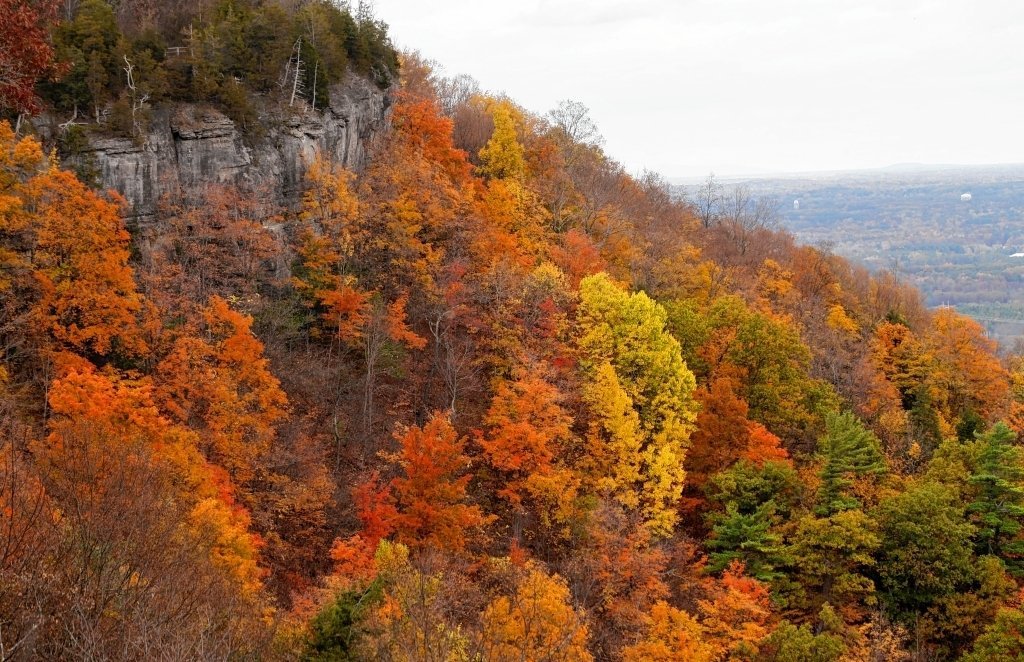 Favorite Finger Lakes Wines from Recent Tastings around Seneca Lake
As the leaves are about midway through their beautiful color changes in the Finger Lakes (although very uneven color changes, depending on the area; visit http://www.iloveny.com/seasons/fall/foliage-report/ for details), here are some of my favorite wines from recent Finger Lakes wine tastings:
- Unfortunately, Pinot Grigio in the Finger Lakes (and in many areas of the world) can be rather one dimensional, but now and then I come across an exceptional one like
Belhurst 2014 Pinot Grigio
(0% Residual Sugar, 12.5% alc.), with aromatics of vanilla and banana, with multi-layered apple notes with ample full-bodied acidity, a little expensive at $21.95 but it's the best Finger Lakes P.G. I have tasted in the last several years.
-
2014 Belhurst Dry Riesling
, (.09% Residual Sugar, 12% alc.), Very tropical with kiwi, subtle lime, peach and mango notes, $18.95.
-
Damiani 2013 Bollicini
(1.85% Residual Sugar, 11.2% alc.), their version of a Prosecco with a blend of Cayuga, Chardonnay, and Pinot Meunier; apple, melon and citrus highlights with a touch of sweetness in the bubbly finish. This is one of my go-to Sparklers and is a
Good Value
at $15.99. This will be on my table at Thanksgiving!
-
Wagner 2013 Dry Gewurztraminer
(.2% Residueal Sugar, 12% alc.), This wine is peaking beautifully right now with lavender and dried herb tones folded into a long focused mid-palate steely streak into a crisp finish, a
Good Value
at $13.99.
-
Leidenfrost 2011 Gewurztraminer
(2.5% Residual Sugar), I know it's 4+ years old but it is holding at its peak now (Drink Now) with extremely complex aromatics of anise, mint, cinnamon, and orange peel into soft classic lychee fruit,
Good Value
at $12.00.
-
Chateau Lafayette Reneau 2013 Barrel Fermented Chardonnay
; I preferred this over the more expensive Proprietors Reserve Chardonnay (French oak) and was shocked to learn that it was aged in American Oak (8 months); I would stand this up against the best of California Chard's; Impeccably balanced and full-bodied with well-defined but completely integrated oak, vanilla, butter, apple and citrus components and a nice value at $16.99.
-
Chateau Lafayette Reneau 2014 Dry Riesling
; Lemon cake aromatics lead into mouthwatering juicy Riesling fruit character and a nice value at $14.99.
-
Hazlitt 2013 Gruvee
(.5% Residual Sugar), Hazlitt is well-known for its sweet wines Red Cat, White Cat, etc., but they also make very good dry wines. This wine was a first for me, I have never heard of a Sparkling Gruner Veltliner ( I researched and found a couple of Austrian versions, but none that I could find made in the U.S.), This wine features fresh aromatics with nuanced apple, pear and melon finishing in a dry sparkling style, Unique interesting and delicious, $18.00.
-
Hazlitt 2013 Semi-Dry Riesling
, They still have some of this multi-awarded Riesling available featuring beautiful soft apple with exquisite mineral undertones and a
Good Value
at only $13.00.
- Hector Wine Co., I had not stopped here in a while, but I'm sure glad I did. I had heard about the joint venture that co-owner/winemaker Justin Boyette had started with Louis Barruol, the well-known owner/winemaker at Chateau Saint Cosme in Gigondas (Rhone Valley) France (his family has owned this estate in France for over 500 years). Barruol was looking to partner on a project in another winemaking region and finally found the right fit with Boyette in the Finger Lakes. They formed Forge Cellars, along with Trumansburg native Rick Rainey, using the facilities at Hector to produce only Riesling and Pinot Noir for this long-distance project. I tasted the 2013 Rieslings and, wow, they are impressive.
2013 Forge Riesling
, slow-pressed handpicked/hand sorted whole clusters fermented with both native and cultured yeasts, then 70% aged in neutral barrels and 30% in stainless tanks. The result is naturally, a European style Riesling, soft yet full-bodied with a nuanced style that doesn't hit you over the head with acidity or minerality. All of the components are fully balanced, soft and ample but with a restraint only veteran winemakers really know how to deliver. A steal at $24.
2013 Les Allies Riesling
, same processes as the Forge Riesling but 100% aged in neutral barrels. Soft but amazingly expressive fruit with the mineral, acidity and fruit components minutely defined but perfectly integrated. An excellent value at $26.