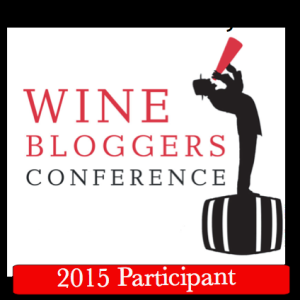 After returning from a wonderful and educational experience at the 2015 Wine Bloggers Conference in the Finger Lakes with over 200 wine writers, here are my thoughts and highlights from the event:
- First and foremost, the term itself "Blogger" is not the correct term for the attendees of this conference. The attendees that I met from all over the United States and from around the world are not mere "bloggers". They are passionate wine writers who have built a substantial knowledge base of their respective wine regions and though, for the most part, they may only be part-time unpaid wine writers on their blogs and need to work another job to pay the bills, they still deserve to be respected as skilled professionals at their craft. When blogging was first born on the internet, it referred to a new way of keeping a "web log" of one's experiences and thoughts, but many blogs today have transformed into well-respected forms of media on many topics. I don't know what the perfect term is for what we do, but I like the term Short-format Wine Writer for what I do here. I am very thankful to have met so many of my fellow wine writers at this conference and they inspire me to become better at my craft.
- The conference was extremely well run and I especially thank everyone at the Finger Lakes Wine Country Tourism Marketing Association for their hospitality. Organizing a conference like this that has multiple excursions and a jam-packed agenda is extremely complex, but the organizers pulled it off beautifully. As a Finger Lakes writer, other writers asked me a lot of questions about the region and its wines, and most commented to me how beautiful the area is and how close-knit the Finger Lakes wine community (winery owners, winemakers, tourism, restaurants,etc.) is and how they appear to work so well together, and that certainly is one of the special things about the Finger Lakes wine community. The Finger Lakes has a small-town feel which is a large part of its charm it and I for one hope that never goes away.
- Thursday night reception: What impressed me about this reception and about the entire event is that the Finger Lakes wineries brought out their top level folks to present their wines. For the most part, the winery owners and winemakers were the ones pouring the wines and answering questions throughout the conference, which made a great impression on the attendees. Highlights of this night were Len and Judy Wiltberger, owners of Keuka Spring Winery, pouring their fabulous Gewurtztraminer's and being their charming selves, and also the wonderful food provided by local Corning eateries in beautiful Corning Riverfront Centennial Park.
- The Friday morning seminar focused on the climate and soils of the Finger Lakes highlighting the complexity of soil types and diversity of climate with which Finger Lakes grape growers must contend. Within just hundreds of feet, the soil type and microclimate of a vineyard may be totally different, which makes grape growing in the Finger Lakes highly complex. Cornell University crop physiologist Alan Lakso commented that growers in the Finger Lakes have gained vast knowledge of what types of grapes do best in what areas and that knowledge will continue to improve the quality of wine in the region. The discussion also turned into a somewhat heated debate about Vinifera (European type grapes such as Riesling, Cabernet Sauvignon, etc.) versus Hybrid (Cayuga, DeChaunac, Vignoles, etc.) grape production in the Finger Lakes, with the Vinifera side postulating the theory that Hybrid wines muddle the reputation of Finger Lakes wine and the Hybrid side stating that hybrid wines are essential in the product mix of many wineries for economic reasons. Frankly, I believe that there is room for both types and I have tasted both poor and excellent examples of both.
- Friday afternoon tasting sessions: Since Finger Lakes Riesling is my passion, I attended the Riesling seminar which included Finger Lakes Rieslings from top producers such as Red Newt, Knapp, Lamoreaux Landing, Sheldrake Point, Fox Run and Lakewood. The quality was outstanding across the board. After this, the next event was what we eventually called Speed Dating for Wineries where, for an hour, Finger Lakes wineries have 5 minutes to present and explain one of their white wines to a table of attendees and then must quickly go to the next table and do the same thing. I felt a little sorry for the wineries as 5 minutes was much too little time to adequately present the wines. But, as an attendee, it did give us a chance to review quite a few wines in a short period of time. I would suggest to the event producer that 8 to 10 minutes for perhaps 75 minutes would make this event seem less rushed for both the wineries and attendees.
- Friday evening excursions to Finger Lakes wineries: 20 buses lined up to take attendees to a surprise winery location. This was probably my favorite event of the conference. My group went to Lakewood Vineyards on Seneca Lake, where hosts Chris and Liz Stamp, owners of Lakewood, and their family made us feel right at home with wine and dinner in their vineyards overlooking the lake. We had time to chat with them and other nearby winery owners and winemakers and it was a very enjoyable and relaxing evening.
- Saturday included seminars on the age-ability of Finger Lakes wines with a sampling of library wines that were at least 8 years old. To me, the question of age-ability comes down to the question "Is the wine as good or better at some aging point that is longer than normal aging than it was when it was released", and not "Is the wine still drinkable at some aging point that is longer than normal aging than it was when it was released". Only one of the wines (an Ice wine) presented perhaps met the criteria of the first question, although all were still drinkable. But age-ability may be a moot point as one of the attendees pointed out a study that stated that only 1% of all wines actually improve after 5 years of age.
- Next I attended the red wine version of Speed Dating for Finger Lakes Wineries where again Finger Lakes wineries had 5 minutes to present and explain one of their red wines to a table of attendees and then must quickly go to the next table and do the same thing. Again, the quality of the reds presented was very high with a Hosmer Cabernet Franc and a Lucas Cabernet Franc rated highly in my notes.
- Next we had a tasting outside (the weather was beautiful for the entire event) of wines from around the world including Spain, Chile, Argentina, Germany, South Africa, Italy and Brazil. Of course I loved the German Rieslings, but I also fell in love with a white wine from Argentina. Kaiken Wines presented a Torrontes wine that was extremely aromatic and reminded me of an exquisite blend of Riesling, Chardonnay and Sauvignon Blanc. I will be searching for more of these in my local wine store. For info on Torrentes visit www.winesofargentina.org/argentina/variedades/malbec-torrontes/torrontes/
- There was much more planned for the evening and the next day, but I had to return home and I admit I was a bit wined-out. Overall it was a wonderful conference and I learned quite a bit and met a lot of great people that I hope to contact and work with in the future. I have to say that the most impressive Finger Lakes wine that I tasted during the conference was Boundary Breaks Riesling. I stated in a previous post that Boundary Breaks is a relatively new winery on the east side of Seneca Lake that produces only Riesling and has been winning a lot of awards. I will be getting there soon and post more about them. Next years conference will be in Lodi CA, not sure if I will make that one, but if you are a short-format wine writer like me, I highly recommend the Wine Bloggers Conference.