Sometime in June 2013, about a year ago, I had a few days to spend in
Tokyo
, Japan. I stayed at the Khaosan Tokyo Annex for the whole extent of my stay there (Unfortunately they have closed that branch and reopened somewhere else, check the website). I was assigned the topmost floor, also the fourth floor! with no elevators servicing the hostel. Good thing about it is that the washing machine and drying area is on the roof level, just a level upwards. I think it was 200yen for a full load. There is also a very nice view from the roof where one can catch a clear view of the Tokyo Skytree.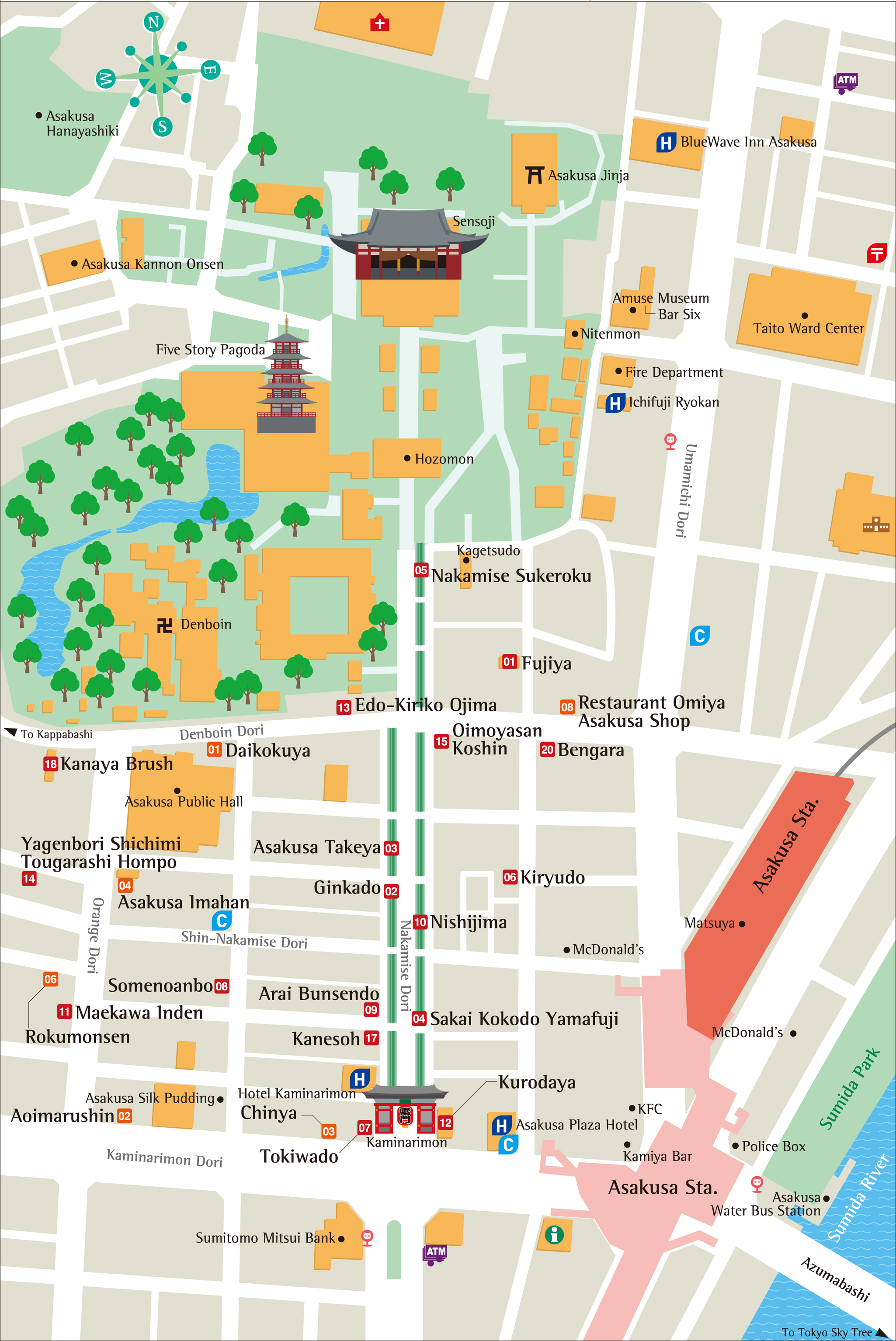 A fun map detailing the main attractions of Asakusa (source: http://youinjapan.net/maps/tokyo_maps.php)
It is a short walk across Sumida river to the Asakusa subway station and to the Nakamise shopping street where you see lots of tourists, stalls, food, souvenirs, etc. The main temple is called the Sensoji temple and the main gate to the street is called the Kaminarimon (I think its translated to Lightning gate). Its really hard to miss this. Just alight at the Asakusa subway station and follow the crowd. Japanese food like ramen and yakitori are plentiful there.
Well, I didn't really need the bicycles to get to Asakusa. To Ueno perhaps...
The Tokyo Skytree.
charsiew ramen. Amazing.
Cheaper machine made dorayaki.
60yen dorayaki made with machines.

The Kaminarimon.
Nakamise shopping street. One can get lost in there! and don't forget to visit the many smaller adjoining streets.
Fried rice biscuits. Try the one with seaweed wrap.
Yakitori served by a shop in the shin-nakamise street.
Basically, one does not need to plan too much while in Tokyo, especially in Asakusa. Just randomly walk starting from the kaminarimon. Who knows, you might just discover something special.
This post first appeared on Physikality, please read the originial post: here