There can be no finer way to explore the incredibly diverse and captivating Iberian Peninsula than by Train. Relax in comfort, take in the scenery, sip Rioja and wait for the next adventure. For it must be said that Spain's much-improved rail network is now one of the most efficient and modern in the world today; the high-speed AVE service, for example, travels at speeds averaging 300km per hour. It whisks passengers daily from Barcelona to Madrid in under 3 hours! Moreover, taking a rail journey affords visitors an unparalleled opportunity to appreciate the majesty of the Spanish landscape in all its glory – this truly is the most varied topography and scenery in Europe. Traveling by train, you may encounter the snow-capped peaks of the Pyrenees, or the green meadows of Galicia or perhaps the orange groves of Valencia and the majestic Sierra Nevada in Andalusia. Spain, in fact, is the most mountainous country in Europe after Switzerland and Austria. It is said that until the railways were built, it was easier to transport goods from Barcelona to South America than to Madrid!
In recent years, the popularity of traversing Spain by rail has soared, giving rise to a number of specialist train operators, the most prominent being FEVE. They offer train journeys in a very similar environment to the Orient Express, giving passengers the opportunity to explore Spain in luxury and comfort. You'll travel in regal style in 14 period carriages, built between the 1900s-1930s, that have since been lovingly restored, effortlessly merging rail tradition with the modern amenities that today's traveler expects. For explorers considering this delightful option of travelling through Spain by rail, here is a guide to our two favourite train journeys available this year for food, Wine and culture lovers:
El Transcantabrico – Santiago de Compostela to San Sebastian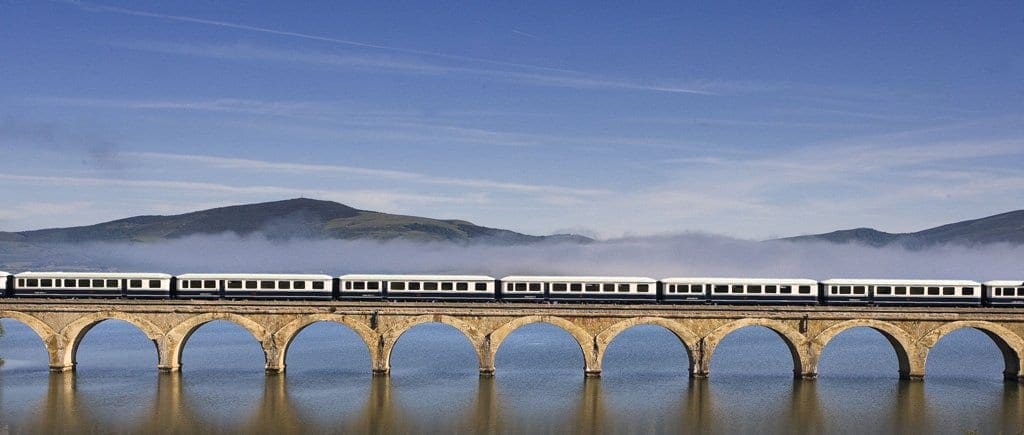 Arguably Spain's most famous historical rail journey, El Transcantabrico is a very special experience indeed; passengers spend eight spectacular days meandering along the scenery of northern Spain while taking in Galicia, Cantabria, Asturias and finally, the Basque country. There are plenty of opportunities for sight-seeing, as well as sampling the local food & wine of so called 'Green Spain,' which has always been one of our favorite regions.
Your journey starts in the pretty coastal town of Ferrol, which is incidentally where Franco was born. A short ride from Galicia's beautiful capital, Santiago de Compostela, the train departs for the first port of call, charming Viveiro. First things first though, time to settle into your accommodation. Describing El Transcantabrico as a train is a bit of an insult: it is essentially a luxury rail hotel, complete with several stunning suites and public areas. It consists of a train built in the 1920s, designed for around 50 discerning passengers who want the space and comfort to enjoy their journey. After a day's traveling and a gourmet meal, complete with local wines from Galicia – perhaps a crisp, refreshing Albarino! – you'll pull into Viveiro the next morning. The sea-facing town has a long history linked to fishing, and is a lovely place to spend an afternoon relaxing and, of course, eating and drinking. The old part of Viveiro has some lively seafood tapas bars, serving local Galician wines like Godello by the glass.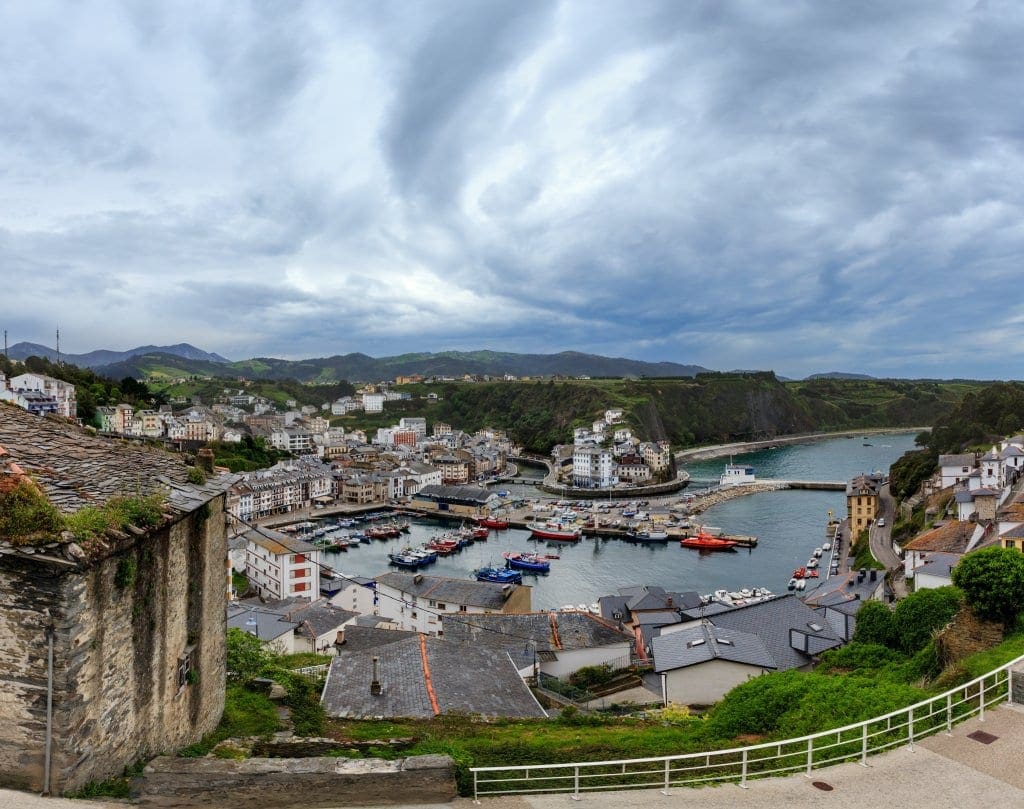 Luarca, Asturias
After a leisurely lunch, hop back on the train and travel to Luarca, another picture-postcard town in Asturias. The s-shaped cove surrounds a pretty little harbour full of boats in the summer season; again, the old town has plenty of opportunities to sample delicious local tapas and the white wines of Galicia – Asturias is more renowned for admittedly delicious cider, than vineyards! Relax, take in the scenery and return to the train for another gourmet feast, before heading to the bar for perhaps some cocktails. Get some sleep, though, as tomorrow you'll have a busy day of sight-seeing and adventure ahead.
Enjoy a great breakfast as the train pulls into Gijon, Asturias' largest city. Today, you will have the opportunity to get acquainted with the spectacular Picos de Europa, which sit astride the border between Asturias and Cantabria. There is a wonderful, timeless air to this part of Spain; remote rural villages exist pretty much as they did a hundred years ago. The jagged peaks of the Picos offer excellent walking and hiking opportunities and contain several unspoilt nature reserves home to rare species of plants and animals, including brown bears.
After breakfast, take the time to explore Gijon. The port was rebuilt following the Civil war into the vibrant small city it is today. Most visitors gravitate toward the old town, which is on a small headland. It centers on the arcaded Plaza Mayor and the 18th century Palacio de Revillagigedo. The next stop on your journey is marvelous Oviedo, the cultural and commercial capital of Asturias. It's a gorgeous university city and well worth the detour. In and around Oviedo are many Pre-Romanesque buildings. The finest example of this architectural style is undoubtedly the Santa Maria del Naranco church, originally built as a summer palace for the King Ramiro I.
All this exploring is bound to work up an appetite. Luckily, Oviedo boasts some of the region's best tapas bars and restaurants. A local specialty is Fabada: a savory stew combining pork and beans. Fava beans are simmered with salt pork and Morcilla (black sausage) to simple but delicious effect. Wash it down with a glass of Rioja; although Asturias is not known for wine making plenty of superb bottles from nearby Rioja and Navarra are readily available.
Prepare to say fair well to Asturias as the train winds its way toward Santillana del Mar, near the Cantabrian border. Enjoy a pre-dinner aperitif and marvel at the truly stunning scenery; passing near the village of Ribadesella, the train line hugs the coast, affording spectacular views of northern Spain. At Santillana del Mar, you must make time to explore what is northern Spain's prettiest village. Set just inland, it's 15-17th century golden stone houses remain largely intact and draw large numbers of visitors in the summer. Make sure to have a cafe con leche in the enchanting Plaza Mayor.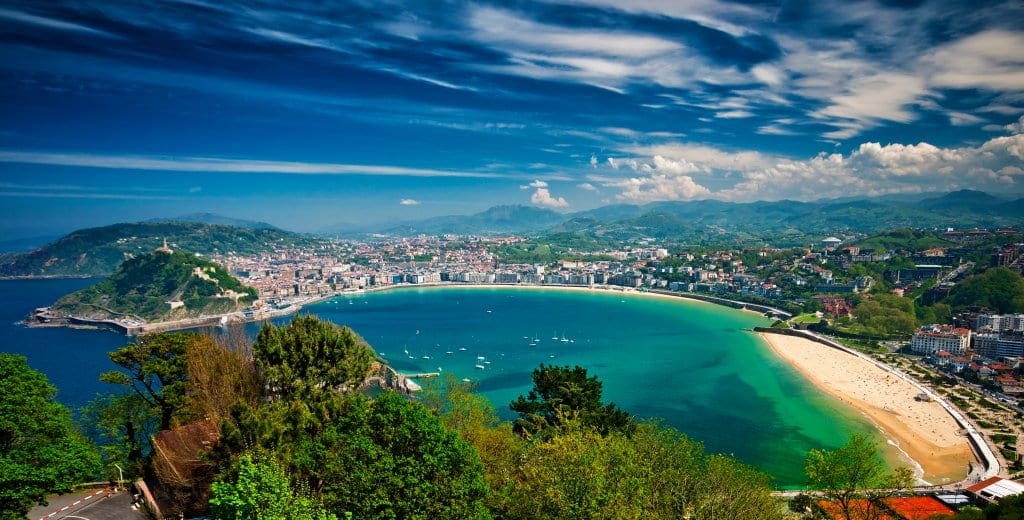 San Sebastian Bay
The journey ends in the Basque country, famous for its unique language, dramatic coastal scenery, Txacoli wine and some of the best gastronomy in Europe. Gloriously situated on a shell-shaped bay, San Sebastian or Donostia in Basque, is the most elegant and chic resort in Spain. During the day explore the Parte Vieja and get to grips with Pintxos – Basque Tapas – before enjoying a top-flight gourmet experience at the 2 Michelin-starred Arzak. Trust us, you'll be ending this magical train journey on a unbeatable note.
Tren Al-Andalus – Zaragoza to Leon (Rioja and Ribera Del Duero tour)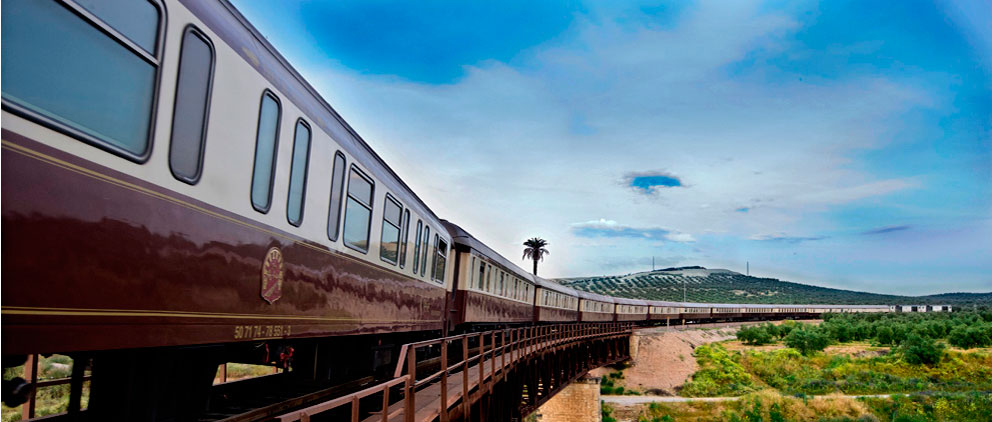 Lovers of fine wine and cuisine are in for a real treat: this four day rail extravaganza from Zaragoza to Leon takes in both the legendary vineyards of Rioja and Ribera Del Duero, Spain's greatest red wine regions. You'll be traveling in supreme comfort and style aboard the Al Andalus, one of Spain's finest trains and a so called; "Palace on wheels." The carriages were actually built in France for use by the British Royal family, when traveling between Calais and the Cote d'Azur. These original Belle Epoque elements have been retained to offer passengers unrivalled levels of opulence and attention to detail; the finest suites rival the best hotels in Spain.
The train departs from Zaragoza and travels deep into the Aragon province, on its way to Logrono in the Rioja region, your first port of call. Stretching almost half the length of Spain, Aragon takes in a wide variety of spectacular scenery, including Rioja's river Ebro, the Pyrenees and the great plains of Spain's interior. On your first night settle into your luxury suite and prepare for a gastronomic feast at dinner. You may well be offered a rare vintage of some of Rioja's finest wines, including Roda, Finca Allende or perhaps Remirez de Ganuza. Relax, enjoy your first delicious meal on-board and retire to the salon bar for some cocktails.
Rise and shine, you've arrived in Logrono, capital of the beautiful Rioja wine region. Fine wines have been made in this venerable region for centuries; Riojan wines are included in the oldest appellation in Spain and were officially recognized in 1926. Today, both the wines and the region itself are a magnate for wine lovers, which, as any visitor can testify, is of little surprise. Few of us would argue with unspoiled countryside and mountain scenery, a proud and dynamic gastronomic tradition, ancient villages, a surfeit of culture and, of course, delicious Rioja.
After a leisurely breakfast, you'll have time to explore Logrono and it's many delightful narrow streets and tapas bars. The administrative and commercial center of Rioja is situated on the banks of the river Ebro, and it is without doubt the most interesting and modern town in Rioja, albeit parts of the city are ancient in origin and contain a healthy concentration of bars and restaurants. Shopaholics are going to love the center's wide boulevards, full of elegant shops while foodies will head straight toward the Calle Laurel. The choices for an extended lunch are numerous, but we love El Cachetero, 3 Calle Laurel. It serves delicious, regional cooking in a family run, cosy restaurant. The generous list of local vintages is another bonus.
Depending on what time you finish lunch, you could sneak in a visit to one of the city's nearby Bodegas. Marques de Murrieta is a legendary name in the region, founded in 1872. It consists of three stone buildings with one representing the old Ygay castle and the estate, which picturesquely surrounds the winery. They welcome visitors!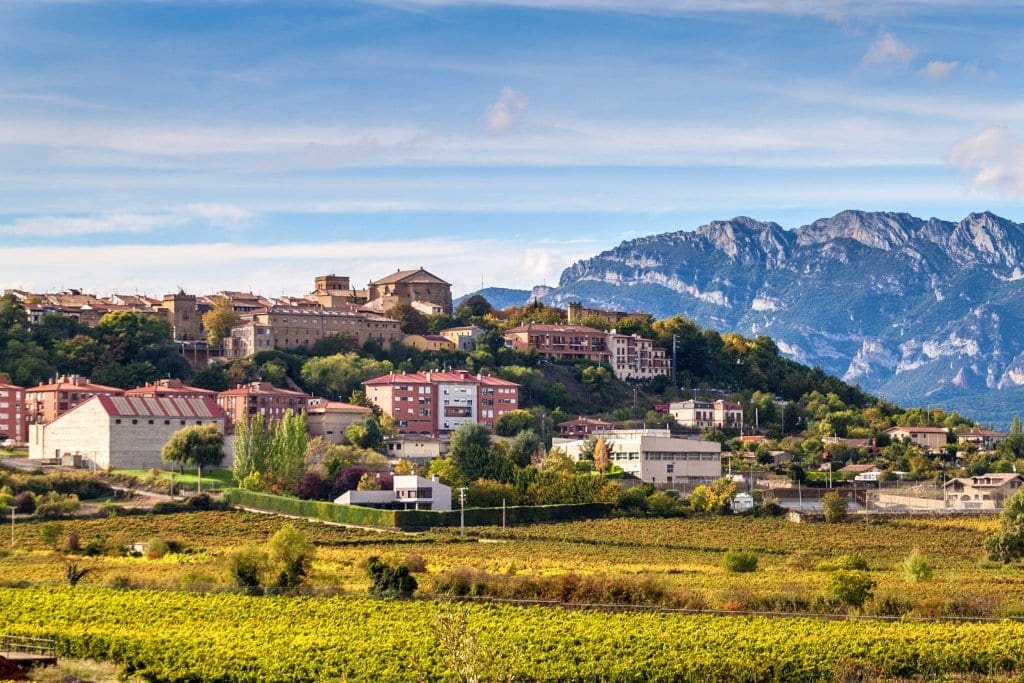 Medieval town Laguardia, La Rioja
After sampling a few of Marques de Murrieta's finest vintages, head back to your luxury accommodation for another memorable meal, paired with local wines, naturally. Your journey will take you into the Castilla Y Leon region, one of Spain's largest. Awesome expanses of ochre plains stretch to hills dotted with the castles that cover this vast region. Indeed, this central province has had a major influence on Spain's language, religion and history. It's many historical cities preserve some of the country's most spellbinding sights.
Burgos is such a city, your next destination on this luxury rail adventure. Founded in 884, Burgos has been an important part of Spanish political and military history and merits a full day's exploration. It was the capital of the united Kingdoms of Castile and Leon from the 11th century till the 15th. It is full of notable sights, none more so than the impressive Gothic cathedral, the country's third largest. It was started in 1221 and gradually completed and expanded over three centuries, involving many of the most renowned architects in Europe. Highlights include the Golden staircase, an elegant Renaissance staircase by Diego de Siloe and the Sacristy, rebuilt with rococo altars. Make sure to dedicate at least two hours to this marvel, before exploring Burgos' old town for that quintessential Spanish treat – Tapas and local wines.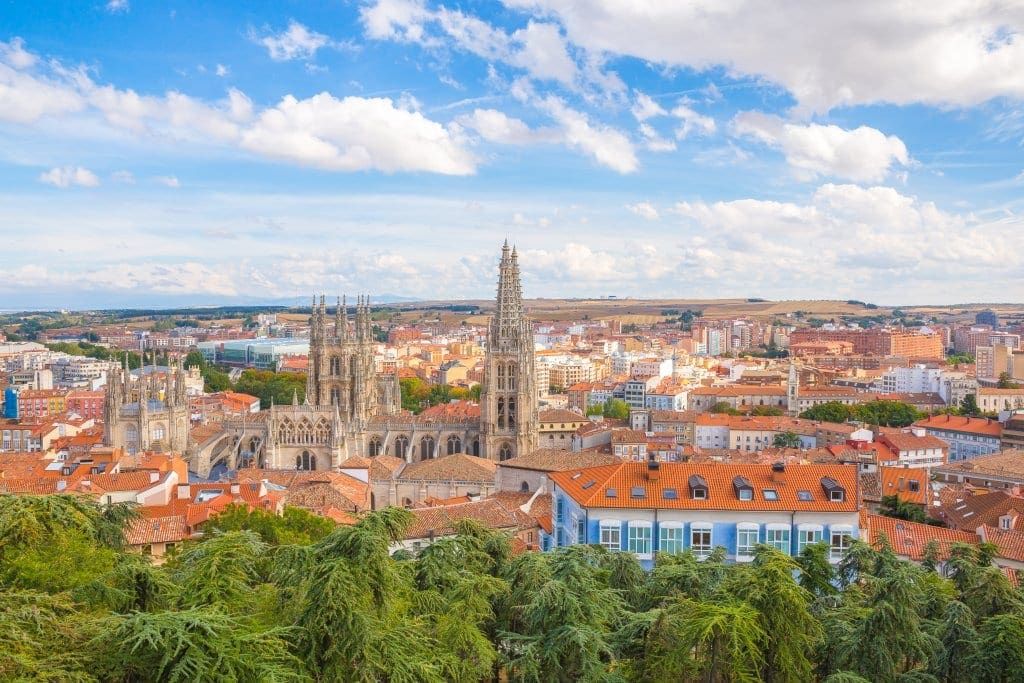 Burgos
In Burgos, you're more likely to be served Ribera Del Duero than Rioja, the local wine of Castille Y Leon. Spain's most fashionable red wine region contains such legendary names as Vega Sicilia and Pesquera. You'll encounter plenty more top bottles though, in your next port of call, Valladolid. The Ribera del Duero zone stretches east of the City, along the Duero river (known as the Douro in Portugal). But before you plan a visit to one of the local wineries take the time to explore Valladolid's historic center. The Monarchs Fernando and Isabel were married in the city's Palacio Vivero, and subsequently made Valladolid the capital in 1492.
After a stroll around Valladolid and a superlative lunch, your train operator can help organise a visit to a nearby Bodega. For a memorable visit and tasting, we'd go for Abadia Retuerta, which is considered one of the leading lights in the region. Their striking and modern winery is a sight to behold, the wines similarly unforgettable. After your visit, head back to Valladolid and relax back at the Al-Andalus – try and work up an appetite as another gastronomic feast awaits. Castille y Leon is known for its sucking pig and milk-fed lamb, ideal candidates for old Ribera wines.
Your final journey takes you to Leon, another of the region's splendid historical small cities. It served as the capital of the region in the Middle Ages and as such played a central role in the early years of the Reconquest. Apart from its magnificent Cathedral, the main draw is Leon's picturesque old quarter around the Plaza Mayor and its numerous bars and cafes, most with inviting terraces. For a memorable final lunch, we'd head to Meson Leones del Racino de Oro. Enjoy traditional dishes in the atmospheric stables of a 17th century inn. Specialties include game dishes, stews and blood sausage! All paired with a great selection of local wines. Feast, sip Ribera del Duero and marvel at your unforgettable adventure through central Spain.
More information on luxury, private chauffeured Wine Tours in Spain
The post Luxury Trains in Spain appeared first on Cellar Tours.