Spain is home to some of the most fabulous wine regions in Europe (including La Rioja, Ribera del Duero, Penedès, Priorat, Sherry, Toro, Navarra, Somontano, Rias Baixas, Ribera Sacra, Rueda and many other appellations) and more and more the concept of a wine hotel (either a working winery with accommodation or a hotel set amid the vineyards) is taking off. A list of some of the best wine hotels in Spain to help you plan your next wine tasting vacation in Spain
1. Mastinell Cava and Hotel, Penedès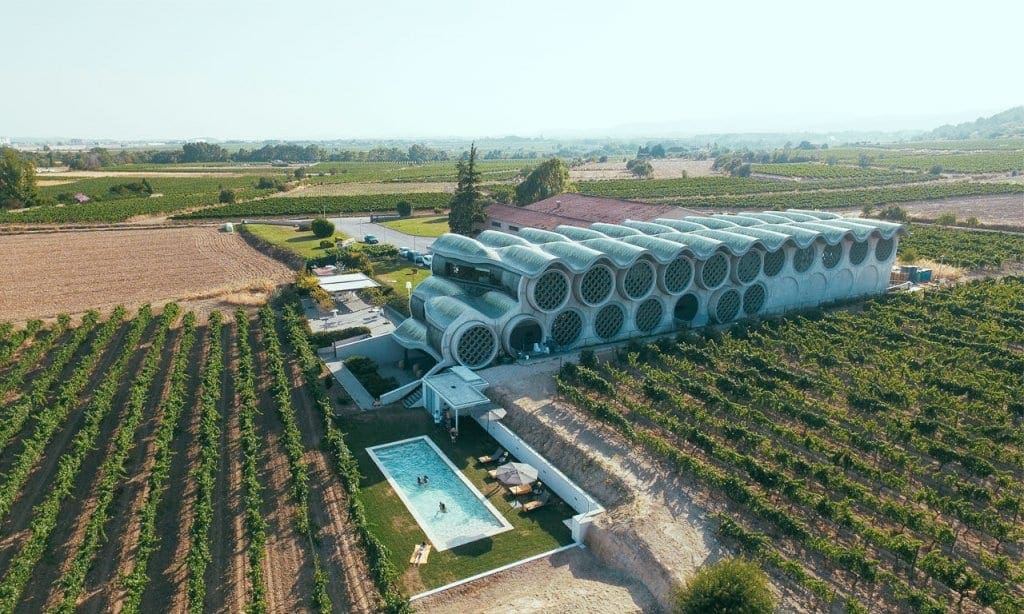 The curious building of the Mastinell Hotel in the heart of VilaFranca del Penedès, Barcelona is architecturally inspired by the cava riddling racks and totally embraces its surroundings. It is two story, minimizing the visual impact and low environmental impact features include solar panels, rainwater collection tanks and biomass water heating. The 13 rooms are beautifully decorated to the highest of standards. You can enjoy a relaxing Wine therapy bath looking out over the vineyards or a dip in the swimming pool, which is literally meters away from the vines. They offer a fascinating culinary experience with healthy, creative dishes using the best local produce, with the option of show cooking if you would like to see how your dish is prepared and all perfectly paired with the Mastinell wines.
More info on Penedès Wine Tour
2. Los Parajes, Laguardia, La Rioja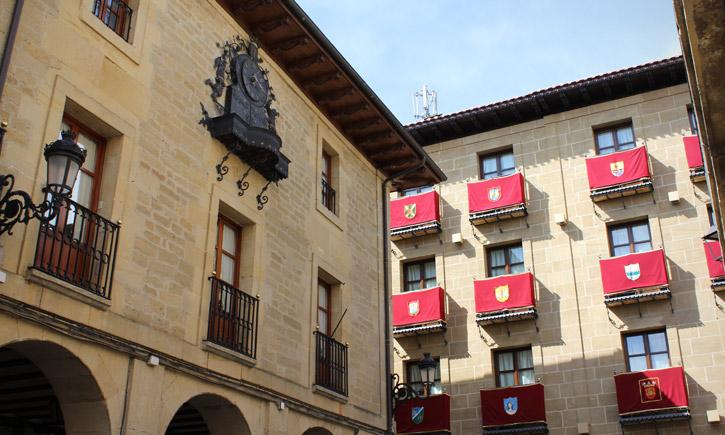 This charming hotel is set in a gorgeous historic, 16th century building in the medieval town of Laguardia. Beautifully renovated, it features a central patio providing natural light by day and star gazing by night with a spectacular fire place warming the atmosphere in the winter months. The 18 rooms are individually decorated, but all sharing the rustic chic and perfect harmony of original features and modern touches. The gastronomic offering is diverse, having two restaurants; one "Las Duelas" with traditional dishes and the "Los Parajes" explores modern cuisine paired with an inspiring wine list. A truly magical stay in the heart of Rioja-Alavesa.
More Info on La Rioja Wine Tour
3. Marqués de Riscal, El Ciego, La Rioja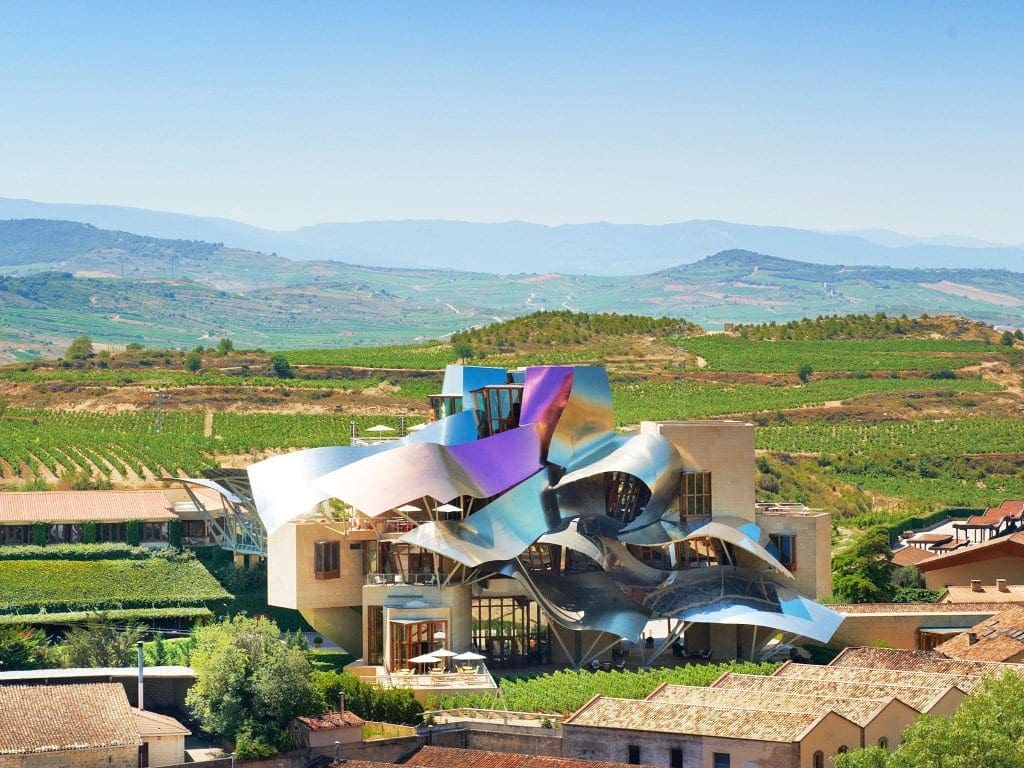 The "ultimate" luxury wine hotel in Spain, here is our newsletter review of this stunning property designed by Frank Gehry (who also designed the Guggenheim museum in Bilbao, among numerous other high profile projects around the world).
More info on La Rioja Wine Tour
4. Abadia Retuerta, LeDomaine, Sardon de Duero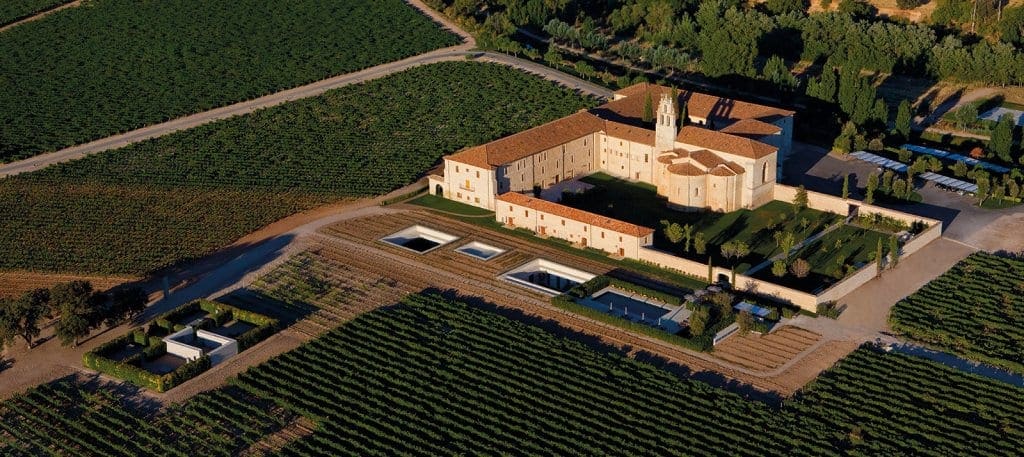 Abadia Retuerta, this stunning abbey dates back to 1146, when it was built on the banks of the River Duero by the Saint Norbert monks. The land being dedicated to the vine ever since. Today besides producing fabulous wines it is a multi-award winning luxury hotel and spa with a Michelin starred restaurant, the Refectorio. Contemporary dishes using ingredients sourced from local farmers are accompanied by their exquisite wines, all to be savoured in this most magnificent setting. There is also a gorgeous, more informal gastronomic offering, La Vinoteca, in what was the abbey's "cueva", wine cellar.
More Info on Ribera Del Duero Wine Tour
5. Monastery of Valbuena, San Bernardo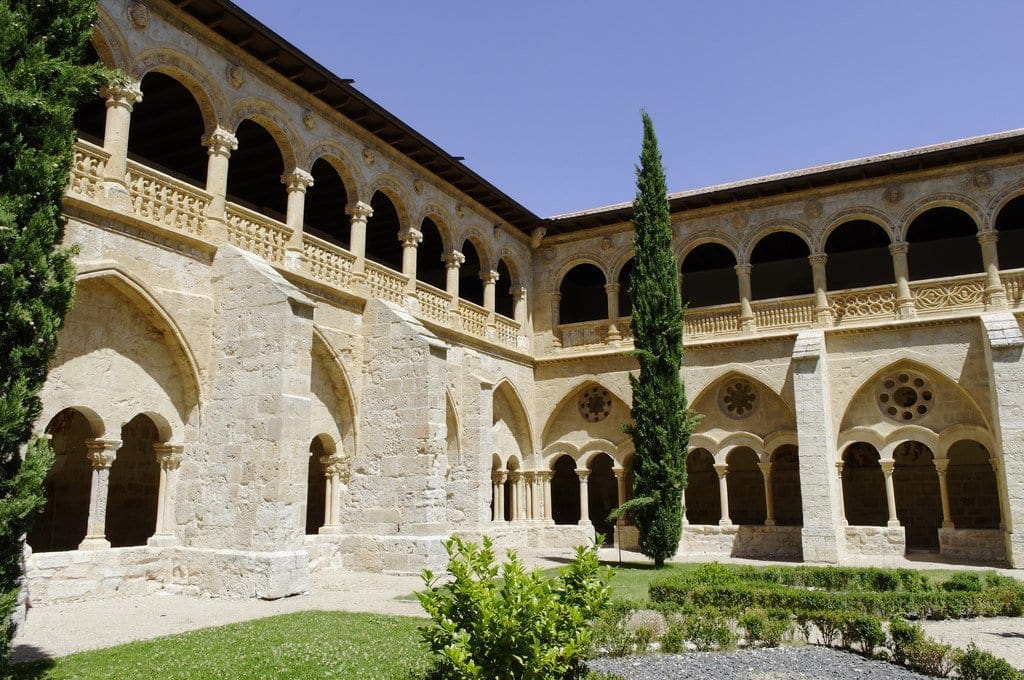 This absolutely fabulous immaculately preserved 12th century monastery proudly homes the first five star status spa in Castilla y León. Situated in the "Milla de Oro", the Golden Mile of the Ribera del Duero, in San Bernardo. Luxurious modern fittings and furnishings complement the elegance of the original features. Time to make the most of the fantastic spa is a must here, the mineral rich water being sourced from a nearly 400m deep spring, which was previously used by the monks to irrigate the vines. More info on Ribera del Duero wine region
6. Burgo de Osma, Soria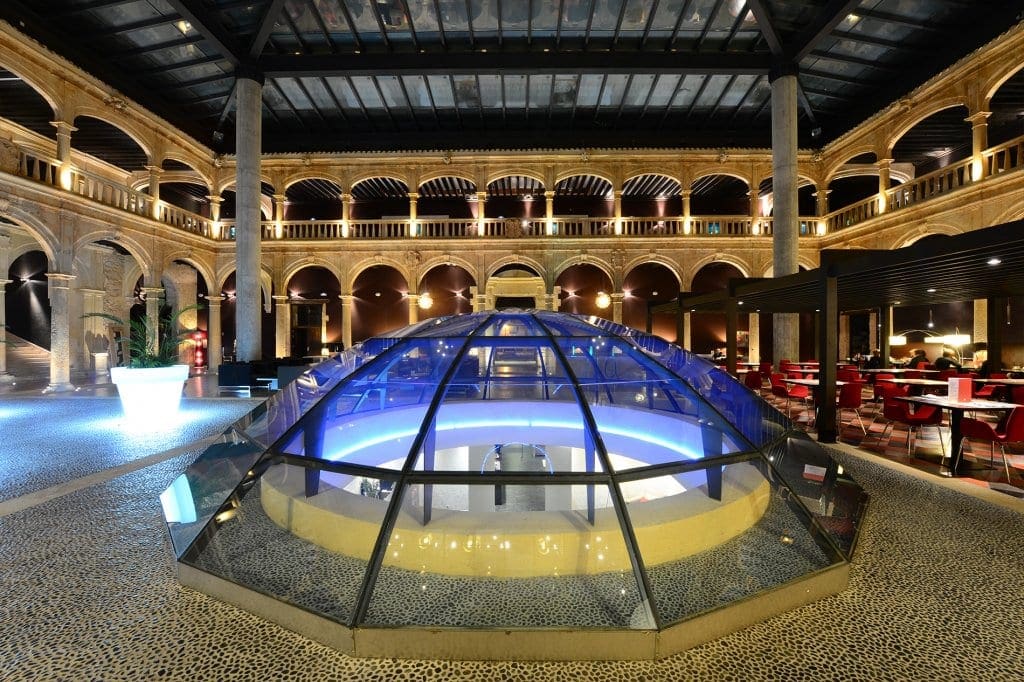 The Burgo de Osma Spa Hotel has been created within the majestic 16th Century University of Santa Catalina building in Soria. It is actually from underneath the renaissance cloister itself that thermal and mineral springs were discovered. The special healing properties of the water along with the stunning cloister in which the spa is set provide the ultimate environment for some relaxation. A perfect hideaway location, in easy reach of the Ribera del Duero wine region or cities of Soria and Burgos, great for a weekend of R&R
7. Hacienda Zorita, Salamanca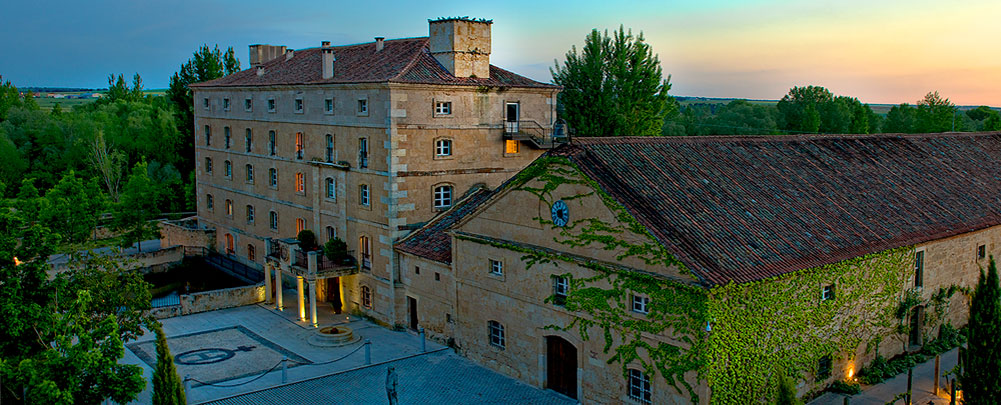 The Hacienda Zorita is a romantic and relaxing estate (part of the Haciendas de España wine hotel chain, leaders in wine tourism in Spain) to enjoy a weekend break near the beautiful city of Salamanca.
8. Hacienda Unamuno, Arribes del Duero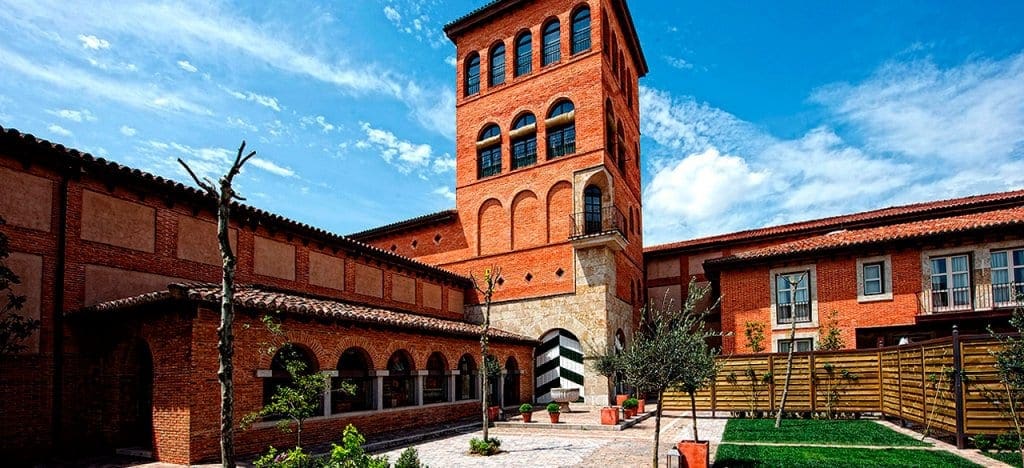 The smallest of the Haciendas de España group, and most intimate located in the dramatic Arribes del Duero wine country near the Portuguese border. This area is a protected nature reserve and pristine, and for a romantic and revitalizing weekend or even week long stay, this could be a fantastic base to explore the nearby wine country (Toro and Ribera del Duero are not far, and you can easily do day trips into Portugal as well as the historic city of Zamora). The "hotelito" is located inside a beautiful historic farmhouse, and is named after the philosopher Miguel de Unamuno. The vibe is very artsy and plenty of stressed out professionals from big cities come here to relax. Apart from wine tasting onsite you can also do cheese tastings and olive oil tastings from their collection of properties.
More Info on Ribera Del Duero Wine Tour
9. Parador Monasterio de Santo Estevo, close to Ribera Sacra, Galicia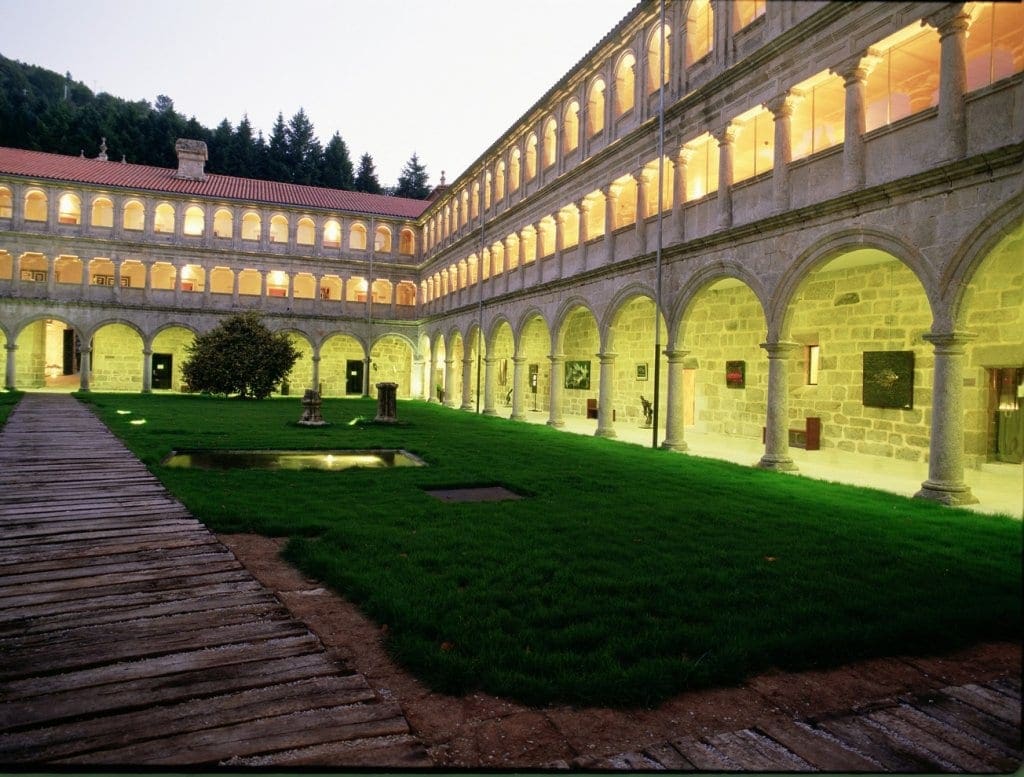 This gorgeous "Parador" hotel is FABULOUS and we used it as a base to discover the wine country of Ribera Sacra, Galicia's most beautiful and undiscovered wine region. The hotel is located in a historic Benedictine monastery that has been revamped with elegant and innovative decoration and the views from our room over the lush grounds are stunning.
10. Pago de Cirsus, Navarra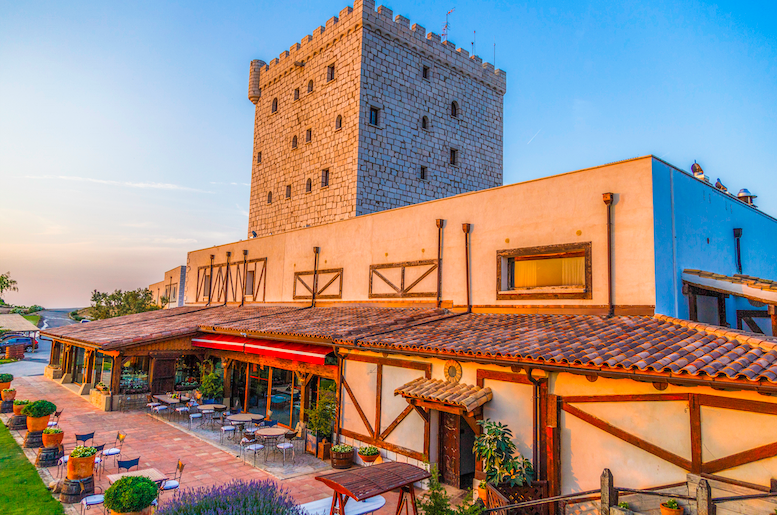 Navarra is one of the least explored wine regions in Spain and yet one of the most interesting. You have stunning medieval towns like Olite with its spectacular castle, and miles upon miles of unspoiled wine country. The exclusive Pago de Cirsus hotel is for lovers of the "buena vida". There is a 16th century fortress, a high-end winery and an excellent restaurant (with a gastronomic focus on the best products of Navarra, especially vegetables). Expect beautiful grounds, luxurious rooms and a lovely garden.
More Info on Navarra Wine Tour
11. Palacio Garvey in Jerez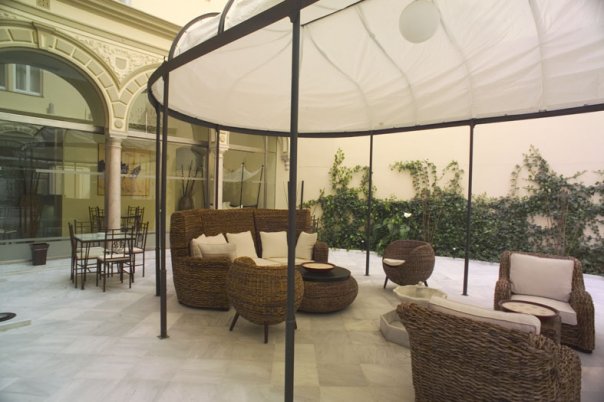 Jerez is unique in Spain in that the bodegas (wineries) are located right in the historic center, whereas the vineyards are spread out throughout various provinces. So you can go wine tasting right downtown, by foot! We love the Palacio Garvey hotel as it is in a prime, central location and it merges its palatial architecture with contemporary and ultra-stylish decor. The restaurant is EXCELLENT with good wine service. Apart from Sherry wines you can also taste an array of superb red wines from beautiful Ronda, also in Andalusia. The Palacio Garvey has many special touches from complimentary wine upon arrival, claw foot romantic bathtubs, and four poster beds with sublime sheets. Highly recommended if you are visiting Jerez.
More Info on Jerez Wine Tour
12. Palacio Canedo, Prada a tope Winery, Bierzo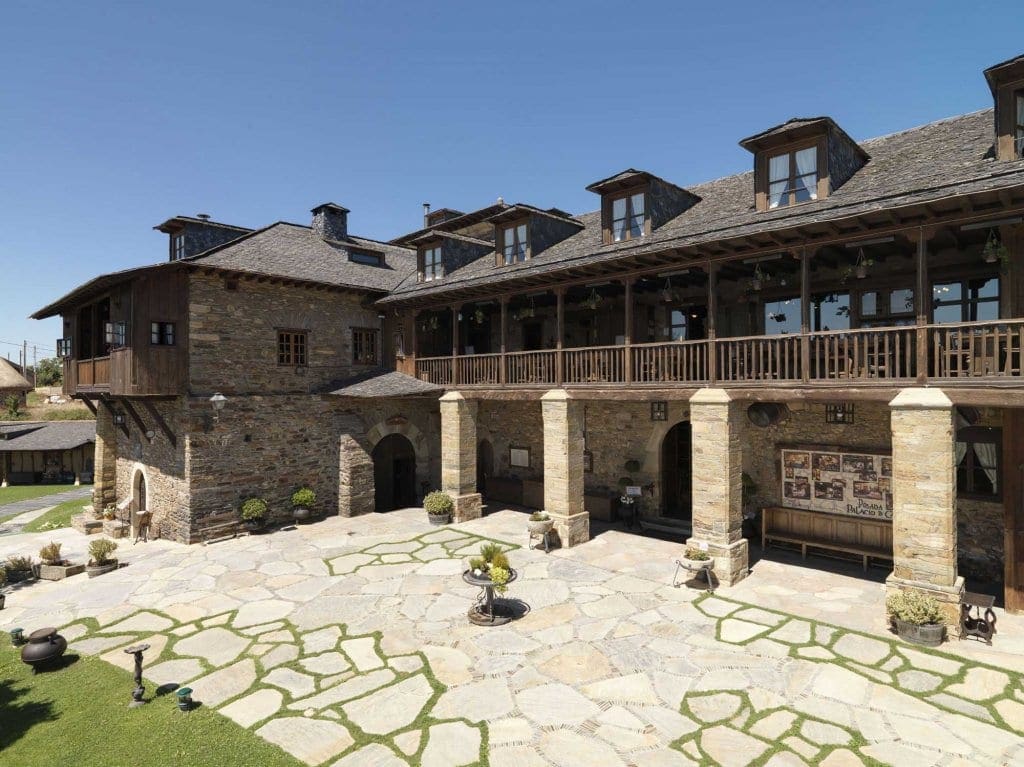 Bierzo still very much off the main tourist routes is extremely exciting for wine lovers. It is also an unspoiled and very picturesque region located southeast of Galicia. The Prada a Tope winery is one of the oldest and most famous and they have an entire working farm making everything from wines to candied chestnuts to marinated peppers and much more. Whereas the other hotels in this list are quite luxurious and contemporary, the Palacio Canedo (the name of this winery's inn) is romantically rustic. The ideal time to come would be autumn, after harvest when the vineyards are at their most beautiful and when it is cold enough to light the onsite fireplaces.
The post Best Wine Hotels in Spain appeared first on Cellar Tours.