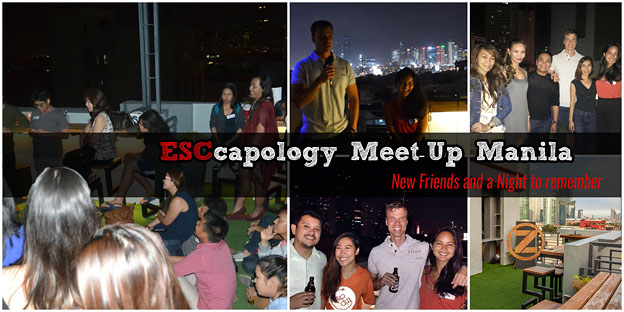 It's was on my mind for quite some time and I knew I would eventually do it. Getting to know the people behind all the avatars, the profile pictures and the anonymus nicknames. Taking the blog from the virtual world to the real world and finally creating an opportunity to personally meet and thank the people who have been supporting me during this incredible journey. A meet-up with my readers and followers – that was the idea. And since I was about to head over to the Philippines, Manila just had to be the place. What started out as an idealistic idea, soon turned out to be a tough challenge to make it really happen. Especially since my trip finally came together on a very short notice, hence not leaving much time to get it all on the right track. But with the help of some amazing friends and all of the great people that came out that night, we made it. And what eventually came out of it, exceeded my hopes and expectations by far. It was for sure a night to remember.
With the help from my friends
The whole event wouldn't have been possible without the help of some awesome people which I am grateful to consider my friends. There was the team of FlipTrip.ph and especially its founder April Cuenca. April has actually inspired big chunks of my first three-month trip across the country and has been helpful and influential ever since. Team FlipTrip found the perfect location for the meet-up – the rooftop terrace of brand new Z-Hostel in Makati. A beautifully designed home for travelers and backpackers, right smack in the center of everything and with a grand panoramic view of the Makati skyline. Already impressive during daytime, the breezy rooftop terrace really starts to unfold its magic once it gets dark, with the city lights illuminating the night sky like a million stars. A big thank you goes to Cao, one of the owners of Z-Hostel who went out of his way to make this thing happen.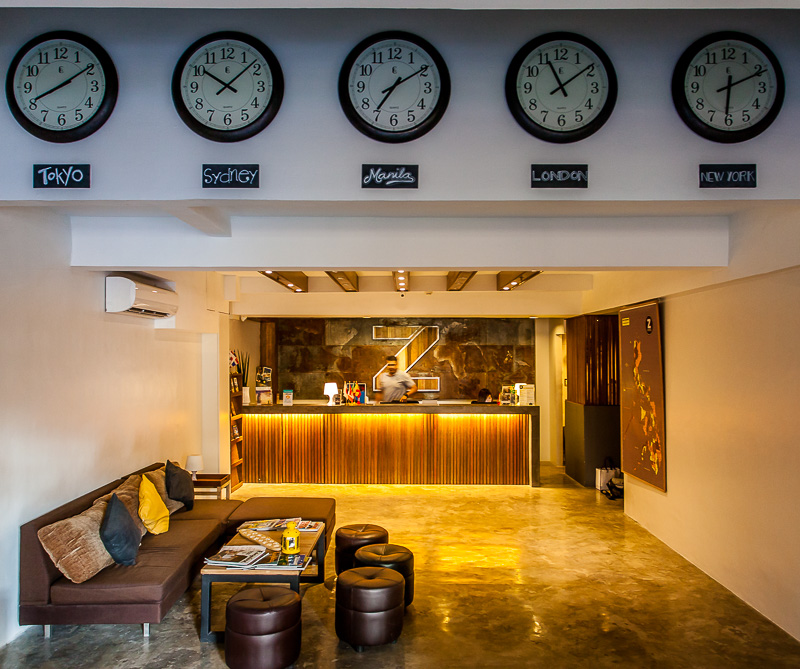 The stylish reception area of Z-Hostel, Makati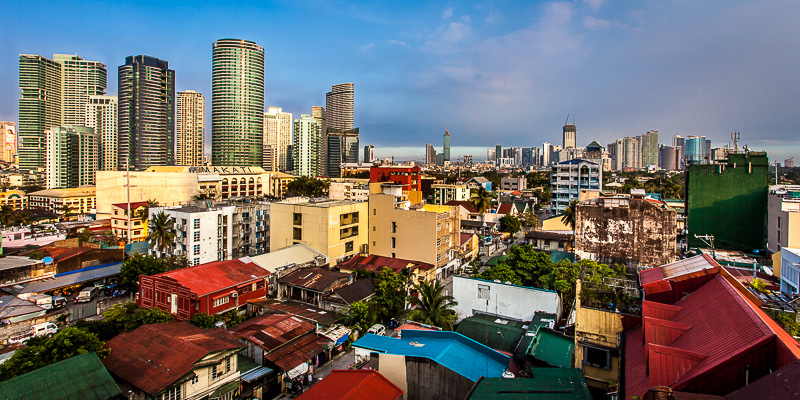 The panoramic view over the Makati Skyline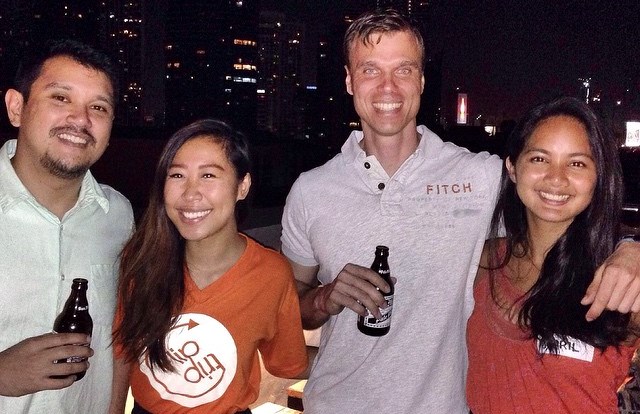 The team that made it all happen. Cao of Z-Hostel, Jackie of FlipTrip.ph, myself and April of FlipTrip.ph
Tickets sold out like Balut
Via an online ticketing system and split into a few batches, we gave away more than a hundred tickets and what can I say, they went away like Balut during a Filipino cockfight on a Sunday afternoon. The last tickets were then raffled off via an Instagram contest hosted by FlipTrip where users were asked to send in their best travel shots. And again, the response was amazing with people tagging their images with the hashtags #pipoy2pinas and #teamfliptrip. However, despite the impressive number of tickets, I still didn't know how many people to expect. In the end, the attendance was for free, no obligation to really show up. What if only a few people would attend after all? I started to become nervous.
A bit of stage-fright
And that nervousness only heightened as the meet-up came closer. Despite the fabulous organization, I just didn't know what to expect and to add to this, I am also not the type of guy who seeks attention or enjoys being the center of it. But in the end, I thought, this event wasn't about me. I wanted to do it, I wanted to be at my best for the people taking the time to attend and even traveling quite a ways to be there. I wanted to give back a little and everybody there to have a great time. A good half an hour before the official start, April took me for a snack around the corner which made for a great distraction. I was getting excited, looking forward to the meet up and when we went back, it was time.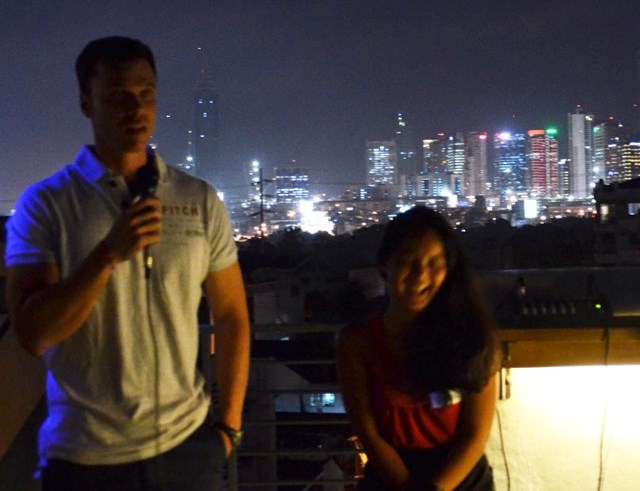 A bit of stage-fright. But I guess I didn't do too bad if I made April laugh so hard.
A night to remember
A few people were there already and getting to know them first was a good way to ease into it all. As time passed, more and more people showed up and despite my rather introvert nature, I really enjoyed talking to everyone and welcoming everyone. It was great to finally meet the persons who I had exchanged messages with, who had commented on my blog or who had participated in discussions on my Facebook Page. It felt like have known some of the participants for a long time already and finally meeting them in person was just awesome. That alone made the event so much worthwhile. What followed were interesting talks, exchanging of stories, introducing people to each other and getting a whole lot of pictures taken. And even that was a whole lot of fun. I especially would like to thank all of the guests who even brought little presents. A fresh buko pie, pastries and a cake, a lucky charm from Japan, a Filipino souvenir, coffee, some hand drawn sketches and even an engraved little travel knife. Please forgive me if I forgot anything else. That was far too kind and I really appreciated it.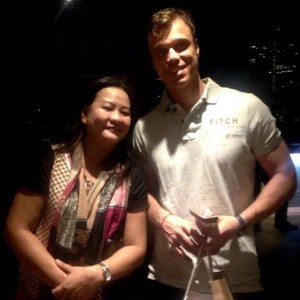 Thanks so much for the presents …
After a good hour or so, April had planned a little Q & A with questions she had prepared beforehand and with a second round giving the participants the chance to ask questions. The questions that came up were thoughtful, interesting, sometimes funny and sometimes even quite difficult to answer with only a few sentences. It also brought up a lot of good memories as for example the story of how I ended up with my Filipino nickname Pipoy. I really enjoyed the interaction and I hope I didn't all too bad up there. Jackie of FlipTrip posted a nice summary of the Q & A on their blog which you can find here. And last but not least, it was an opportunity to meet old friends, which I hadn't seen for a long time. Special thanks go to my friend Mirro, who came all the way from Batangas and brought along a pack of Kapeng Barako which is still saving my life until today.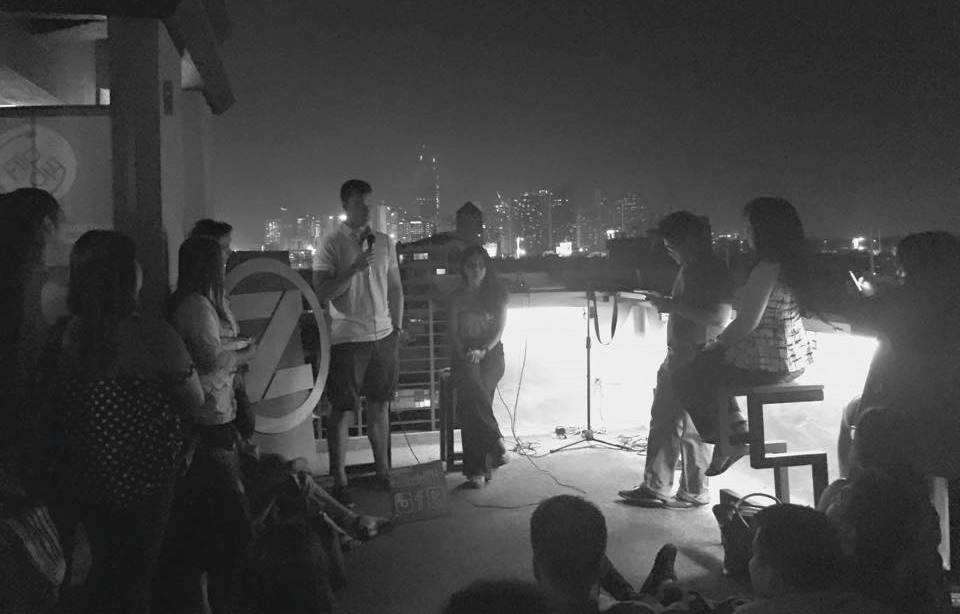 During the Q & A session…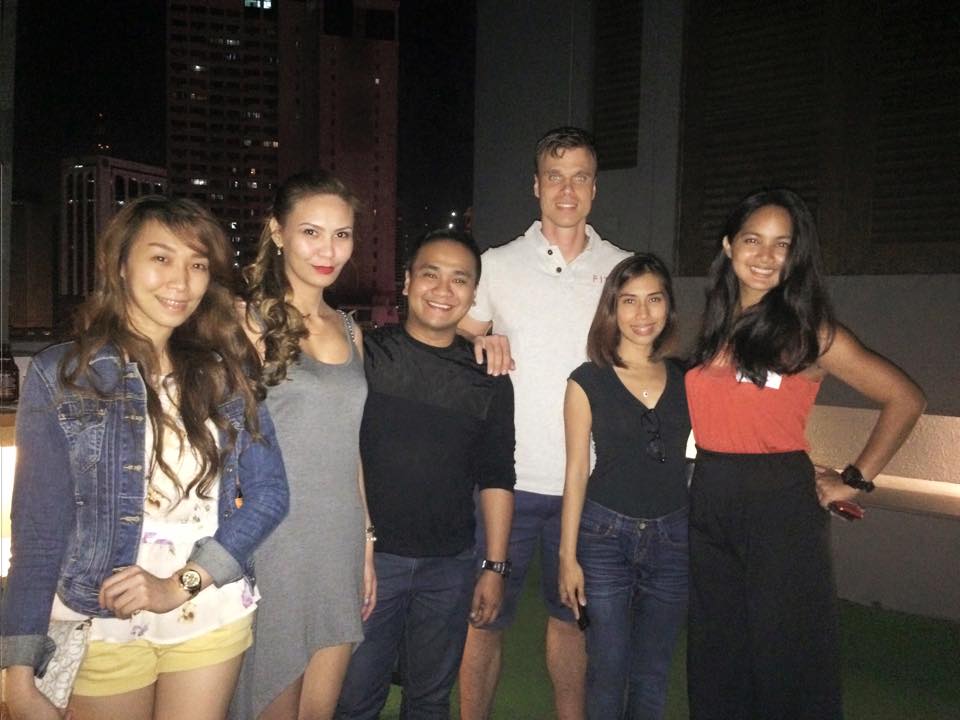 Mirro and I with a bunch of great people.
We were lucky that the weather was nice with a cool breeze flowing across the terrace, warm and not even a drop of rain. Easy lounge music was the soundtrack of the night, good food was served, some ice cold beers were downed and a lot of new friends were made. And what I maybe even liked most was the fact that people mingled, got to know each other and exchanged stories about their travels and other adventures. It was a truly social event and after all the initial doubts and worries, I can honestly say it couldn't have been any better. Thanks everyone who was there for making the night as special as it was.
Thanks a lot to everyone who came out that night.
Last thoughts
I finished the night with a couple of beers and chatting with the few people who stayed until late. When I went to bed, I was tired but so excited and so happy that falling asleep was not possible. I was happy to have met such a great bunch of people, happy that everything worked out, happy to have friends who supported me so much and happy to have had this amazing experience. It was a great event and that night I told myself, that it wouldn't be the last one. Wherever the next Meetup will be, I hope to see you there – taking it from the virtual to the real world. Until then my friends,
PS: Below I compiled all of the pictures I received from that night. Feel free to comment if you find yourselves in them.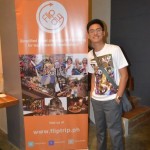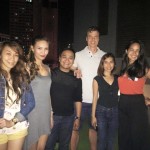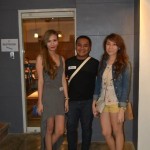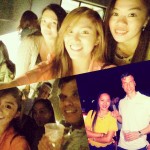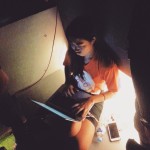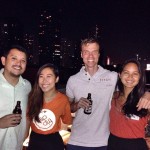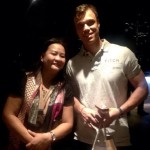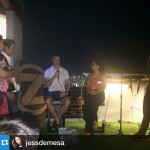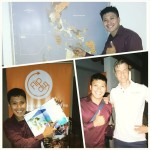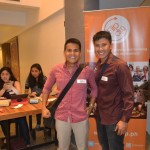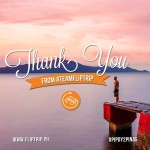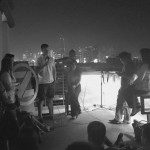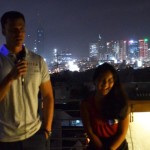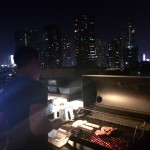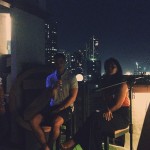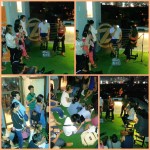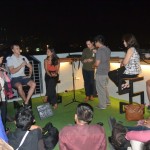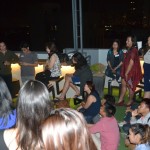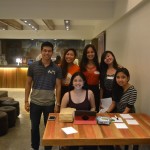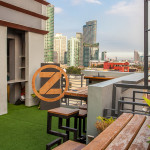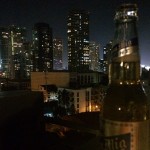 Join the ESCapology tribe
The post ESCapology Travel Meet-Up – New Friends and a Night to remember appeared first on ESCapology.