Kathakali is the classical Dance form of Kerala. It is a story play art where the dance explains a story. The history of Kathakali is not clear. The current form of the dance originated in 17th century. The root of the dance is found in ancient literature too. The dance is famous for the costume, vibrant colors and most importantly, the dancer's expression. The theme of the dance would usually revolve around mythology.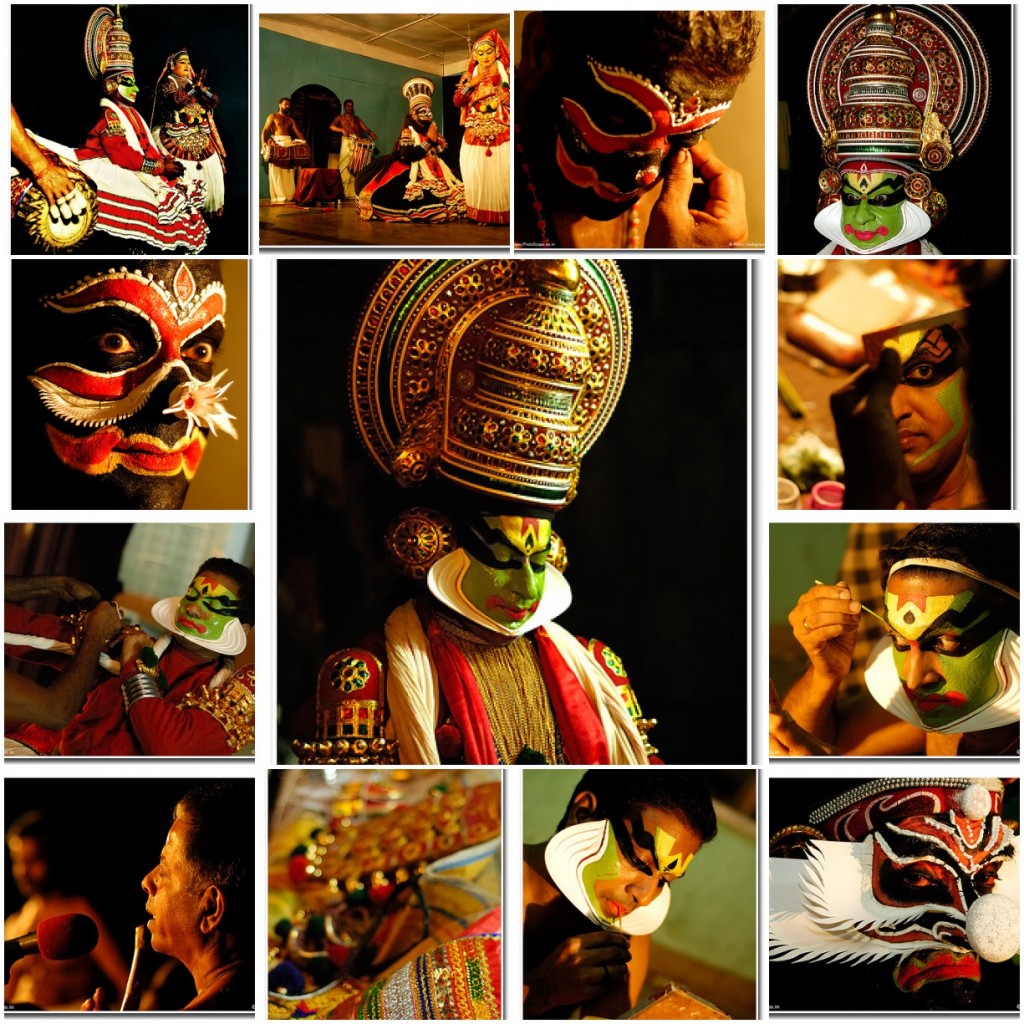 Check out the detailed itinerary for 10 Days Kerala Cultural Tour
Make up in Kathakali
The dance is famous for vibrant color usage. Green indicates godliness, red indicates turmoil, black denotes bad or evil, white is good or spiritual. Gods are usually represented with green make-up. The character with white beard is usually a superhuman of good nature. A character with red beard is evil and the one with black beard is hunter. Complete black make-up indicates she-demon.
Get best deals on 15 Days Kerala Ayurveda Tour
Performance
The dance form is performed mainly in temple and also in a few halls and stages. Before starting the show, drum beats are performed to indicate the starting of the dance. Each dance performance need 4-12 musicians. A dance performance includes
Basic dance
main characters introduction dance (including the evil characters)
main plays
hyped dance which occurs between the verses
Conclusion benediction dance
Major Kathakali dance centers
Top Kathakali dance centers are
Kerala Kathakali Centre, Kochi
Kerala Kalamandalam, Thrissur,
Gandhi SevaSadanam, Palakkad,
Art Kerala, Ernakulam
Margi, Trivandrum,
UnnayivarrierSmaraka, Thrissur
R L V, Ernakulam
Kerala Kalamandalam is a deemed university in Kerala that is dedicated for performing arts alone. It is located on the banks of Bharathapuzha river in Thrissur. It is an important tourist attraction. It was established in 1930 and is still in existence.
Best time to watch Kathakali
There is no specific season for Kathakali performance. You can find performances throughout the year. If you are visiting during any specific traditional functions/ festivals like Onam festival, you can find a lot of performances. Many tour operators provide package that includes Kathakali performances too. There are many authentic theatres where you can find regular shows. It is better to reserve tickets if you are planning to visit during tourism season. The tourism season starts in September or October and ends by March.
Learning Kathakali
If you are interested, you can learn short courses for Kathakali. Remember that only people who have several years of rigorous practice can excel in the art form. There are many centers that help you pick courses for various elements of Kathakali like dance, music, make-up, vocal and others.
You may also like to explore 7 Days Kerala Honeymoon Packages
Kathakali museum
Kottarakkara Kathakali museum is a museum that is dedicated for various forms and models of Kathakali. It was built in memory of Kottarakkara Thampuran. The museum is located in Kollam. It is located 70 km away from the Trivandrum international airport.This museum contains models of various Kathakali positions, costumes, ornaments, sculptures, musical instruments and others. Elements indicating other forms of dances are also found here.
Suggested Tour Packages: 13 Days Best of Kerala Tours
If you are visiting Kerala, you ought to enjoy Kathakali. Do not worry about language problem. Most of the dialogues are expressed through facial expressions. Many theatres have headphones with English translation of the dialogues during the dance.
The post Know All About – Kathakali Dance Show In Kerala appeared first on South India Blog.