Bangla Road
Bangla Road is the notorious heart of all Phuket Nightlife, and the battle for night supremacy is raging between Beer Bars, Live Music, Night Clubs and of course: Go Go Bars! Over the years, the center of interest has been moving up and down Bangla Road depending on seasons and popularity but the ever changing face of Patong nightlife is definitely worth a look. Of course, wherever you go in Bangla, friendly girls will call you with a big smile and encourage you to have a drink and play few silly bar games, everyone is welcome.
Bangla Road Overview
Bangla road stretches from the beach to Rat-U-Thit Road, you know, near Jungceylon Shopping Mall. On each side you will find a huge amount of open-air bars with girls demonstrating their pole dancing skills (they are dressed to don't be worried), night clubs and a bunch of old fashioned bars where all you do is drink and watch the passing crowd. (it's more entertaining than you think)
At the top of Bangla Road you will find several popular Night Clubs like Illuzion, Seduction, that good old Tai Pan and the very popular Live Music venues Rock City and Red Hot. At the end of Bangla near the beach are the old iconic bars such as 'Aussie Bar', 'Sunset Bar' and 'U2 Bar'.
In between are the 'Sois', which is the Thai word everyone use lanes where you will find all the famous Go Go Bars which we describe below.
---
The Sois on Bangla Road
---
Bangla Road in Patong is not known for scams or rip off as it often happens in Patpong Bangkok. If someone offer you to see a Ping Pong show, there is in most cases no extra charge to enter. All you need is to order a drink which costs between 100 – 130 Baht depending on the bar. Only four known exceptions: 'D-Club' charges 400 to 600 baht, 'Money Night' starts at 200 Baht or 400 baht, based on some unknown variable, and 'Moulin Rouge' a Russian Go Go (yes) which is more expensive than usual and not too friendly. In any case, a menu will be presented to you prior to ordering. Your bill will be placed in front of you or your drink will have to be paid when brought to you. So unlike Bangkok, there should be no surprise.
Important Note about Touts:
Touts are not working for bars! Never follow a tout in the street with his little card of whatever he says you will see in the show! It's often no real and you will be charged extra, just walk away! The bars are easy to find (they are actually difficult to miss!)

Soi Seadragon
Soi Seadragon has always been the popular street, probably because this is where most of the Go Go Bars are located. After been entirely rebuilt it has become one of the brightest lanes in Patong Beach and this is where you will find the most popular bars Suzy Wong's, Harem a Go Go and Devil's Playground. (read more)
---

New Tiger Complex
The Tiger entertainment complex in the famous Bangla Road in Patong Beach took a serious bite at the nightlife scene in Phuket. With three floors dominated by three massive tigers, much higher ceilings and a lot more room to walk around than the old Tiger Disco, this is a party monster. A blast of lights and colors are taking this gigantic Flintstones cave looking venue to a much higher level of party zone. (read more)
---

Soi Tiger
Rebuilt after the 2013 fire, Soi Tiger was for long time the favorite bar area in town. The spotlight was shortly stolen by Soi Lion next door which has been recently replaced by… another shopping mall. Fame and crowd has now moved to the Tiger Entertainment, just across the street on Bangla main street: bigger, bolder and brighter and definitely more colorful. (read more)
---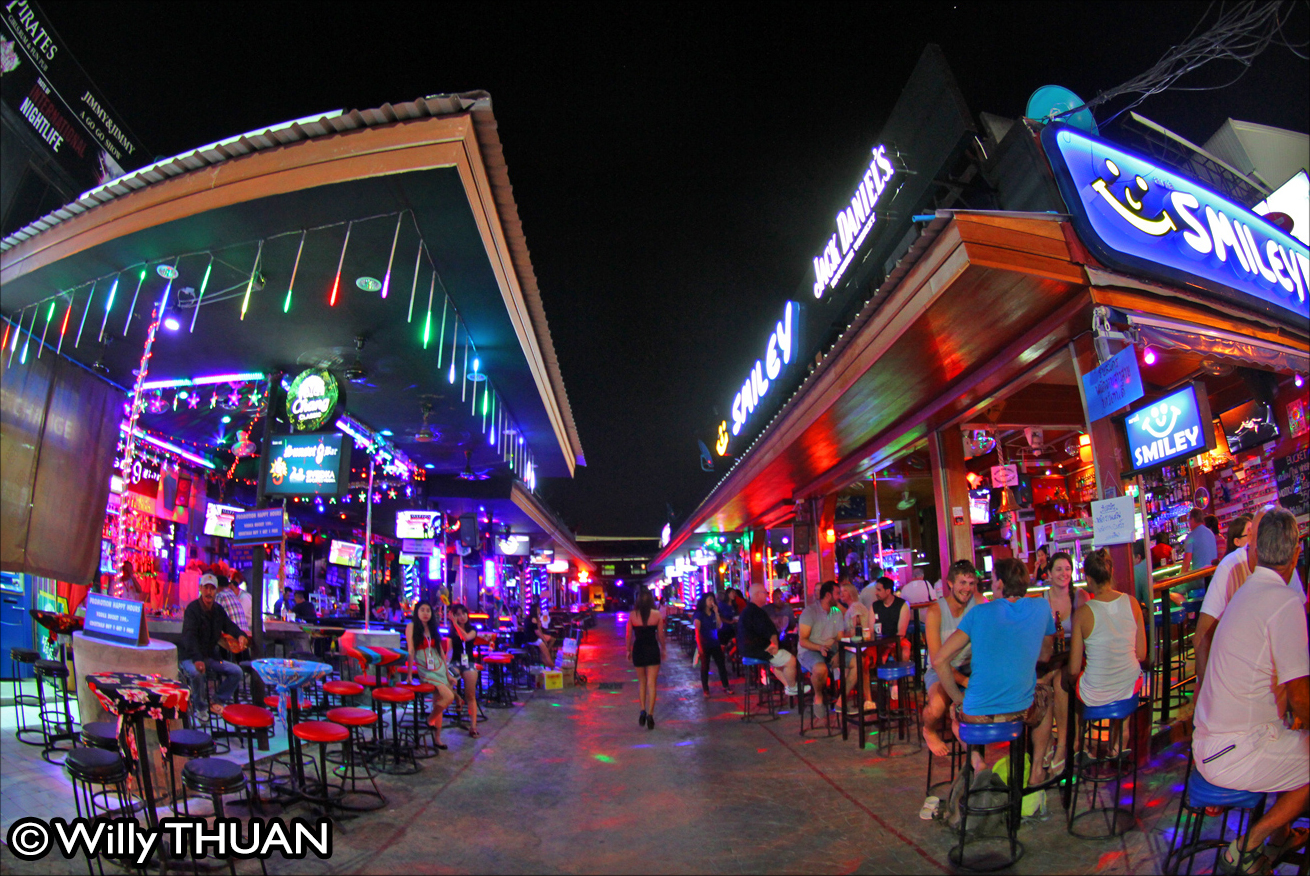 Soi Freedom (previously Soi Eric)
Soi Freedom is a neat and relatively large alley lined with dozen colorful bars and a good live band at he end of it. Located in the middle of Bangla Road in Patong Beach Soi Freedom was long ago better known as the iconic Soi Eric. Soi Eric was once popular because it was the only street in Soi Bangla playing one single music from each bar, while other streets around sounded like the battle of the bands. Note that there is a pretty good band paying at the end of the soi. (read more)
---
Soi Vegas
Soi Vegas has changed names quite a few time. It appears to be a quiet lane, but hosts few venues such as the not so welcoming Money Night a Go Go and Cocktails & Dreams, a ladyboy bar.
---
Soi Crocodile

(Closed)
Soi Crocodile used to be very famous because a handful of sexy ladyboys irresistibly attracted a crowd of fascinated and speechless tourists, but there was nothing noticeable beyond the small front stage facing Bangla road. (read more)
---

Soi Gonzo (Closed too!)
Used to be just another lane with beer bars on each side, usually a bit more quiet than other Sois, but always with friendly staff. At the end of the lane you'll find White Room, a small but nice disco. (read more)
---
Soi Easy
Soi Easy is the last lane in Bangla Road or the closest to the beach depanding where you start. Despite appearing the most quiet before midnight, Soi Easy is home to the Hollywood Disco that was once the most popular club in Patong beach. (read more)
---
Map of Bangla Road
The post Bangla Road in Patong Beach, Where to Go at Night in Phuket appeared first on Phuket 101.
This post first appeared on Phuket 101, please read the originial post: here