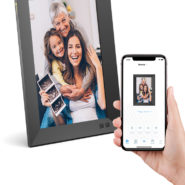 Tweet
!function(d,s,id) {
var js,fjs=d.getElementsByTagName(s)[0];
if(!d.getElementById(id)) {
js=d.createElement(s);js.id=id;js.src="https://platform.twitter.com/widgets.js";fjs.parentNode.insertBefore(js,fjs);
}
}
(document,"script","twitter-wjs");
by Gregg Ellman
(@greggellman)
Earlier this year Nixplay came out with an all-new lineup of their industry-leading Wi-Fi smart photo frames. Now with better resolution, bigger screen sizes, and advanced functionality, they made a great product even better.
If you're not familiar with Nixplay Frames, you need to be, especially with the holiday shopping season upon us (hint!) With a private username and password, the modern-looking Nixplay frames have Wi-Fi connectivity, displaying digital images and videos you or anyone can remotely upload to the frame.
Continue reading GADGETS :: September 16, 2020 at Imaging Insider.