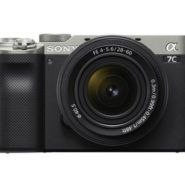 Tweet
!function(d,s,id) {
var js,fjs=d.getElementsByTagName(s)[0];
if(!d.getElementById(id)) {
js=d.createElement(s);js.id=id;js.src="https://platform.twitter.com/widgets.js";fjs.parentNode.insertBefore(js,fjs);
}
}
(document,"script","twitter-wjs");
SAN DIEGO, Sept. 14, 2020 /PRNewswire/ — Today, Sony Electronics Inc. announced several additions to an already impressive imaging lineup — the Alpha 7C full-frame camera (model ILCE-7C), the FE 28-60mm F4-5.6 (model SEL2860) zoom lens and HVL-F28RM flash.
The Alpha 7C is the world's smallest and lightestii full-frame body with uncompromising performance, featuring advanced AF (autofocus), high-resolution 4Kvideoiii capabilities and more.
Continue reading Sony Electronics Introduces Alpha 7C Camera and Zoom Lens, the World's Smallest and Lightest(i) Full-frame Camera System at Imaging Insider.