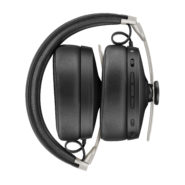 Tweet
!function(d,s,id) {
var js,fjs=d.getElementsByTagName(s)[0];
if(!d.getElementById(id)) {
js=d.createElement(s);js.id=id;js.src="https://platform.twitter.com/widgets.js";fjs.parentNode.insertBefore(js,fjs);
}
}
(document,"script","twitter-wjs");
by Gregg Ellman
(@greggellman)
Often I get to review Gadgets that I can't write about until the parent company lifts the announcement embargo with the official release. And often it's frustrating simply because I'm testing something that is so good that I want to tell people about it right then and there, but I can't.
That's the case with just announced Sennheiser MOMENTUM wireless (Bluetooth 5) headphones from Sennheiser.
Continue reading Gadgets :: September 11, 2019 at Imaging Insider.