Add some color to your life with this roasted Beet hummus – a bright pink dip that's a real crowd pleaser.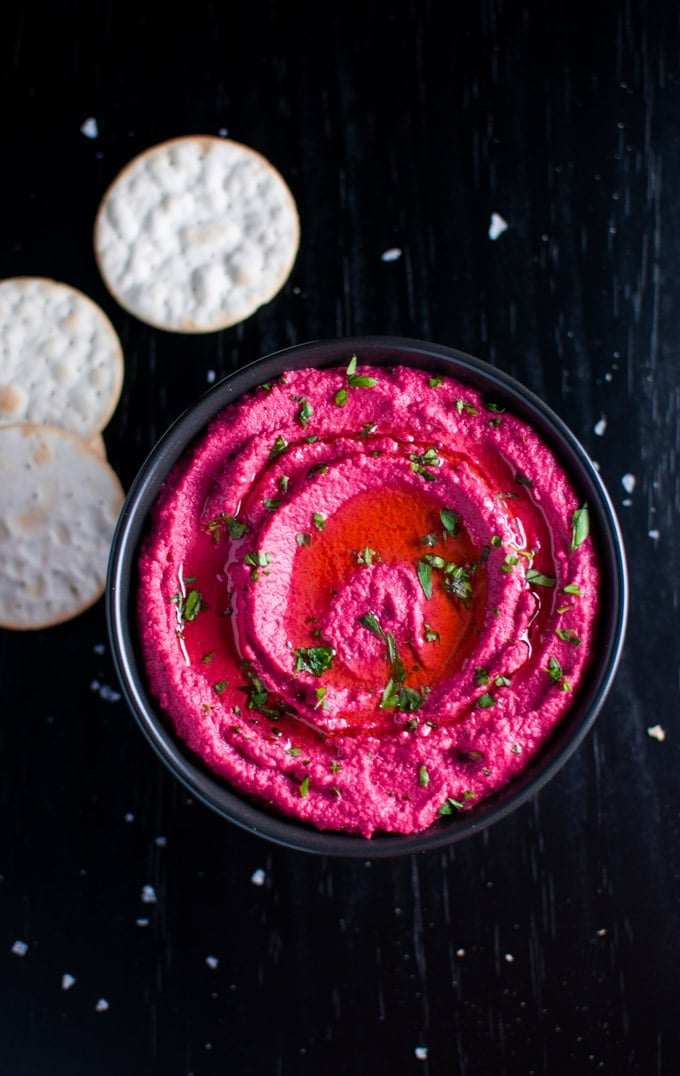 Do you ever have moments where you have an epiphany but for something that everyone else already knows? I was handling beets the other day and noticed my fingers were tinted a lovely shade of BEET RED and I thought oh wow so that's where the phrase comes from. Maybe I'm just not that bright? This dip is, though. I mean look at that color.
I'm not a huge beet fan so I was a bit skeptical when I made this dip. I often question my cooking. No, I made it for my sister because I'm such a good big sister. Anyway, I was pleasantly surprised when I found that the beets do not overpower the other flavors and it actually tastes good. If you love beets I am sure you will totally love this neon dip. It just can't be beet.
There's this sports reporter in my city who always makes the lamest puns. He's been doing this for the past 15 years. It's his schtick. I always say that I can't stand him but secretly I like him and hope he never changes. I sometimes beet him to the punchline and then I feel all impressed with myself for like two seconds.
This is the food processor I use and I highly recommend it.

Roasted Beet Hummus
Recipe type:
Appetizer/Dip
Prep time:
Cook time:
Total time:
Ingredients
1 small beet
2 cloves garlic
1 (19 fluid ounce) can chickpeas, drained
Juice of 1/2 lemon
2 tablespoons tahini
1/3 cup olive oil
Pinch salt
Pepper, to taste
Instructions
Pre-heat oven to 450F.
Line a baking dish with tin foil. Wash beet and trim the leaves/stem back (leaving an inch or two) if your beet has any. Don't trim the tail as you'll lose juice (and thus flavor) while roasting.
Add beet to the foil-lined baking dish and then cover with tin foil. Roast for at least 45 minutes. Check if beet is done by inserting a skewer. If it slides in easily (through the beet's centre), it's done.
Remove from oven and let cool for 5-10 minutes.
When the beet is cooling, you can get the hummus going. Add the chickpeas, garlic, lemon juice, tahini, salt, and pepper. Blend on high and slowly drizzle in olive oil. Blend until smooth (this may take a few minutes).
Once beet has cooled for a few minutes, peel it (I used a knife). Cut beet into a few chunks and place into food processor. Blend on high until it's smooth and mixed together.
Serve chilled with an extra drizzle of olive oil if desired.
Notes
You could probably blend everything together (except the oil) at once, but I made it the way I describe above because I wanted to ensure the hummus tasted good on its own prior to adding the beets.

I really struggled defining the size of the beet for this recipe. Mine was somewhere between small and medium-sized. You want one that will easily fit in the palm of your hand, basically.

Beet cooking method adapted from here - they have great step-by-step photos.
3.5.3208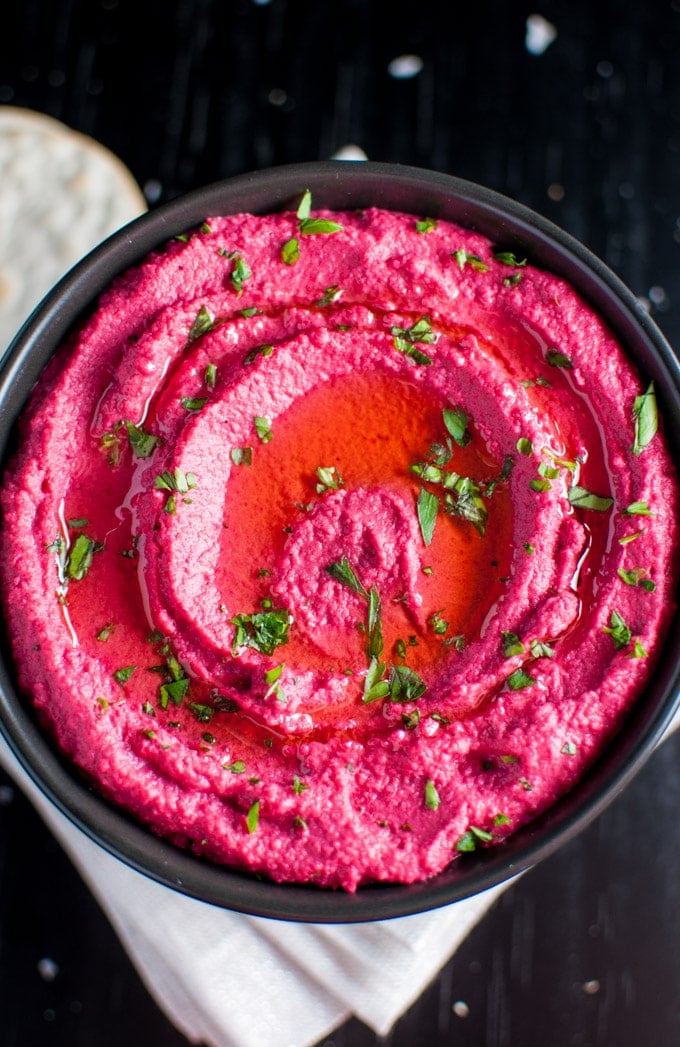 That color! Have mercy!
*This post contains an Amazon.com affiliate link.
The post Roasted Beet Hummus appeared first on Salt & Lavender.