Tender Chicken Meatballs covered in a decadent paprika sour cream sauce.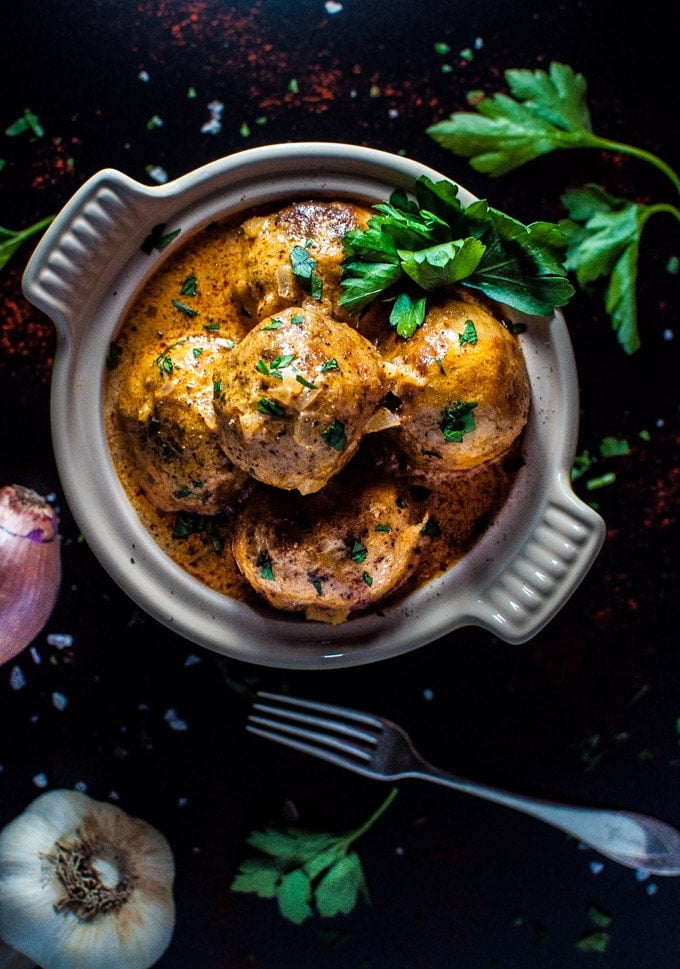 This is one of those recipes that you want to eat on a cold day. The Chicken Meatballs are nice and light, and the sauce they're smothered in makes the dish taste rich and decadent. Cold weather comfort food. That's what I like. It's been super warm lately (like above freezing – which is fabulous for February in Alberta), but it's still winter, so these meatballs still work.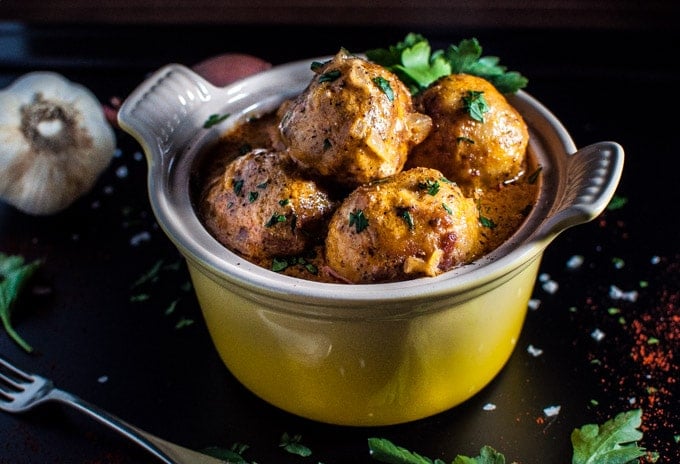 Prep time:
Cook time:
Total time:
Chicken and rice meatballs covered in a creamy paprika sauce.
Ingredients
Meatballs
1/2 cup Jasmine rice (cooled)*
0.75-1 pound ground chicken breast
1/2 small onion, grated
2-3 cloves garlic, minced
Salt & pepper, to taste
Flour, for dredging
Olive oil (for frying meatballs)
Sauce
2 tablespoons butter
1 tablespoon olive oil
2 shallots, chopped
1 tablespoon dijon mustard
1 tablespoon paprika
1 teaspoon worcestershire sauce
1 cup sour cream
1 (10 ounce) can chicken broth
Salt & pepper, to taste
Instructions
Cook jasmine rice according to package directions. Let it cool.
Meanwhile, in a mixing bowl combine rice, ground chicken, grated 1/2 onion, garlic, and salt and pepper.
Form mixture into 1.5 inch meatballs (yields approx. 15 meatballs), dredging in flour after you form each meatball.
Cover the bottom of a skillet with oil and heat on medium-high heat.
Once oil is hot, brown meatballs. You may need to work in batches. Turn the meatballs every minute or so until they're nicely browned all over.
Add butter and olive oil to a pot on medium-high heat.
Once butter has melted, add chopped shallots to pot and cook for a few minutes.
Add dijon mustard, paprika, worcestershire sauce, and sour cream to pot. Mix thoroughly.
Add chicken broth and stir until you have a consistent mixture.
Add meatballs and turn the heat up to high. Just before it reaches a boil, turn heat down to medium-low and cook for about 15 minutes, with pot lid slightly ajar, or until meatballs cooked through.
Add salt and pepper, to taste.
Notes
*Half cup uncooked rice.

Delicious served with mashed potatoes or on egg noodles.

The rice is sticky, so you don't need an egg to bind the meatballs.
3.5.3208
I hope you enjoy these chicken meatballs in a creamy paprika sauce!
The post Chicken Meatballs in a Creamy Paprika Sauce appeared first on Salt & Lavender.