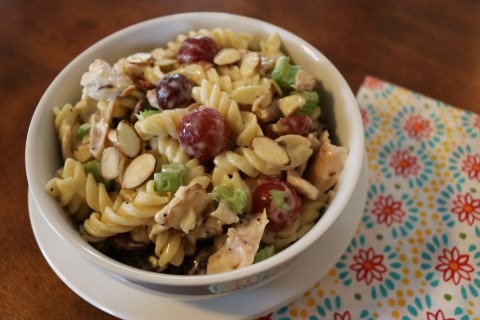 This is a flavorful and colorful Pasta Salad to add to your buffet or picnic table.
A little crunch from the Celery, a little sweetness from the Grapes, a little salty Bacon, plus the roasted Chicken flavor, all pairs so well with the creamy Dressing and Pasta. This recipe will feed a crowd but you can cut back and make a smaller batch for a summer luncheon. It won't last long!
CHICKEN BACON PASTA SALAD
Ingredients:
1 Rotisserie Chicken, skin and bones removed, then cut into bite size pieces
24 Ounces Rotini Pasta
2 Cups Celery, diced
2 Cups Red Grapes, halved
6-8 Cloves Garlic, minced
10 Slices Maple Bacon
1 (16 oz.) Creamy Poppy Seed Dressing
1 Cup Sliced Almonds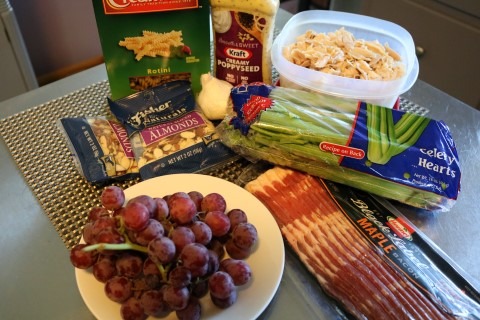 Directions:
1. Cut Bacon into bite size pieces, then place the Bacon in a skillet and cook until brown, or just slightly crispy. Remove the Bacon and place on a paper towel to cool and absorb any excess Bacon grease.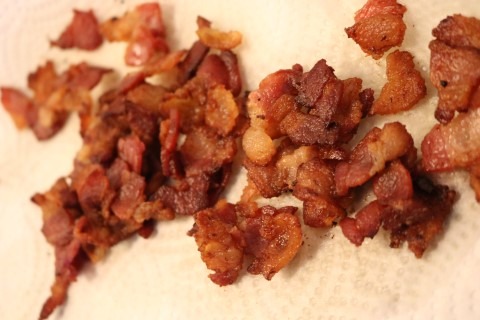 2. Pour out most of the Bacon Grease from the pan but reserve about 2 tablespoons in the pan to cook the Garlic in. Add the Garlic to the pan with the Bacon Grease and quickly stir until done. Garlic cooks quickly so keep an eye on it. Remove the Garlic from the pan when done and put it in a large bowl and set aside.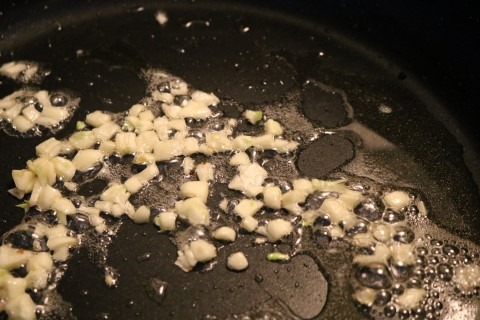 3. Prepare the Pasta according to the package directions. Rinse in cold water and set aside.
4. Add the Celery, cooled Bacon and then the Pasta to the large bowl with the Garlic.
5. Pour the Dressing over all and fold in the Grapes. Stir to combine all the ingredients and ensure everything is coated in the Dressing.
6. Sprinkle 1/2 Cup of the Almonds on the Pasta and fold in. Then Sprinkle the remaining 1/2 Cup over the top of the Pasta for a garnish.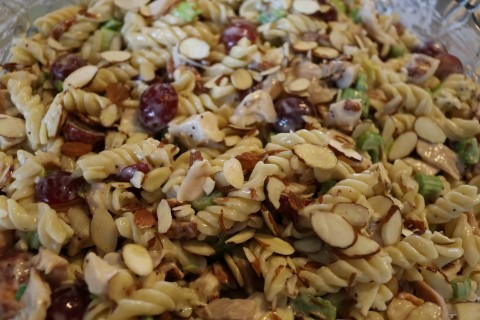 7. Chill the Pasta for 1-2 hours before serving.
Recipe by: Hot Dish Homemaker