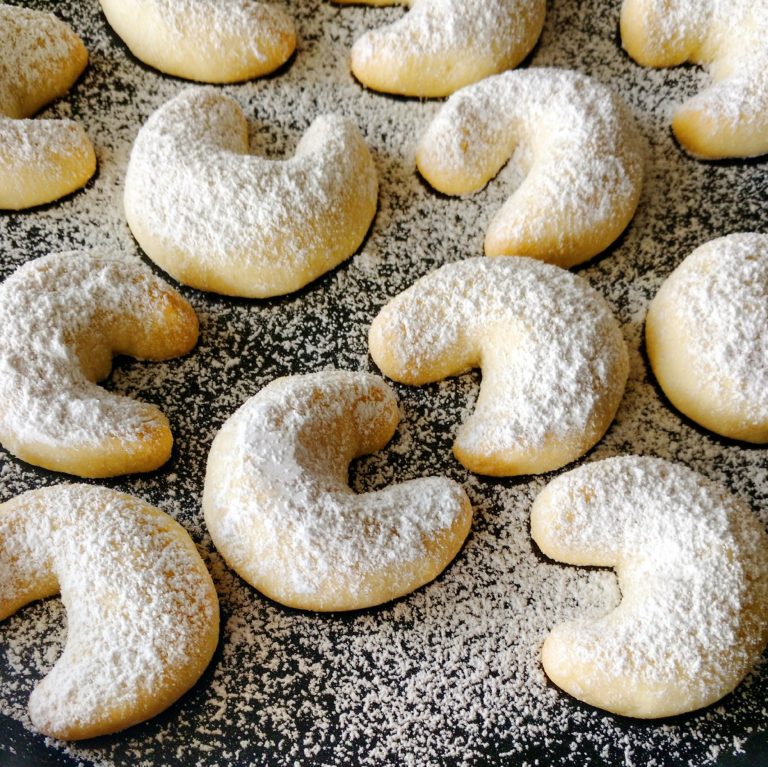 "He who has not Christmas in his heart will never find it under a tree. "- Roy L. Smith.
Yup. A whole week of cookies for Christmas. For the next seven days, I will be sharing my favourite recipes for my favourite cookies for my favourite time of the year. There's a good mix -traditional and not so traditional , nutty and spiced and sweet , cut outs and hand shaped and dropped. I'd like to think there's something in here for everyone. These are cookies that taste great , look festive and are perfect for gifting and making ahead. Because tis the season to be jolly …fa la la la la la….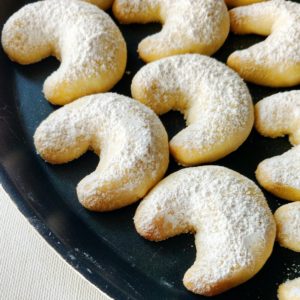 Today we start with the gorgeous crescent cookie or the Vanillekipferl (or simply kipferls!) . It is a cookie that originated in Vienna , Austria and is traditionally made during christmas in Germany and other european countries. This is a simple cookie dough that is made with ground nuts. The soft dough is rolled and shaped into crescents and rolled in Sugar . . The name Vanillekipferl (pronounced VAN-el-eu-KIP-fuhl) means "vanilla crescent" or "vanilla moon."One story is that their shape was meant to resemble the Turkish crescent moon, to celebrate one of the victories of the Hungarian army over the Turkish army.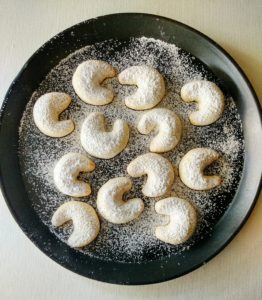 These crescents are so easy and quick to put together. I have used almonds here but feel free to use hazelnuts , walnuts or pistachios. Its a small recipe because sometimes you just want to bake for family, but you can multiply it as you wish ! You can also shape them into sharper crescents but make sure the ends aren't too pointy or they' ll burn. Dusting or rolling in Powdered Sugar is optional , You could use vanilla sugar instead. A stellar idea would be to dip the ends in some chocolate.
But you have to try them. The cookies are so tender and simply melt away in yout mouth.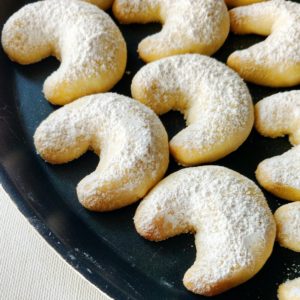 Almond Crescents
2016-12-09 03:25:19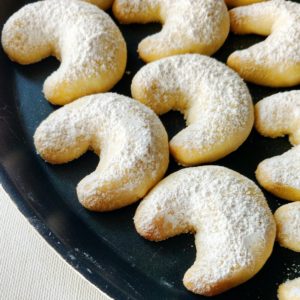 A tender , delicious cookie that would be perfect for your Christmas !
Ingredients
40 grams or 1/4 cup ground or whole almonds
50 grams or 1/4 cup powdered sugar
56 grams or 1/4 cup unsalted butter, at room temperature
1 teaspoon vanilla extract
65 grams or 1/2 cup all-purpose flour
1/4 teaspoon salt
1-2 tablespoons icing sugar to dust.
Instructions
Sift the ground almonds and powdered sugar into a bowl and set it aside. If using whole almonds , blanch, peel and dry them . In a food processor or mixer, grind the almonds with the sugar until a fine powder forms. Sift this and keep aside.
Using an electric mixer or wooden spoon, beat butter until smooth.
Mix in the almond-sugar mixture until combined.
Beat in the vanilla .
Add the flour and salt and beat on low just until a soft dough forms.
Wrap in plastic, and chill for about 20 minutes to firm up slightly.
Meanwhile , line cookie sheet with parchment paper or grease well.
Form the dough into 12 balls. Roll them between your fingers into logs and curve the ends to make a crescent shape.
Place on cookie sheets about 2 inches apart and bake for 8 to 10 minutes. The edges of the cookies should turn light brown.
Cool on wire rack for a 5 minutes.
While still warm , roll in or dust with with the sugar. Cool completely .
Notes
These can be stored in an airtight container for upto a month.
The recipe can be doubled or tripled.
https://floursandfrostings.com/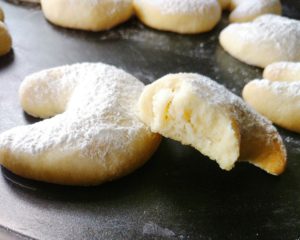 These sandy textured cookies are rich in flavour and so tender . When I tasted them first , a had a cookie deja vu of having had them before. I think they are similar to something we have in India but I just can't put my finger on it. You' ll have to tell me !
Do you think these cookies will make it to your cookie box this year? Is there any cookie that you always make or would love to make in December ? Do tell !
The post Almond crescents – #1 A week of Christmas cookies ! appeared first on .