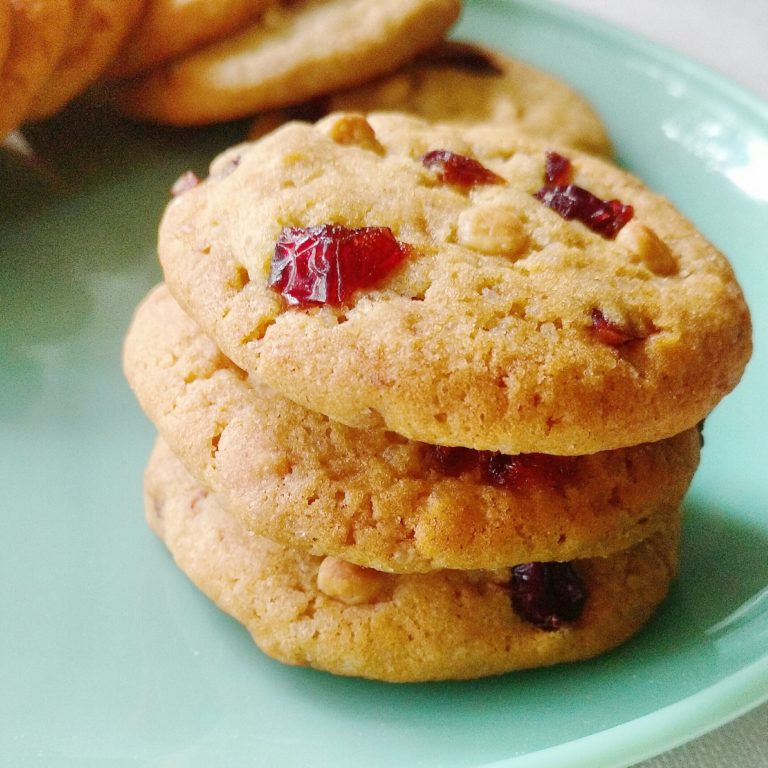 "Christmas gift suggestions: to your enemy, forgiveness. To an opponent, tolerance. To a friend, your heart. To a customer, service. To all, charity. To every child, a good example. To yourself, respect."- Oren Arnold.
Yup. A whole week of cookies for Christmas. For seven days, I will be sharing my favourite recipes for my favourite cookies for my favourite time of the year. There's a good mix -traditional and not so traditional , nutty and spiced and sweet , cut outs and hand shaped and dropped. I'd like to think there's something in here for everyone. These are cookies that taste great , look festive and are perfect for gifting and making ahead. Because tis the season to be jolly …fa la la la la la…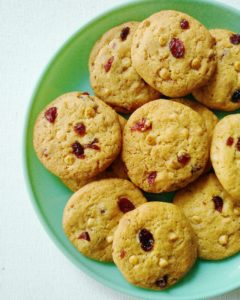 When I first decided to do a Christmas Cookie series, this cookie was actually not part of it. But my trials with fruitcakes had left behind half a pack of dried cranberries that kept beckoning to me. They found their way into a cookie that was good enough to make the cut into my Christmas cookie week !
Cranberries and white Chocolate are a perfect match . I have paired them before in these delicious biscotti too. The thing is, white chocolate can get a bit overwhelmingly sweet for some (some includes me) and in this cookie , the bits of tart cranberries balance it out perfectly. So each bite is a little bit of sweet , a little bit of tangy. Just like life should be!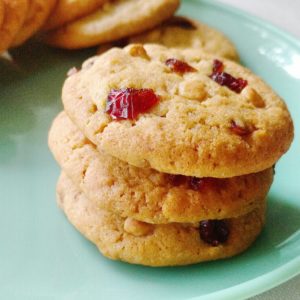 This is a simple drop cookie. The recipe uses both brown and white granulated sugars. You could use only white (paler , firmer cookie ) or only brown ( chewier , darker , more caramel-y flavour ) . But I thought a mixture of both gives a great texture and flavour as a not-too-sweet bases fo all that white chocolate and cranberry . You could use white chocolate chunks if you want those gooey pockets and can chop up your cranberries small too , so you don't get too big a jolt of sweet or tart.
Thick and chewy , these overloaded cookies taste superb and look festive too !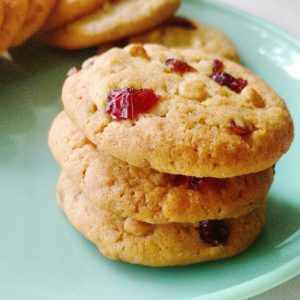 Cranberry and white chocolate cookies
2016-12-13 08:22:58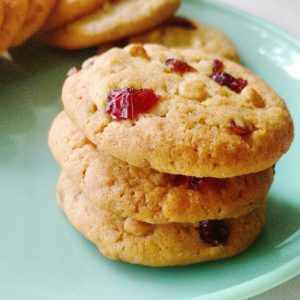 Thick and chewy cookies withs smooth white chocolate and tart dried cranberries in each bite!
Ingredients
115 grams or 1/2 cup unsalted butter , at room temperature
100 grams or 1/2 cup granulated sugar
50 grams or 1/4 cup brown sugar
1 egg, at room temperature
1 tsp vanilla extract
160 grams or 1 1/4 cups all purpose flour
1/2 tsp baking soda
1/4 tsp salt
1/2 cup white chocolate chips or chunks
1/2 cup dried cranberries
Instructions
Preheat your oven to 180 C/ 350 F.
Line a cookie sheet with parchment or grease well.
Whisk or sift together the flour , salt and soda. Keep aside.
Using a wooden spoon or electric mixer , beat together the butter and sugars until soft and fluffy.
Add the egg and vanilla, beat until incorporated.
Add the flour mixture and beat at low speed until a dough forms.
Fold in dried cranberries and white chocolate.
Form balls of the dough (about 1 inch diameter) and place 2 inches apart on cookies sheet.
Bake until golden brown , around 14-16 minutes.
Cool on sheet for 5 minutes and then completely on a wire rack.
Notes
These can be stored for about 5-6 days in an airtight container.
These cookies spread so space them well apart!
I got 25 cookies of about 2 inches diameter with this recipe.
Recipe can be doubled.
The cookies will seem soft when baked , but will firm up after cooling.
For softer cookies , make bigger dough balls and make only until lightly golden around edges.
https://floursandfrostings.com/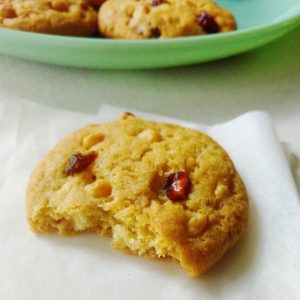 These golden brown cookies have crisp edges and chewy insides . Both the smooth white chocolate and the tart cranberries are perfect cookie add-ins any time of the year , but are particularly holiday appropriate ! Taste wise and colour wise!
The post Cranberry and white chocolate cookies #5 A week of christmas cookies appeared first on .