As we began the Holiday Season, I shared a post about stuffed chicken breasts.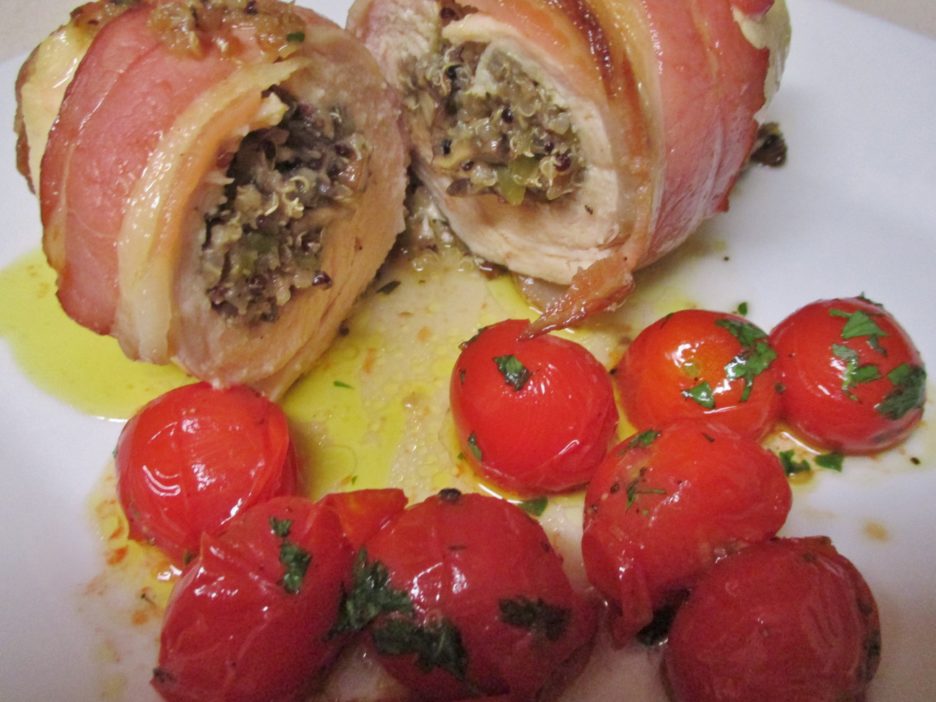 Little did I know that when the new year began, that I would still be singing their praises. Not to sound like I am repeating myself, but I have come up with yet two more ideas for filling a chicken breast and both of them are delicious and easy.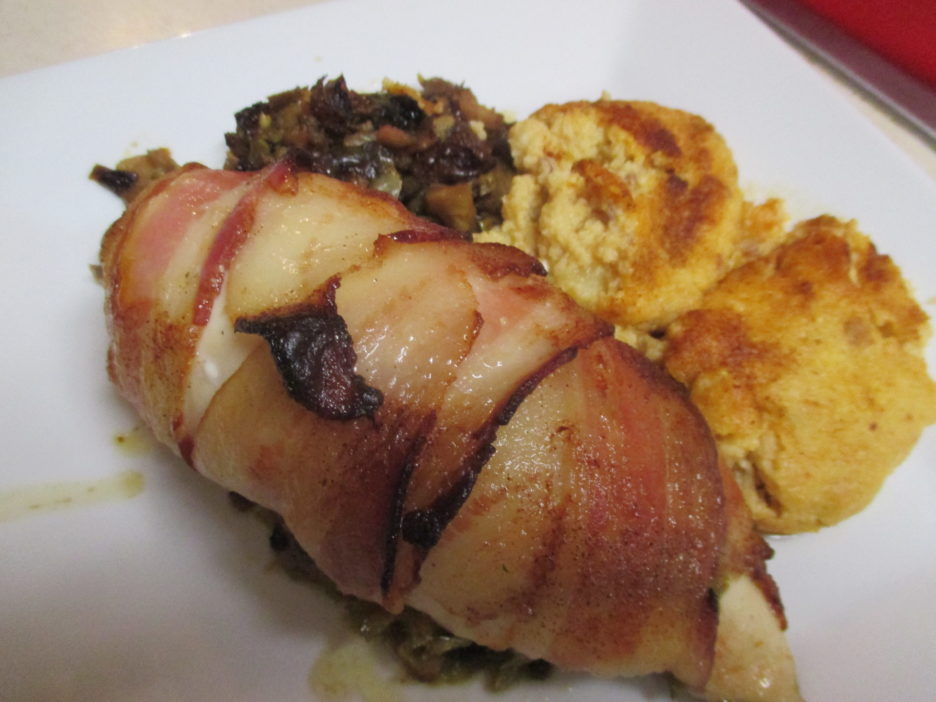 Why am I suddenly obsessed with stuffing chicken breasts? First off they are a lean and inexpensive protein. In and of themselves they are pretty bland and very boring, but that is what makes them so wonderfully versatile. They are quick cooking which is always a plus for weeknight suppers and can embrace any cuisine from comfort to gourmet.
Another reason to stuff a chicken breast is to keep it moist and tender, especially when it is heading into the oven. I'm sure that we have all choked our way through a dry and tough chicken breast at one event or another. Stuffing works from the inside to keep everything moist. To create a little extra moistness insurance, wrapping or coating it with something fat based helps as well.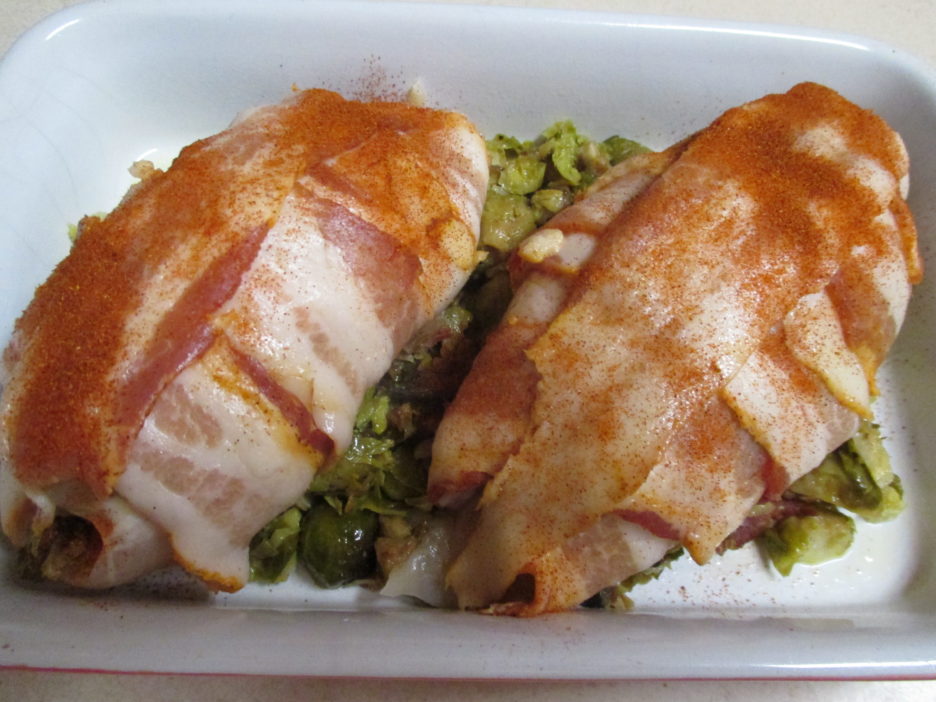 There are two ways to stuff a chicken breast. The more gourmet method is to butterfly a good-sized breast and then pound it into a nice evenly flat canvas that can then be stuffed, rolled, and tied.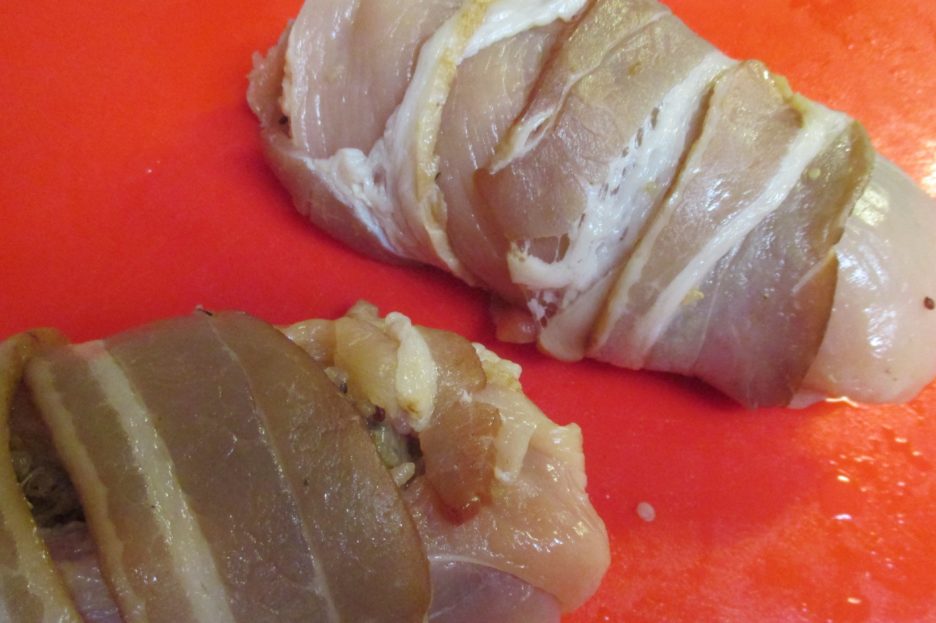 A simpler approach is to cut a deep pocket into the breast and fill it to the rim with something yummy. That is where we are heading today. The fillings of choice are more carb friendly for those that care about that sort of thing. They are vegetable forward with just the right amount of richness to create a palate pleasing sensation.
This can be considered a master recipe. I wrote it for two servings because that's how many I cook for most of the time. It can easily be doubled, tripled or quadrupled if that's what you need. A little simple math will give you the amount of ingredients you need. This stuffing will generously stuff the breasts with a little left over to create a comfy bed in the baking pan. Without further ado I give you Stuffed In the Side Pocket Chicken Breasts.
Stuffed In The Side Pocket Chicken Breasts
A master recipe for creating moist and delicious baked Chicken breasts.
2 6-8 Ounce Boneless Skinless Chicken Breasts
1/2 Tbsp. Olive Oil
1 Clove Garlic (Chopped)
1/3 Cup Chopped Onion (Any type will work)
2 Cups Raw Vegetables, chopped (Pick the ones you love.)
1 Ounce Cream Cheese (Optional)
1 Tbsp. Bread Crumbs (As needed, optional.)
4 Strips Bacon (For wrapping the breast)
1 Tbsp. Mayonnaise (To coat breast if not using bacon)
Paprika
Using a sharp knife and going slowly, cut a pocket in the thickest side of the breast. Do not pass go or cut all the way through. Set Aside

In a medium skillet, heat the olive oil over high heat. Reduce slightly and add the onions and garlic. Cook stirring occasionally until the mixture is soft and fragrant,

Add the vegetables that you have chosen and continue to cook for 7-10 minutes stirring often. The vegetables need to be soft and slightly caramelized. At this point you should have about 1-1/4 cups of delicious stuff(ing).

Depending on the vegetables moisture level, add cream cheese and/or breadcrumbs to make a thick (not runny) mixture. Add any additional seasonings and heat long enough for everything to get acquainted.

Cool the mixture slightly and and spoon it into the pockets of the breasts. Pack it gently but do not fill it to the point that the stuffing is coming out. If you have some left, spread it in the bottom of the baking pan you will be using. Give the pan a good spritz of cooking spray first.

Choose how you want to finish the outside: Wrap the breast with the bacon strips securing with toothpicks or kitchen twine if necessary. OR Spread the mayonnaise evenly on the tops of the breasts. Add any seasoning of you choice.

Bake at 375 degrees for approximately 25 -30 minutes. Watch carefully and check for an internal temp of 160 degrees. Remove from the oven and allow to cool for 5 minutes before serving.
Now for how I made this recipe my own: Spinach Artichoke Dip is a staple at many parties…you may have even indulged in it over the holidays. It also makes a killer stuffing for a chicken breast. Marinated artichoke hearts and fresh spinach are sauteed with a little garlic and olive oil. Once they are happily united some cream cheese and grated parmesan are added. To keep the stuffing in the chicken where it belongs, a touch of bread crumbs ( a small carb price to pay) is added as binder. The final touch is a thin coating of mayonnaise and a light sprinkle of parmesan. A dusting of paprika makes it pretty. It only takes 25 minutes or so in the oven and it is ready to be the star of the show. Porcini Laced Faro (from a box) and sauteed grape tomatoes round out the plate.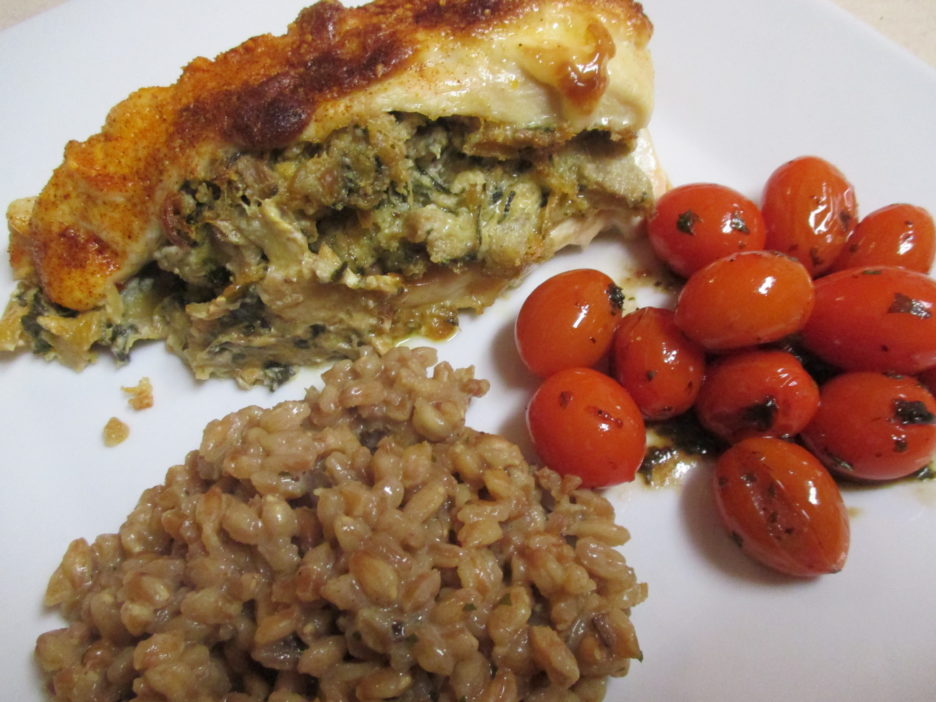 The chicken breast pocket can also be a new home for leftover vegetables. Brussels Sprouts roasted with bacon and onions was uncharacteristically left over from a previous dinner. Chopped up and packed inside a chicken breast made it's second life almost as wonderful as its first. I enrobed this one in bacon that carried on the bacon that was in the stuffing,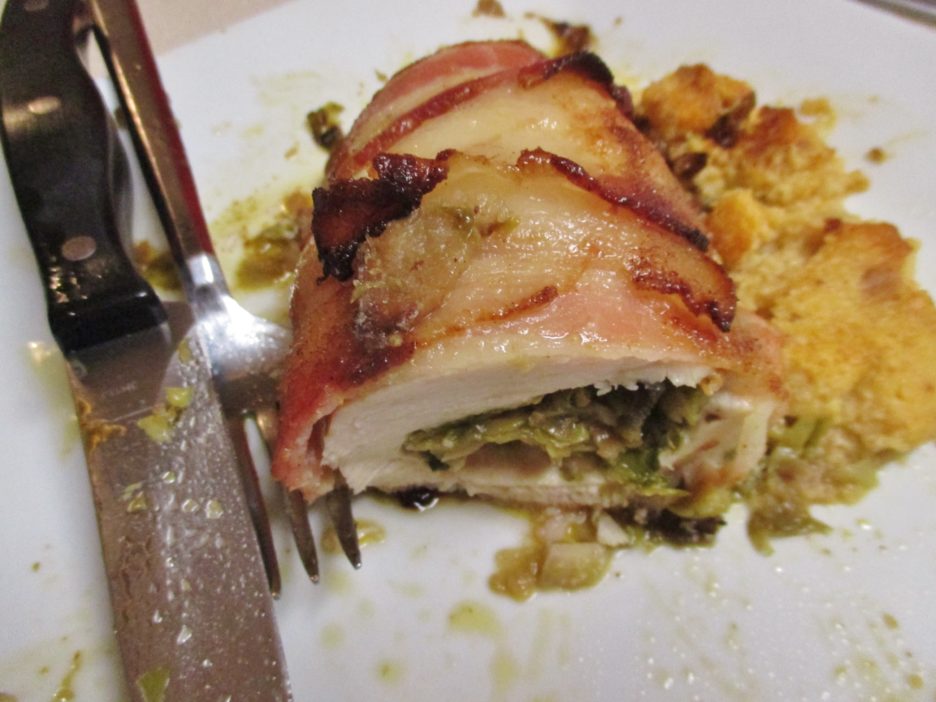 These are but two of a virtually endless set of possibilities. Use the master recipe and join the movement to stamp out dry chicken breasts. Share you creations and let's start a new day of moist and tasty chicken breasts for all!!