Make your homemade ramen creations shine with a perfectly creamy Ramen Egg – 味付け玉子. These little parcels of umami egginess are delicious on their own too!
Ramen Egg – 味付け玉子
I think you'll agree with me that there's typically a bit of a difference between the Ramen we get at our favorite ramen shops and the ramen we whip up for ourselves at home.
One is a well composed medley of perfect broth, noodles and ramen related accompaniments – the other can tend to me more, shall we say, rudimentary?
But, the truth is, there doesn't have to be a massive gap!
Little additions, like a few stir fried veggies, or an Ajitsuke Tamago (aka: Ramen Egg – and sometimes referred to as soy sauce eggs or shoyu tamago) can round out your self-made ramen creations.
Good news, friends!
Today's post is all about one of the most simple, yet substantial, additions you can create in your own kitchen to ramp up your homemade ramen making prowess.
Added bonus: these little parcels of perfect umami egginess are delicious on their own. So the ramen portion of this ramen egg recipe is actually optional!
Like Chinese tea eggs? Like deviled eggs? Old fashioned hard boiled eggs with a little salt and pepper?
This post is totally for anyone that just can't say no to the incredible, edible egg in all it's delicious forms!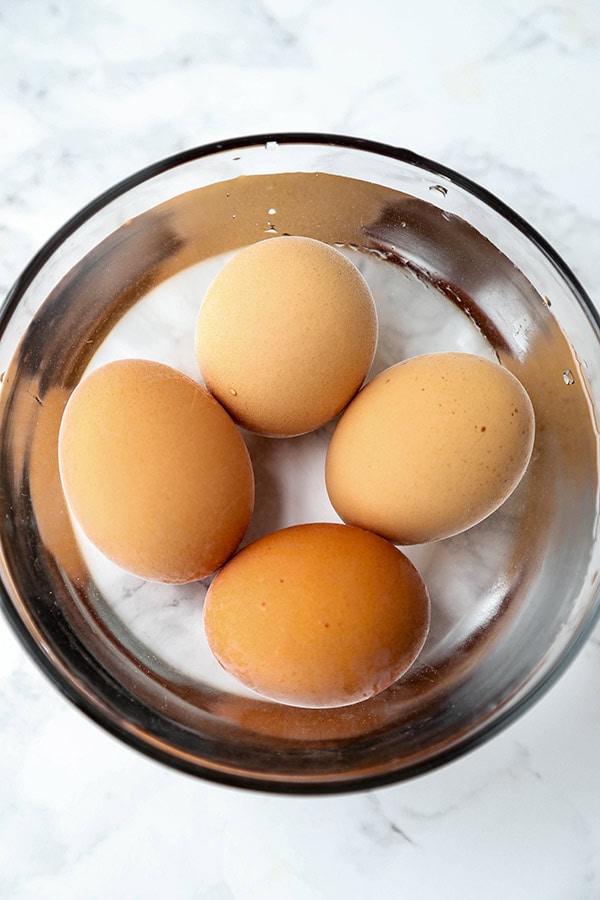 Noodles just need eggs!
Truth be told, I can barely say no to a bowl of ramen with an egg.
Whether I'm in Japan, eating at a ramen mecca like Ichiran – or in my Brooklyn kitchen, making miso ramen from scratch, there's likely a ramen egg in the works as well.
Heck, even when Ben makes his infamous bodega-bought bowl noodles for a late night snack, he'll add a poached egg to the mix.
In terms of the flavor, this perfect soy sauce, mirin and sake infused ramen egg punches way above its weight class.
It's also a great way to take a simple bowl of noodles and broth and elevate it to something more substantive and delicious!
An egg in ramen is kinda your noodle eating birthright.
So – want to improve your ramen? Let's go!
What is a ramen egg?
Simple answer: it's kind of a cross between a Japanese poached egg and a marinated medium boiled egg.
They're the ubiquitous eggs you'll commonly find sliced in half in steaming bowls of ramen (although they can totally be eaten on their own as a snack or side).
But wait, there's a tiny bit more to it.
While this is probably one of the all time easiest egg recipes to make, getting it right relies not only on assertive umami flavor, but a perfectly soft yolk.
I like my egg yolk on the slightly firmer side of a velvety custard.
However, ramen eggs can run the gamut from super soft with a runny yolk – all the way to practically hard boiled.
The secret is in the marinade.
Soy sauce delivers it's familiar salty and umami undertones, while sake and mirin deliver a one-two punch of dry sweetness.
For this easy tamago recipe, I also add a pinch of black pepper to the marinade for a tiny bit of zing. Whether you add pepper or not to your own ramen egg is totally up to you.
It's pretty common for ramen restaurants and home cooks alike to have a secret ingredient or two they add to their own proprietary ramen egg marinade.
I'm just sharing my little addition with you here!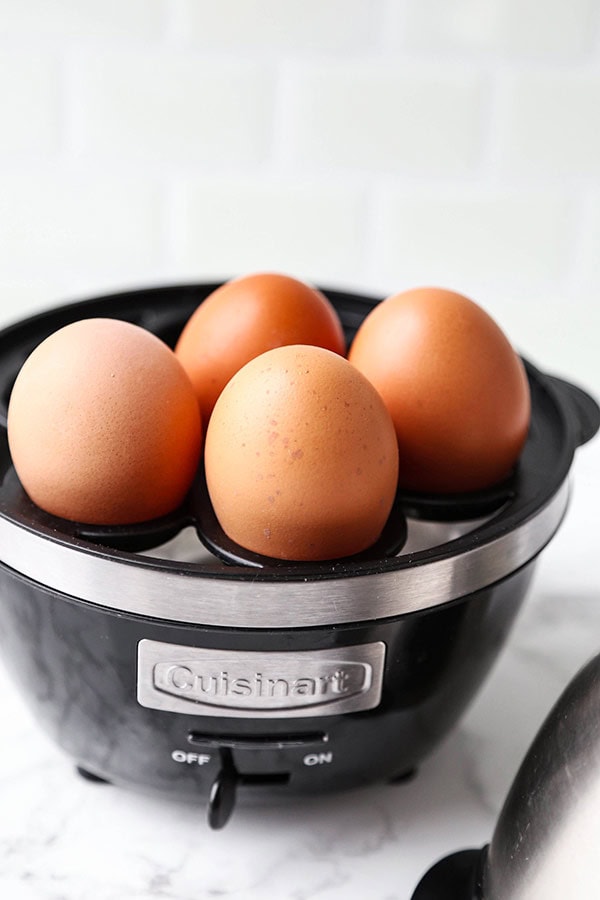 How to soft boil an Egg
Boiling eggs can seem like such an enigma – because there are a ton of methods out there.
And, while techniques can vary significantly, many of them will have you arrive at the exact same place in terms of doneness and yolk consistency.
If you have a method you swear by, stick to it!
Cooking can be challenging enough without tossing your tried and true method out the window for someone else's

Also, this section could just as easily be titled 'How to Make Medium Boiled Eggs' – or, heck, how about something like 'How do You Make a Hard Boiled Egg With a Runny Yolk?' Phew!
A few years back, Ben and I did an experiment on how to achieve different consistencies when boiling eggs.
So if you want to dive-deep on the whole how to boil an egg thing, click here.
Generally, I've found that bringing a pot of water to a roiling boil and then turning it completely off when adding my eggs to the water does the trick. I place a lid on the pot and wait for seven minutes.
Then I take the eggs out and place directly into an ice bath which stops the cooking (in a pinch you can also run them under cold water).
Take the shell off and into the marinade they go.
Overall, the result is a ramen egg that holds up when I stick it in hot soup. You see, while an overdone yolk is chalky, I also don't want my yolk to disappear as soon as it hits the soup.
I'm totally aiming for the middle ground: an egg yolk that holds up, yet still delivers on the soft, creaminess I'm craving.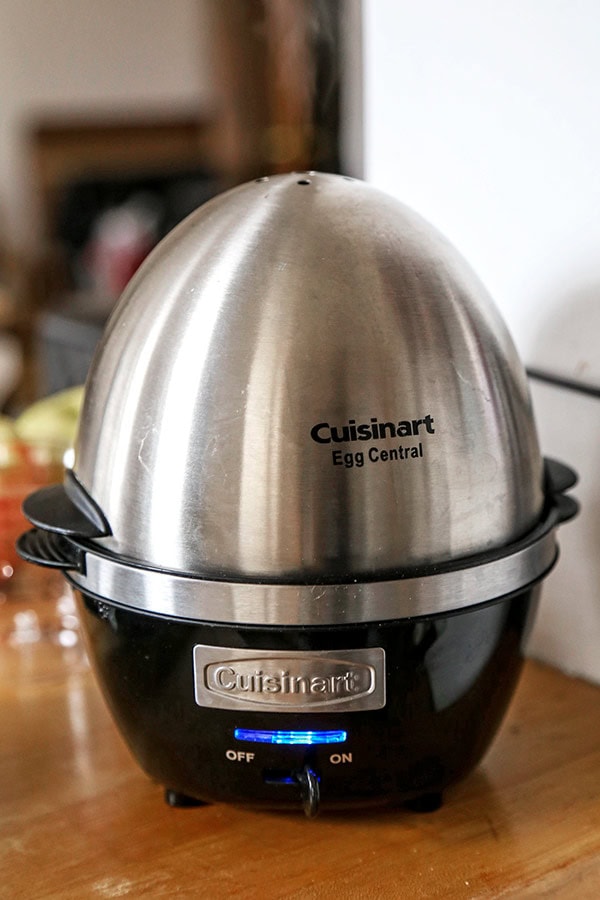 Egg Cooker vs Boiling Eggs
Tl;dr – both methods work great.
Again, if you have a method that works, there's no reason to change it up!
However, lately, I've been experimenting a bit with the way I do things in my own kitchen.
If there's a simple way to do something that's traditionally been a sticking point, I want to know about it! And while boiling eggs isn't difficult by any means, getting the different cooking consistencies right each and every time can be slightly more of a challenge.
For this ramen egg recipe, I fired up an egg cooker .
I wanted to see if freeing myself up from worrying about how the eggs were going to turn out would allow me to get more done and maximize my efficiency in the kitchen.
We bought a Cuisinart Egg Central as a gift for Ben's mom a couple of years back, and she couldn't stop raving about it. Finally, she ended up sending us one as a gift.
Ben suddenly became an egg wizard, poaching eggs for breakfast on Saturday – and making soft-boiled eggs and toast soldiers on Sunday for brunch.
So how did the egg cooker handle this Ramen Egg recipe?
In short: it was amazing!
Using an egg cooker freed me up to fully concentrate on perfecting my ramen broth and gyoza.
Plus, the yolk consistency came out perfect with every batch.
I didn't have to wonder if today was that weird day when my eggs on the stovetop were magically going to need an extra minute in the hot water to be as good as they were last time. I just left that part up to science

And, aside from the consistency of the perfectly cooked eggs, it was just all around EASY to use.
I don't know how it'll handle my tamagoyaki recipe – but I look forward to finding out!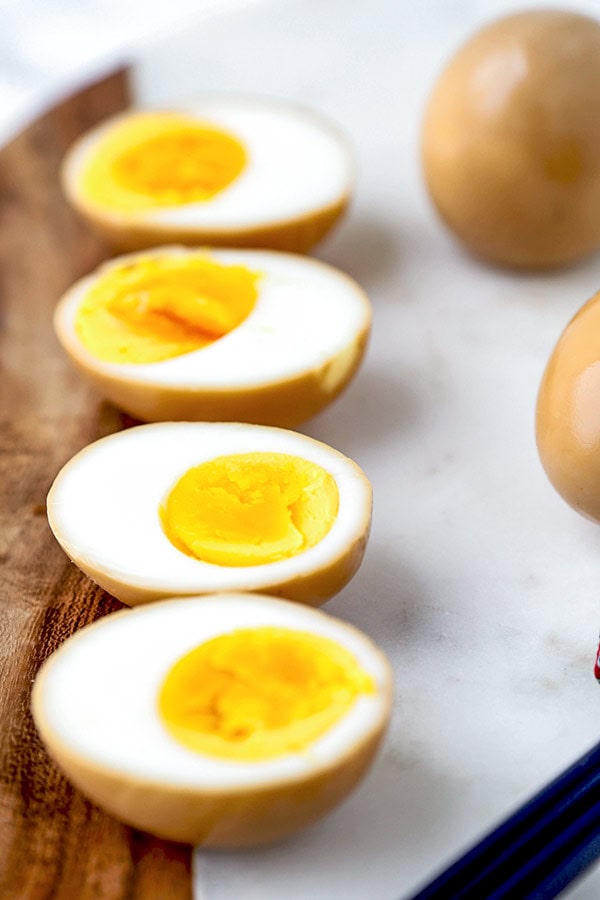 How to Make Ramen Ramen Eggs
Once you've nailed the perfect consistency, the next step is getting the flavor right.
Again – while this is super easy to accomplish – this step is more about timing and personal taste than anything else.
Mix your marinade ingredients in a plastic bag or waterproof container and add your peeled eggs. Easy, right!?
Now, I like to let my ramen eggs sit in the fridge in that delectable brine for at least two to four hours. Any less than two, and they won't pick up enough of that umami goodness.
However, if you like strong flavors (and have a bit of patience), you can let your eggs marinate overnight – or for up to a couple of days.
Ben is definitely a two day marinater when making a ramen egg (or twelve) for his noodle eating habit.
And, I know I say it all the time – but that's the best thing about cooking! Finding something that works for you and caters to your taste buds – and making any recipe your own in the process!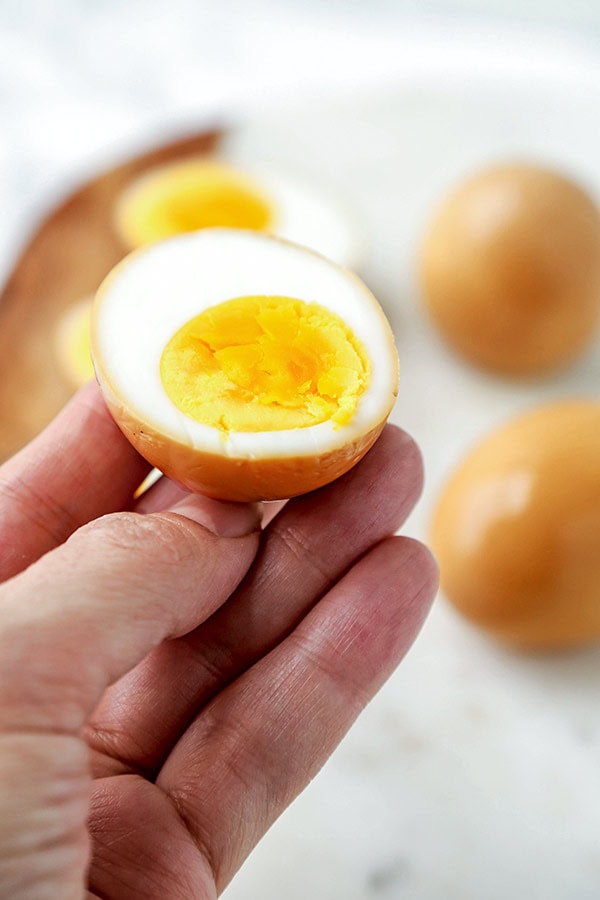 What else can I add to Ramen?
Aside from the ubiquitous ramen egg, you can dress up your own homemade ramen creations with easy-to-make accompaniments.
One of the easiest things is to flash fry carrots and cabbage, like the easy veggie stir-fry noodle topper made for this video.
Or how about a little curry paste for added flavor?
Baby spinach wilts quickly and adds a verdant pop to both instant and homemade ramen noodles.
Or, you could go Hokkaido style and add corn and a pat of butter. Yes, butter!
Basically, when it comes to making your own ramen creations at home a little more well rounded, you can add anything your heart desires! No limits.
Hopefully, this ramen egg recipe can be the lynchpin that pulls it all together and makes your homemade ramen really pop!
What's something you love to add to your own ramen at home? I'd love to hear about it in the comments section!
Other simple, delicious ramen recipes that go well with this ramen egg:
Miso Ramen –

ミソ ラーメン

Spicy Miso Tsukemen (Japanese Dipping Noodles)

Spicy Pork Ramen Noodles (Ja Ja Men)

Cold Ramen Zoodles (Hiyashi Chuka)

Homemade Ramen (The Easy Way)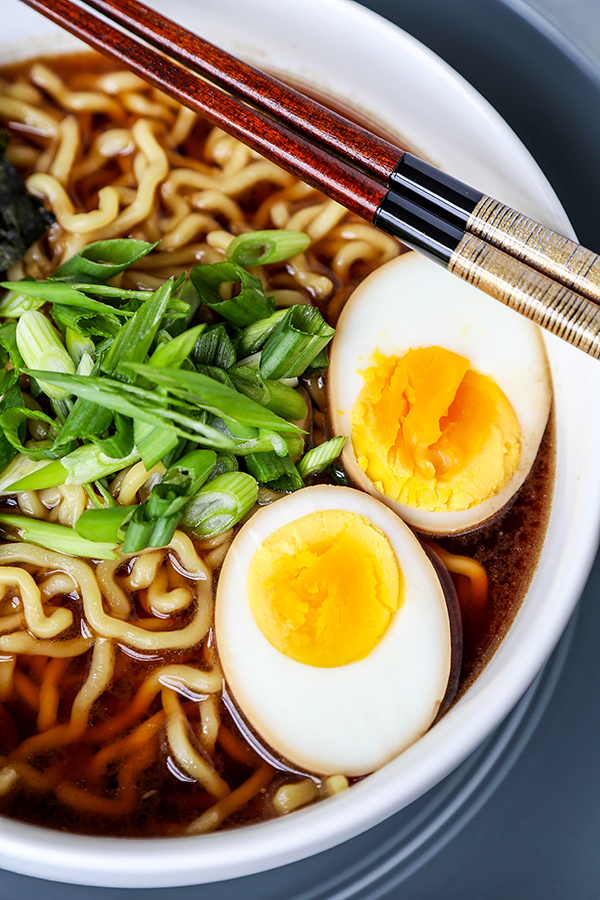 Did you like this Ramen Egg Recipe? Are there changes you made that you would like to share? Share your tips and recommendations in the comments section below!
3

tablespoons

soy sauce

2

tablespoons

mirin

1

tablespoon

cooking sake

pinch

ground black pepper
If you are using an egg cooker, set it to medium boiled. Otherwise bring a small pot of water to boil and turn the heat off. Carefully add the eggs, cover and let sit for 7 minutes.

Meanwhile, add the ingredients for the marinade in a bowl and stir. Set aside.

Once the eggs are cooked, submerge them in a bowl with ice cold water. Let sit for 5 minutes and peel.

Place the eggs in a Ziploc bag or other sealable container, pour the marinade over and seal. Rotate the eggs every 30 minutes or so, for 2-4 hours. You can let them marinate for up to 2 days for a stronger taste.

Slice in half and serve with ramen or rice.
The post Ramen Egg – 味付け玉子 appeared first on Pickled Plum Food And Drinks.