I'm not afraid to say it – This is THE BEST Asian salmon salad I've ever had! There's nothing boring about this wholesome, filling and refreshing meal. The flavors are perfectly balanced – sweet, salty, nutty, refreshing, amazing. I feel re-energized just thinking about it!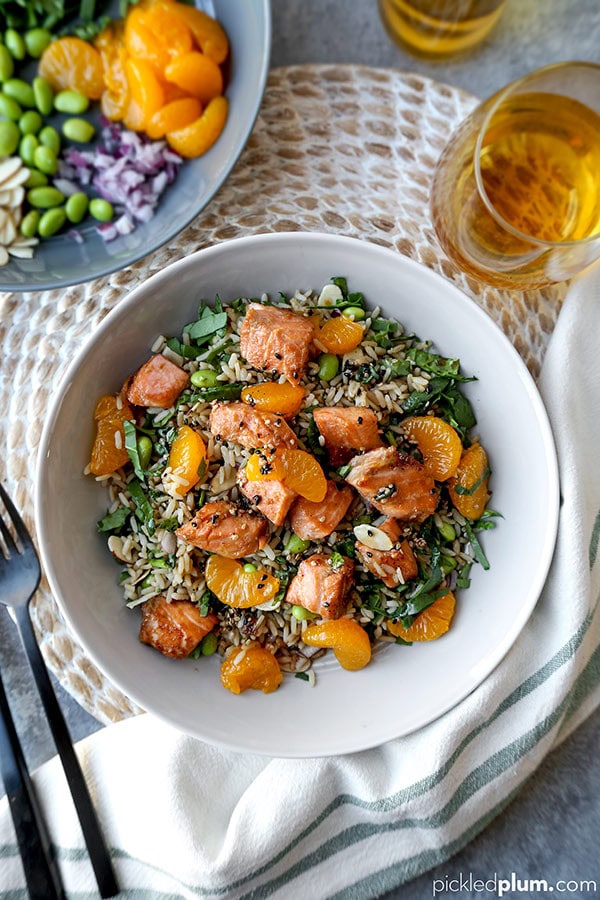 Warm Asian Salmon Salad
As far as healthy salad recipes go, this may just be at the top of my list.
Our minds were blown from the first bite we took.
The Salmon was so tender it fell apart as soon as a the prongs on my fork landed on it. The combination of sweet mandarin oranges, nutty shaved almonds and buttery edamame made the perfect symphony of flavors. Paired with a ginger soy dressing that needed no added seasoning, it was perfection on a plate!
The other great thing about this fresh salmon salad is how filling it is. It's packed with wholesome ingredients and whole grain rice to keep you fueled until the next meal.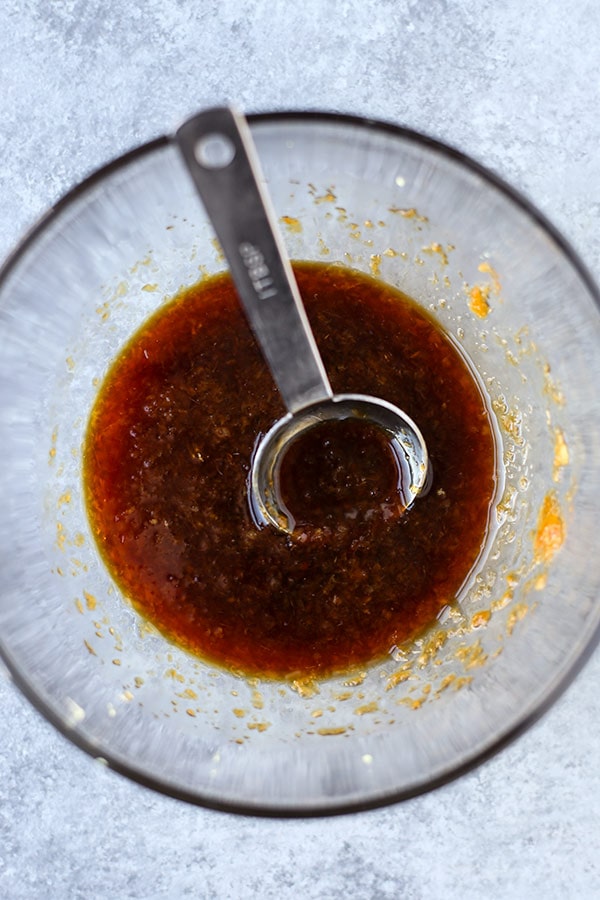 Are you a fan of Asian salads (aka Oriental salads)? I am, to a certain extent.
Although I do love most of the ingredients tossed into Asian salads (I'm a sucker for fried wonton strips), I always find the dressing overwhelmingly sweet. So when I do get one, I ask for the dressing on the side or for some other alternative.
Yes I know, I complain a lot about Asian food in America being too sweet, but let's face it, there is a serious overuse of sugar that's causing people to get sick.
What I'm offering you here is a much healthier version of the "classic". I'm only using 1 teaspoon of sugar because that's all the dressing needs for a good balance of sweet and tangy. The dressing is so good that I use it on other salads too! Try it with tomatoes or drizzle it on top of sliced avocados, you'll see what I'm talking about.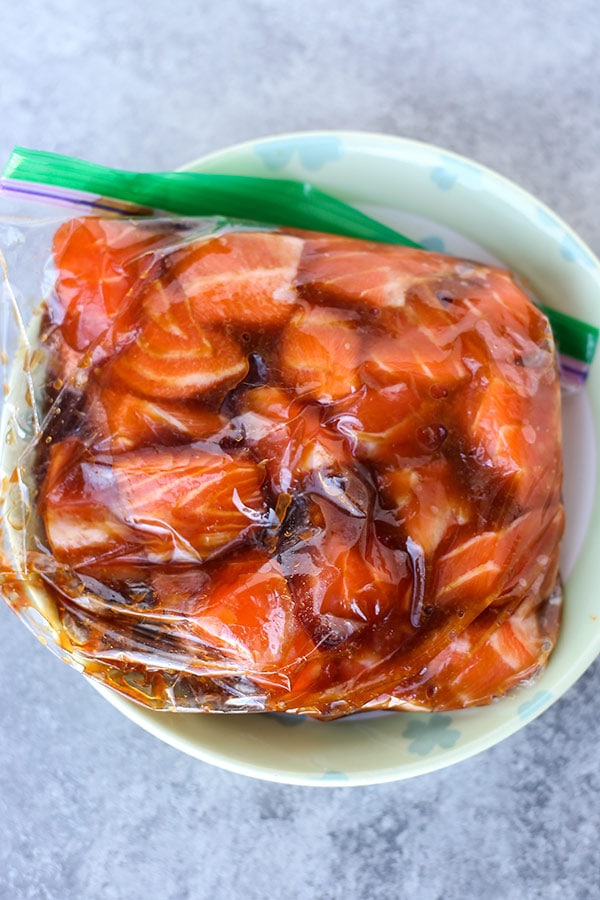 Rice Salad ingredients
My original idea was to serve the salmon over baby spinach but then I thought, "what goes with salmon better – leaves or something more substantial like rice?"
Since this dish is meant to be served as a meal, I opted for wholegrain rice. You can obviously use other types of rice such as regular brown rice or long grain white rice. Just steer clear or Japanese rice since it's too sticky for this recipe.
What I did with the baby spinach is shred it to combine with the rice along with shaved almonds, shelled edamame beans and red onions. Finally, I made a simple soy, sesame and rice vinegar dressing to go with it.
If you are missing a couple of ingredients, don't worry, you can still make this warm Asian Salmon Salad. The edamame beans can be swapped for bell peppers, shaved almonds for chopped walnuts, baby spinach for arugula – you get the picture.
It's a salad after all which means the ingredients are easily interchangeable. As long as the marinade and dressing are made according to the recipe, you should have a pretty delicious salad!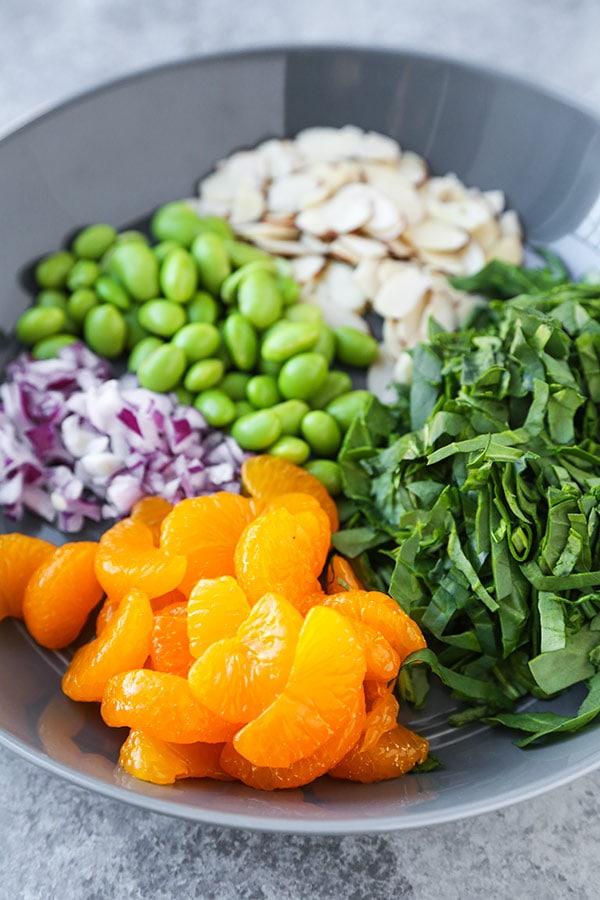 Can I use canned salmon?
Yes and no.
Yes, if you don't mind your salmon without the flavors of a super yummy garlic and ginger soy marinade.
Yes, if you are in a time crunch or are exhausted and just want to eat something healthy, quickly.
No, if you want the full flavored dish in all its glory

No, if you have time to marinade your salmon before going to work.
That's the thing about this recipe – since it's just a simple rice salad with salmon on top, you can make most of it ahead of time.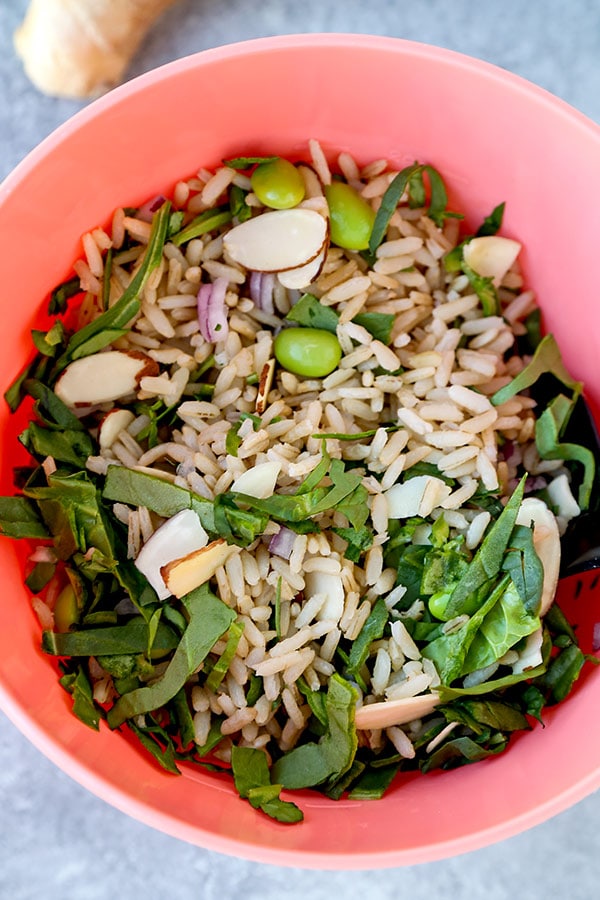 Prepping ahead of time
Here is what you can prep ahead to save time on the day of la dégustation:
Make the salad dressing. It will keep refrigerated for up to two weeks.
Make the salmon marinade the night before. However, I don't advise marinating the salmon the night before to avoid the flavors from becoming too strong. I like to marinate mine for about an hour.
Make the rice salad a day or two ahead (without the dressing and mandarin oranges added).
Now picture this: You come home from work exhausted and hungry. Luckily, most of the prep for the Warm Asian Salmon salad is done! You mix the marinade with the salmon and leave it to infuse its lovely flavors for half an hour. In the meantime, you change into your comfy clothes and pour yourself a glass of wine. Then aaaaaaah, it's relaxation time.
The timer goes off so you and your bunny slippers shuffle toward the kitchen, pull out a pan and sautée the salmon. As the fish is cooking, you briefly zap the rice salad in the microwave, transfer it to a plate and top it with mandarin oranges and a little dressing. You finish by letting the salmon pieces slide onto to the plate and sprinkle some sesame seeds.
Done.
Congratulations, you just made an über wholesome dinner in less than 10 minutes!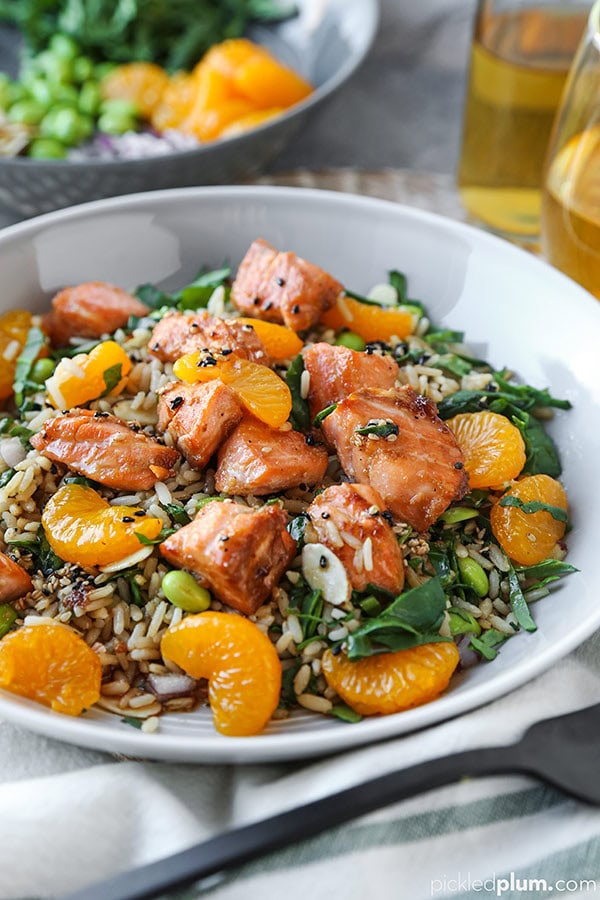 How to cook salmon for this recipe (and other marinated salmon recipes)
There are many different ways to cook salmon but the result should always be the same; a piece that's flaky, tender and moist.
To easily achieve perfection, marinating salmon always helps. It adds moisture to the fish which in turn stays more tender than dry, should it accidentally get overcooked. So you are in good hands with this warm Asian salmon salad recipe!
Here are three ways you can cook this marinated salmon for best results.
How To Pan Fry Salmon
Although all three methods mentioned are easy to follow, this one is the quickest. All you need is a pan and a little oil. When the oil is hot, add the salmon pieces and pan fry for 4-5 minutes.
I recommend taking the salmon out of the pan 1 minute short of fully cooked since the residual heat will keep the pieces cooking for longer. This way you'll end up with perfectly moist and tender pieces.
How To Grill Salmon
I so wish I could grill! Unfortunately, I live on the third floor of a brownstone in Brooklyn so right now I can only dream about it.
But to those of you who have a grill, I envy you! This means you can infuse an extra layer of smoky goodness to your fish. Sexy.
Instead of chopping the salmon fillet into bite size pieces, leave it whole and marinate it that way. It will be easier to handle.
Now heat your grill to medium high. Here's a quick way to test the temperature of your grill; place a hand about an inch above the cooking grate. If you can keep it there for 3-4 seconds, it means the temperature is medium high.
Lay the salmon fillet over a piece of aluminum foil and pierce holes (one for every inch) throughout. Transfer to the grill, cover and leave for 10-15 minutes. Test the doneness – it may need longer if it's thicker than 1 inch.
The same goes here – pull the salmon off the grill a minute or so before it's fully cooked. Let it sit for a couple of minutes before serving.
How To Roast Salmon
Preheat the oven to 400ºF. Place salmon on a parchment paper-lined baking sheet. Roast for 12-15 minutes.
Alternatively you can broil the salmon by placing it right under the broiler, top rack, about 3 inches away. You will need to keep an eye on the fish at all times since it could quickly burn! Check your fish after 3 minutes. If it needs longer, leave it for an extra 1-2 minutes.
Other delicious salmon recipes:
Sumac-spice blackened salmon
Salmon tikka masala
Salmon croquettes with spicy dill sauce
Salmon en papillote
Honey sriracha oven baked salmon
Miso salmon with sesame bok choy
Black bean glazed salmon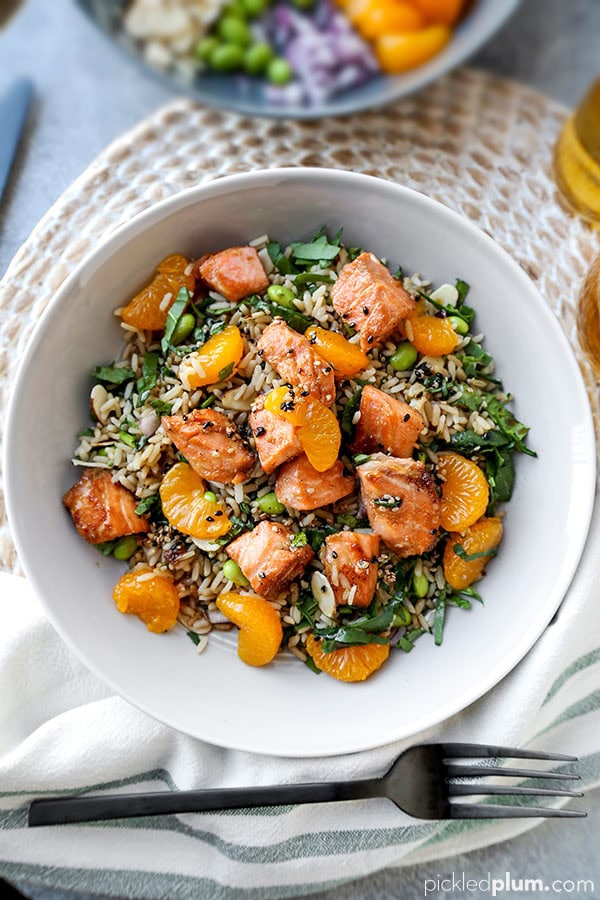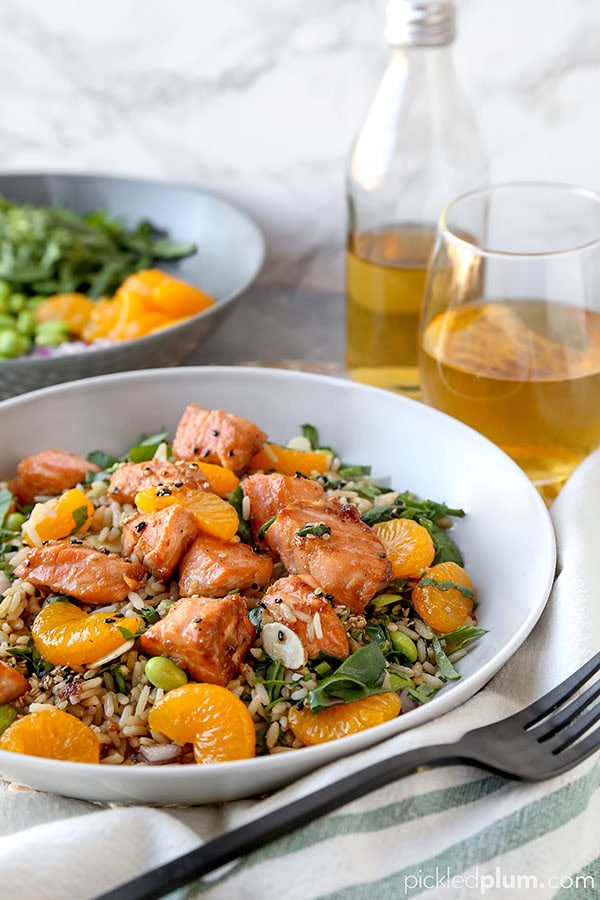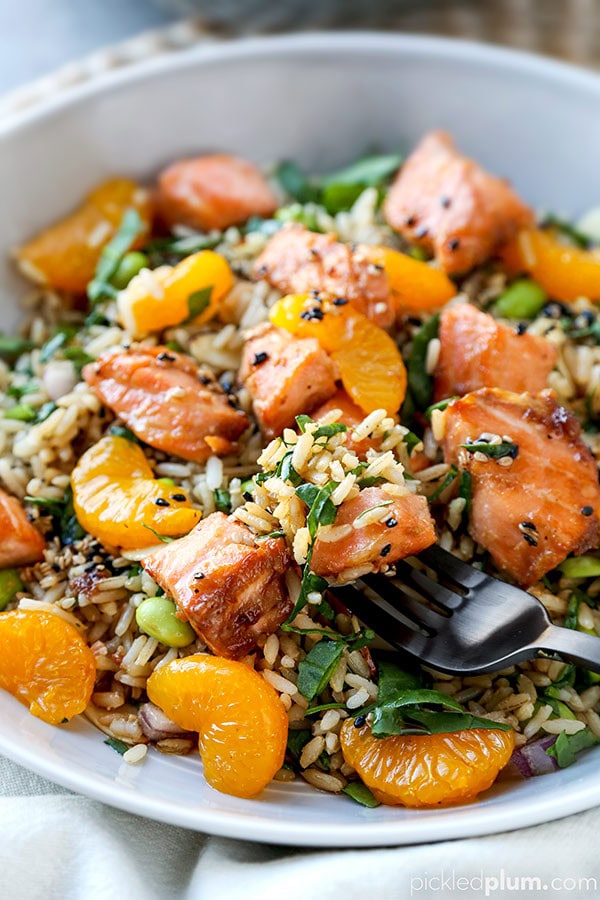 Did you like this Warm Asian Salmon Salad Recipe? Are there changes you made that you would like to share? Share your tips and recommendations in the comments section below!

1/2

pound

boneless skinless salmon fillet

1

tablespoon

vegetable oil

1

1/2

cup

cooked whole grain rice, brown rice or long grain rice

1/4

cup

shaved almonds

3

tablespoons

red onion

finely chopped

1/3

cup

shelled edamame

1/2

heaping cup

baby spinach

shredded

1/2

cup

canned mandarin oranges

drained
1

clove

garlic

grated

1

tablespoon

freshly grated ginger

1

teaspoon

honey

2

tablespoons

soy sauce

1

tablespoon

oyster sauce
2

tablespoons

toasted sesame oil

1

tablespoon

sesame seeds

I use a mix a black and white sesame seeds

1 1/2

tablespoons

rice vinegar

1

teaspoon

granulated sugar

3

tablespoons

soy sauce

salt and pepper

to taste
Whisk all the ingredients for the salad dressing and set aside.

In a bowl, whisk all the ingredients for the salmon marinade and set aside.

Cut salmon into bite size cubes and add to a sealable sandwich bag or shallow bowl. Pour marinade into the bag, let the air out and seal. Gently massage the marinade on the salmon cubes to coat them evenly. Refrigerate for at least 30 minutes.

In a pan over medium heat, add vegetable oil and when the oil is hot, add salmon cubes. Pan fry for 4-5 minutes, until salmon is cooked through. Transfer to a plate and set aside.

In a large bowl, add rice, almonds, red onions, edamame and spinach. Toss and divide among two shallow bowls.

Top with salmon, mandarin oranges and 1-2 tablespoons of salad dressing. Serve.
You can make the dressing ahead of time and keep it refrigerated up to 2 weeks.
You can also make the rice salad (without the dressing, salmon or mandarin included) 1 or 2 days before serving, stored it in the fridge.
The post Warm Asian Salmon Salad appeared first on Pickled Plum Food And Drinks.