The article - Slow Cooker Smoky Chicken Tinga - appeared first on Analida's Ethnic Spoon - Analida's Ethnic Spoon - Create easy ethnic recipes from around the world and learn about the best international cuisine.. Enjoy!
Hola everybody! You all know that Mexican food is among my favorite cuisines because it's so flavorful and easy to make. Today's pick: slow cooker smoky chicken tinga. It's similar to "pulled chicken, but " a la Mexican style. Read on!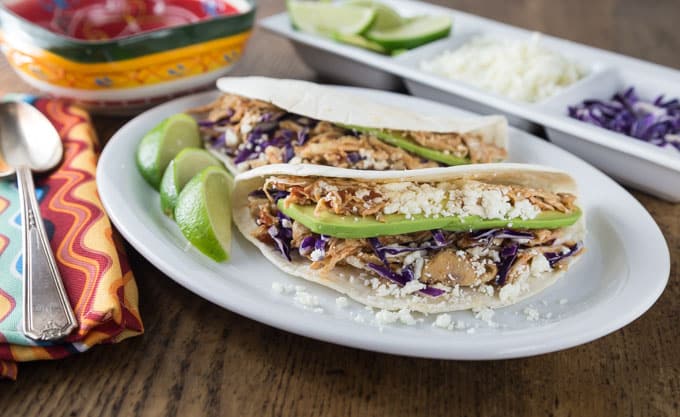 This dish is EXTREMELY versatile. For instance, you can use it to make tacos, tostadas, or even nachos! Burritos anybody? See what I mean? Whenever I prepare slow cooker smoky chicken tinga I always make a big batch in order have extra to freeze. Then it's like an instant meal on a busy weeknight, BONUS!!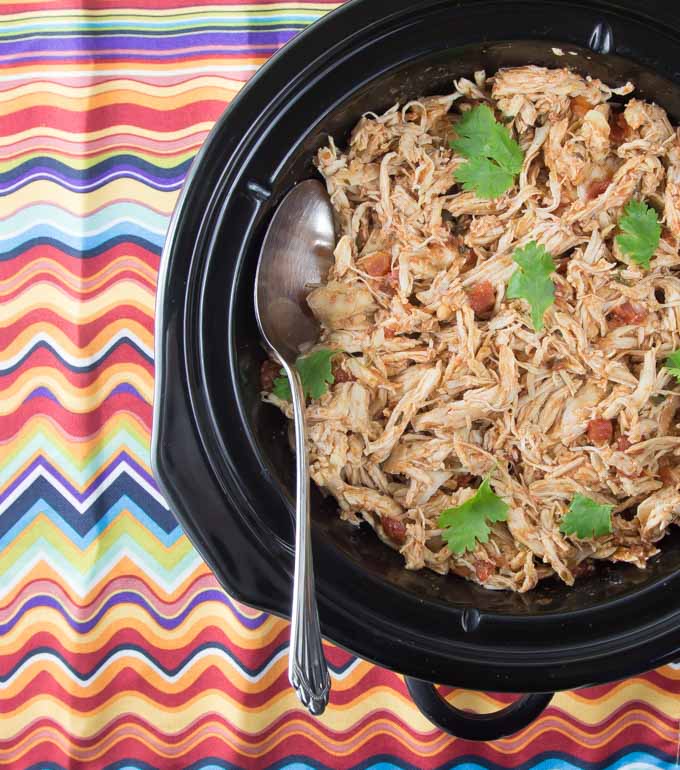 Apart from its overall deliciousness, slow cooker smoky chicken tinga has even more advantages. First of all, OMG does it ever make the house smell so good! Second, it is also very healthy.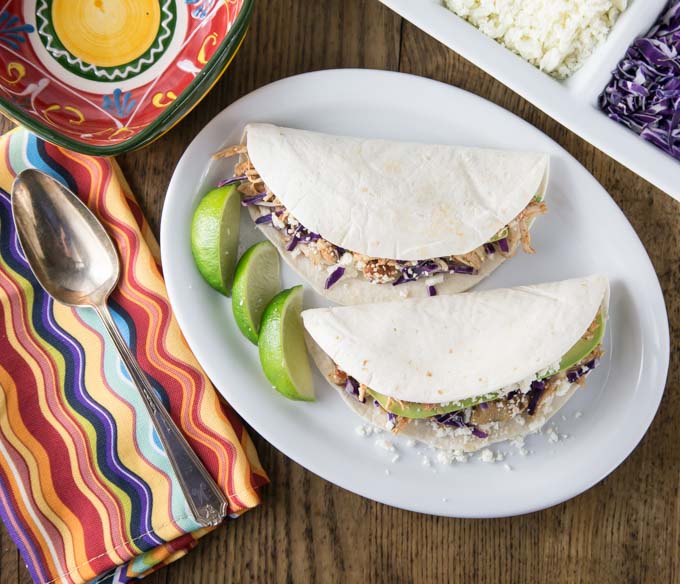 The herbs and spices create a rich and phenomenal flavor profile.
I use bay leaves, and oregano because they both provide a deep and delicious earthy taste that really complement the other ingredients superbly. In addition I like to season the chicken with smoked paprika, and cumin of course.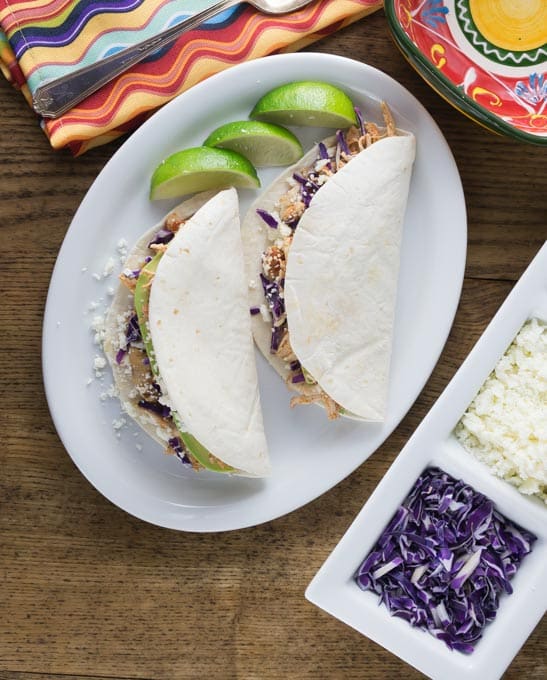 And what about all the toppings? Well, it's up to you, but I like avocado, cotija cheese, and red cabbage because they create such a beautiful color contrast.
Without a doubt, this is a recipe you can use for so many purposes. And that is a HUGE plus in my book.
Here are the visual step to make a great chicken tinga!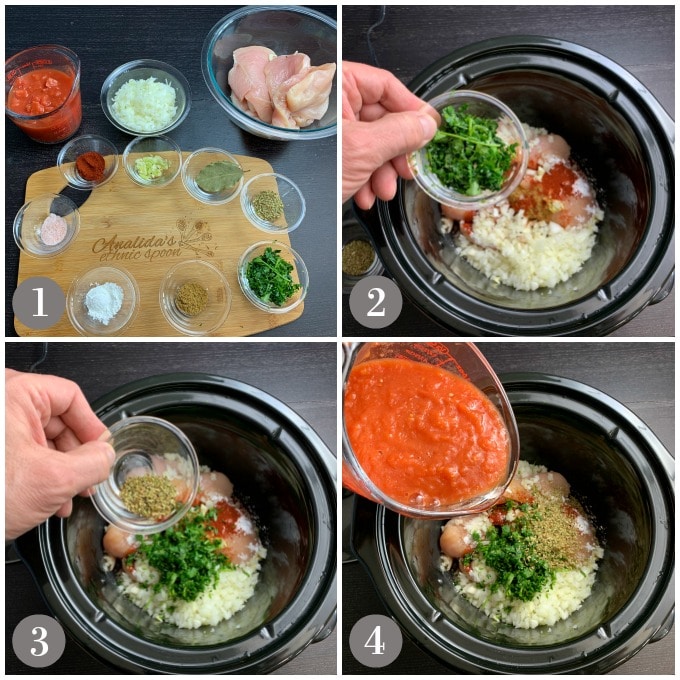 Step 1: Gather all your ingredients. Measure, chop and mince all the items you need for the slow cooker: chicken, salt, smoked paprika, garlic, onion, oregano, cilantro, cumin, bay leaves, diced tomato and cornstarch.
Step 2: Place the chicken in the slow cooker and then add the onion, garlic, salt, paprika, corn starch, bay leaves and cilantro.
Step 3: Add the oregano.
Step 4: Add the the diced tomato, give it a stir and set to high. Stir it after each hour to combine flavors.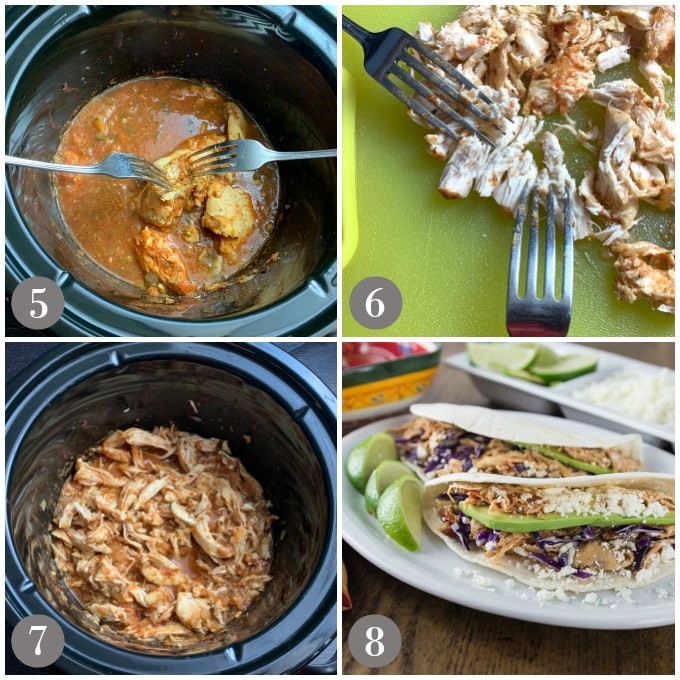 Step 5: After 3 hours check to see if the check if the chicken will split easily with a fork. When the chicken will separate it is done. While the chicken is cooking gather your ingredients to make the tacos: flour tortillas, avocado, crumbled cotija, red cabbage and lime wedges.
Step 6: Remove the chicken breasts and shred them into small pieces on a cutting board.
Step 7: Return the shredded chicken to the slow cooker, set to warm and stir into the remaining sauce. The chicken will soak up a lot of the juice and flavor. This is so flavorful!
Step 8: Keep the chicken warm and serve with tortilla, red cabbage, cotija cheese, avocado and limes. You can freeze any unused portion after it cools. It will store for up to 2 months in the freezer.
Finally, make sure you share this recipe with your friends and family because EVERYONE needs an easy weeknight meal in their life.
If you love Latin food then you have to try some of my all time favorite dishes or bookmark them for later. Here are some of the most popular ethnic dishes, their history and ingredients to make at home.
Mexican Pork Carnitas: Make this in the slow cooker and then broil for crispy goodness.
Cuban Ropa Vieja: A true comfort food of slow cooked beef served over rice.
Recaito: This is the ingredient used in many Latin soups, stews and black beans.
Sofrito: You need to have this base ingredient for Latin style beans and shredded chicken.
Latin Style Black Beans: If you have never tried these you are missing out and they are so easy!
Slow Cooker Spicy Smoky Chicken Tinga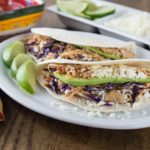 Slow cooker smoky and spicy chicken tinga or Mexican pulled chicken is about as versatile as dishes come. You can make tacos, burritos, tostadas or nachos! I like to make a big batch and freeze into family sized portions. Once I have it completely cooked in the slow cooker I pull it or shred it and then I add back to the slow cooker to keep it warm for serving.
2 lbs chicken breast (boneless skinless)
1 tsp salt
1 tsp smoked paprika
2 garlic cloves (minced)
1 onion (small, diced)
1 tsp oregano
2 Tbsp cilantro (chopped)
1 tsp cumin
2 bay leaves
14 oz tomatoes (can, petite diced)
2 tsp cornstarch
Toppings:
1 avocado (diced)
1 cup red cabbage (chopped)
1/2 cup cotija cheese (crumbled)
1 lime (cut into wedges)
8 flour tortillas
Place chicken, and the remaining ingredients except the toppings in the bowl of a slow cooker. Cook on high for 3-4 hours. Stir every hour to combine the flavors.

After 3 hours check if the chicken will separate easily with a fork and then it is done. When done, transfer the chicken to a cutting board, and shred using two forks.

Return to the cooker, and mix in with the juices. Serve on four tortillas with avocado, red cabbage, crumbled cotija, and lime wedges.
The article - Slow Cooker Smoky Chicken Tinga - appeared first on Analida's Ethnic Spoon - Analida's Ethnic Spoon - Create easy ethnic recipes from around the world and learn about the best international cuisine.. Enjoy!