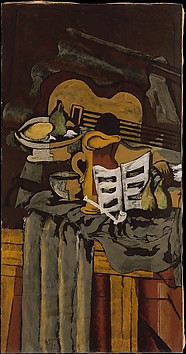 Still Life With a Guitar, Georges Braque, 1924
Daily Thoughts 10/19/2017

I checked the Twitter and Facebook for the library this morning.
I finished reading
No Dream is Too High Life Lessons From A Man Who Walked on the Moon
by Buzz Aldrin. Buzz Aldrin writes an inspirational book from the viewpoint of being innovative and trying new things. He is the second man to step foot on the moon. His life is one of continuous accomplishment, patriotism, and service. What he says comes from his experiences. I found the book to be quite inspiring and true to heart. I like that he is still pushing for more human space exploration. He wants people to set foot on Mars.
I also read some of
Endurance
by Scott Kelly. Scott Kelly describes what it is like to give ones body to science by being one of the first people to spend a full year in space. This shows what would happen on a long duration flight to Mars.
I checked the gift books and the displays this morning.
My first order from Peachstate Hobby Distributors came in for games. We got 17 new board games to add to our collection. We already had been asking for donations of games from various companies. We now have over 30 new games. We intend to put them to use for International Games Week which is October 29 through November 4, 2017.
I put in two orders of books today. I also read a copy of Library Journal. I looked through two copies of booklist as well.
There is a Beginning Microsoft Excel class tonight from 5:30 p.m. to 7:30 p.m. in the computer lab.
I also have to think of some programs we might do in the coming months.
Tomorrow we are having database training in the computer lab led by Allison Midgley from the Westchester Library System. Afterward we are discussing options for signage.
I read some more of
Endurance
by Scott Kelly. I am reading about how an astronaut on the International Space Station has their time scheduled down to every five minutes during the day. Everything is very precise and deliberate. This includes how the cargo pods dock with the International Space Station. There is a high value on safety and precision.
Web Bits

Everylibrary Prepares to Build A National Base of Library Supporters
http://lj.libraryjournal.com/2017/10/advocacy/everylibrary-prepares-build-national-base-library-supporters/
The UK No Longer Has a National Public Library System
https://www.theguardian.com/voluntary-sector-network/2017/oct/19/uk-national-public-library-system-community
How Libraries Are Luring Millenials
http://www.ilovelibraries.org/article/how-libraries-are-luring-more-millennials
For one time only on October 19, 2017, we are clearing ALL fines on ALL kids' and teens' (17 years and under) Library cards.-- Queens Library
http://connect.queenslibrary.org/2114?utm_source=oracle&utm_medium=email&utm_campaign=fineamnestypromo2017