Dutchess County Fair
The Dutchess County Fair offers a thousand branching paths, from the often-cheesy shows to the juddering rides that never seem to break down but always threaten to the rigged games staffed by hoarse barkers dawn to dust. I am content with the path I take through it. From annual experience, I know the variables and will leave the six-foot Rasta bananas to someone else. (I have never understood these prizes' prevalence. Is the banana supposed to be a covert joint? Is there a pun I am missing?)
The fair is five days where close to a million people pour into a few acres of the fairground to enjoy nothing too spectacular. The point of the fair is not to be spectacular, but merely to be. (The fair does offer a roster of bands who justify the cost of a second admission. The only one I recognized was The Wallflowers, and I was surprised they still existed and saddened that their level of existence is "plays county fairs;" Having headlined the Dutchess County Fair is not a feather in the cap of a band who might have previously filled stadiums, but decades had rudely intervened.) This week justifies in some part the existence of the fairgrounds. Anyone needing to pass through Rhinebeck this week for anything other than fried dough curses the fair, but the rest of us come from hours away to attend, thus the brutality of the traffic.
Had I ever come here as a teenager, I would have used the fair as a venue for the acquisition of phone numbers and kisses, which is certainly an option for the teens here today, though not one I suspect many exploit. As a teenager, I would have found the drive too imposing unless I could have goaded Melissa into making the trip with me, since I cannot imagine any other friend so keen to pass a day this way, however impressive the room full of chicken breeds is.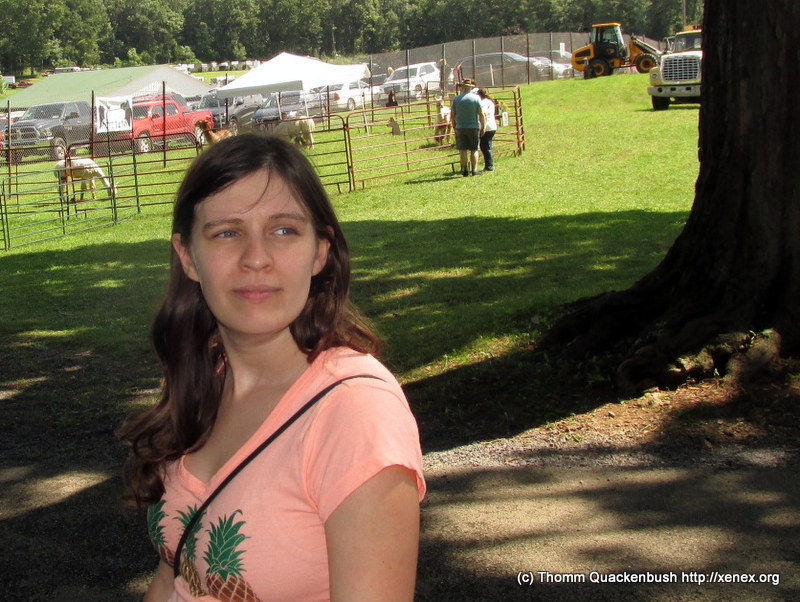 Amber
I try not to spend more than a minute envisioning my hypothetical teen self's path, since it bears no relevance to mine. I can have this experience without precedent, even that of my earlier excursions. I miss coming here with Daniel, but I am not without enjoyable company now, hard won as it is. Amber is ever at my side, Kristina meets us shortly after arrival (once we have purchased our requisite 4H milkshake), and Veronica promises to join us after work.
I have a minor addiction to liminal spaces. County fairs don't take place at fairgrounds -- a common mistake -- but instead in the specific combination of funnel cake and goat milking, the overpriced food, the dogs diving farther into a pool after their thrown toys, the cowboy hats that will be tossed into the trash upon arrival home, the botanical displays. The infrastructure is always here and the individual parts, at least those not perishable or sold for slaughter, remain, but they are the county fair only for this week. The fairgrounds play host to sheep and wool, to bikers, to craft fairs, but only a fool would think it is the same thing. For one, no Ferris wheels.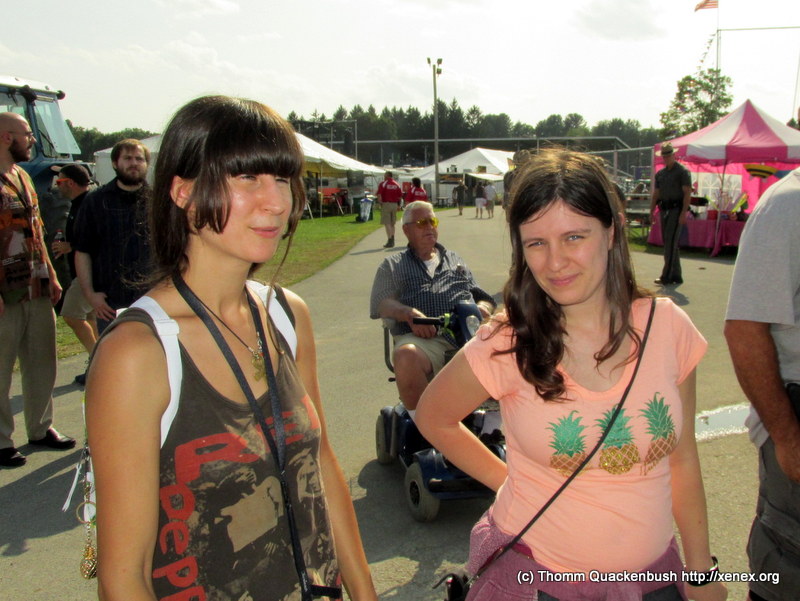 Kristina and Amber
Kristina is shy about allowing us pay for her, but I don't see much point to my present financial comfort if it cannot help those whom I love. While Amber and I were on vacation, she stopped by to care for our coven of pets (minus the cats). We left her a pineapple backpack, which she wore today, but left behind a ten-dollar bill meant to recompense for the gas she used in this chore. She wouldn't take it because she is not comfortable accepting money from friends. She did not grow up well-off. I know how lacking the security of enough money at one point leaves a mark that is not easy to wipe away. I still struggle with the idea of financial stability when confronted with a big purchase, to the point of losing sleep and fretting for days. Buying Kristina a ticket to the fair or whatever she needed while here is so small a thing for me, because her money is worth more than mine. She is closer to unsteadiness than I have been since I was thirty and should not have to spend money as much as I can manage. On the other hand, when I was in poorer shoes, I wouldn't have readily acceded to charity. I would have felt that I then owed the person, that our friendship was becoming unbalanced, that I was a burden, that they might be trying to buy me in a sense. None of these are in effect with Kristina, at least from my side. I just love her and want to make her life easier if I can.
Why is this a thing?
I thought once that Kristina and Daniel were going to become more than friends, which I approved of quietly from the sidelines in order not to spook her. It did not happen in large part because she was not ready to take that step, but also because Daniel felt the generous urges I have toward Kristina, except he worried he would be trying to save her. He could barely save himself then and couldn't trust himself with that responsibility (though he wouldn't have been saving her. He would only have imagined he had).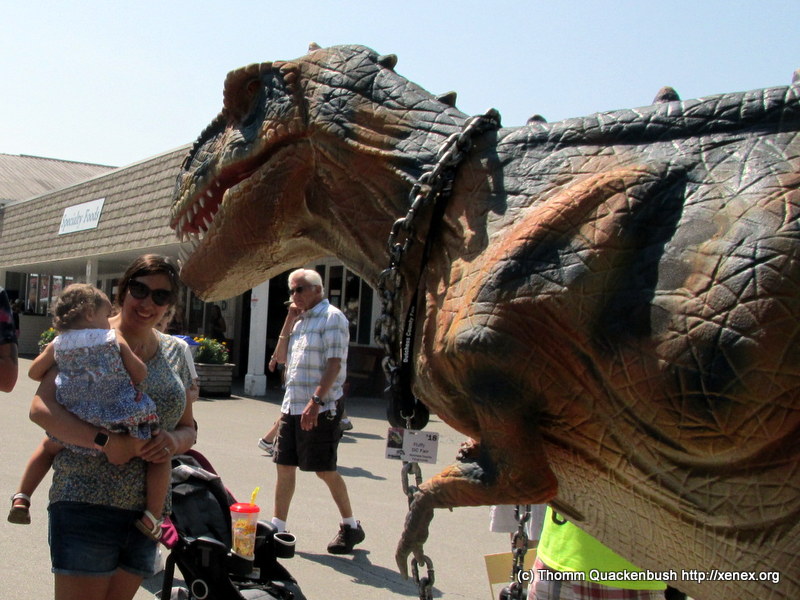 Why is this a thing?
We sit for the circus act. The whole time, I feel the low grade dread that comes with watching people threaten their lives for my entertainment, though their aerial work is done with net and finished with little fanfare after a few minutes, so quickly that I think their falling was an accident and they will return immediately to the trapeze, though they stride into a tent for a costume change while a clown I cannot see gambols for children on the other side of the audience.
After a few more acts, two of the crew get into the Sphere of Death with motorcycles. I tell myself that, if they can get out of this without any bloodshed, my worry was all for nothing, just another demonstration of my brain catastrophizing. This will be a fine exercise in proving my anxiety wrong.
I wouldn't have bothered writing this if that were the case, obviously. One of the men finishes his routine and stands in the sphere in a triumphant pose, waiting for his costar to stop circling. The other rider does not, spinning until, reaching near the zenith. The man plummets to the bottom. His still running bike, belching exhaust from burning pipes, drops onto him.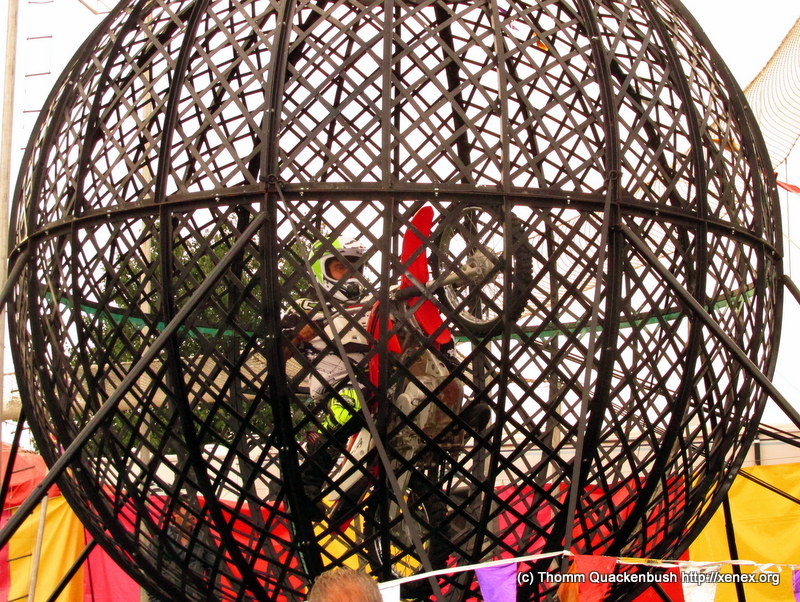 Sphere of Death
The audience goes nearly silent, then to a quiet buzz as we wait for the news as to if we have just witnessed something grievous, something mortal. I don't understand why the parents stick around, their children growing in nervous panic, their questions to more insistent demands as to if the man is dead.
It is some minutes -- too many for us to have kept watching this scene as though it were the real exhibition, too many not to hold our waiting against us -- before the rest of the crew extracts the injured man. They get him to stand and wave to the crowd that he hasn't died, then hobble backstage, but I have no doubt his injuries are serious and need immediate attention. The show must go on and children need appeasement so that they can enjoy the rest of the day at the fair without a mark against their innocence.
When I check my phone to see if Veronica has messaged yet, I see one from Holly, saying Ken and she are at the fair and asking if we like to meet. As I begin a reply on how I will need a precise location, she walks up to me and inquires why I didn't reply. She inquires where we are headed. I answer that we are going to the shopping pavilion, there to sample any edible ware to satiation. She is torn between coming with us and going back to her unnamed friends, indicated by a handwave at the food kiosks, but I tell her she can go to her friends and we will see what happens later. I imagine it was just politeness and the assumption Amber and I were otherwise unescorted and thus better able to be assumed into her party that imbued her invitation to join her party. It was plain to me she understood her priority was to the people with whom she came to the fair. Following her was a path I could have taken, but it was not the path I was on, nor was abandoning her friends for us a path she wanted to take.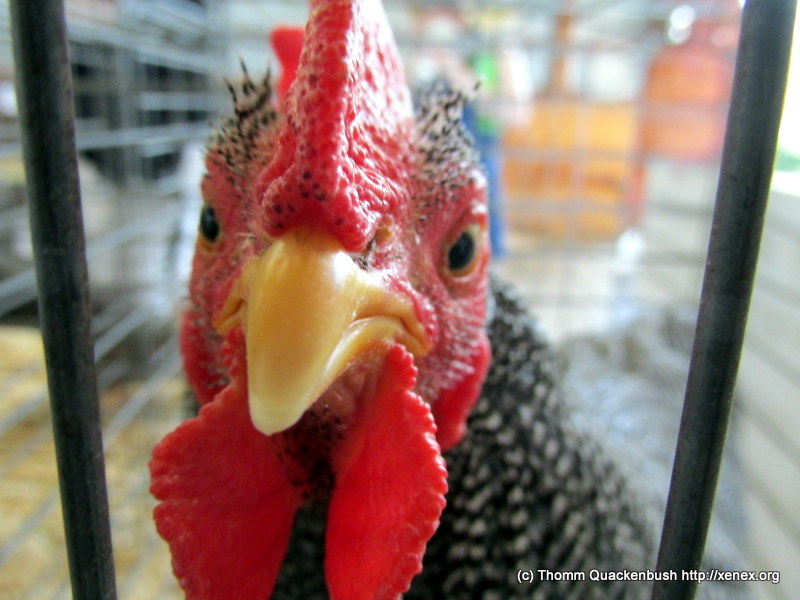 He pecked my camera
In the pavilion, Kristina and I try out hot sauces. I am impressed with her bravery for skipping past most of them and going right to the hottest, whose sting I enjoy in an act of benevolent masochism, but which bothers brave Kristin for ten minutes after. (Correlated with dealing with my mental health, I have started craving hotter and hotter food. The endorphin rush from the spice is invigorating.)
By the time we are done shopping, Holly and Ken have left the fair, though she invites us over to her apartment after. I know us and know that I won't leave the fair until it is near to closing, not least of which is because I want to spend time with Veronica.
Ken then messages to say they have purchased their wedding rings at the fair. I demand a picture, uncertain if this is a prank and, if so, on whom. They present their hands, mood rings on third fingers. It could be a joke, but that doesn't also mean it isn't serious. When I ask the following day how engaged the two of them are on a scale of one to ten, Holly affirms it is a nine. Again, no time to waste. I had better be invited to the wedding.
About a nine?
After night has fallen and all the lights glow brighter in defiance of the dark, Veronica shows up, blending seamlessly, though I can't articulate why there would be any awkwardness. We have all been together at parties at my house, but a less constricted activity poses its own paradigm. However, it is as though we four are always together. There is no static in the transmission of our companionship. She is unescorted by JP, but this is fine as I want to specifically make her a closer friend. He is just gravy.
We end up in the science and art building. I ask the older woman half-guarding the prized bake good if these are sprayed with anything to protect their integrity, waxes or sealants. She assures me they are doused in Raid, which keeps both bugs and children away. While I admire the simplicity, a woman hearkens us with the siren song of free food. I walk three curious steps, then see that the name of the faux diner, Entomophatron, begins with "Entomo" and contains the letters "pha." I know linguistic roots enough that I all but pull my friends over and seat them on the fifties style stools. This is something new at the fair, a path I had not known to predict.
Entomophatron
The short haired proprietress is quick to explain that this is all about eating bugs and that this is completely free, as the other woman told us (she has the faintest expectant gleam in her eyes). I do not pretend shock. My friends are sharp cookies, too, and refuse to be flustered.
I anticipated them to be game for this only in the briefest way possible, but they are impressively keen to see this through. The woman behind the counter, in a pink dress with white polka dots -- the uniform of this booth, gender irrespective -- who bears a penetrating gaze, offers them two corn chips, one cricket infused and one normal. She asks if I am playing, but I plead shellfish allergies, though I will admit to disappointment that I can't participate, only serving as observer and cheerleader.
Their preference is for the cricket chip over the normal one, though it is unclear which was which in the eating. Trina, our guide, moves onto offering them intact, though thoroughly roasted crickets and mealworms, then offers them ants on a log, with actual ants of course. Kristina resists, though because she hates the taste of celery (a sentiment I echo). The former ants' formic acid gives them a flavor like lemon pepper.
The goal of this booth is not to hawk people cricket crisps -- there is nothing for sale here -- but to serve as both an art and research project. To some end I don't catch, a camera in the corner films us. Trina works doing automation for one of the few cricket farms allowed to produce human-grade protein, though it would be better for everyone if insects could become more a part of the American diet. When she is not making this farm run more smoothly, she dons the pink dress and runs Entomophatron booths.
The building, usually packed with people who want to admire the arts and craft projects, is so quiet at this hour as to be abandoned by anyone not in this glowing island of insectivores. It feels like a time within itself, one nested to the side of the fair's nebulous reality. This is one of my favorite moments in this evening. I burn with fondness for these women.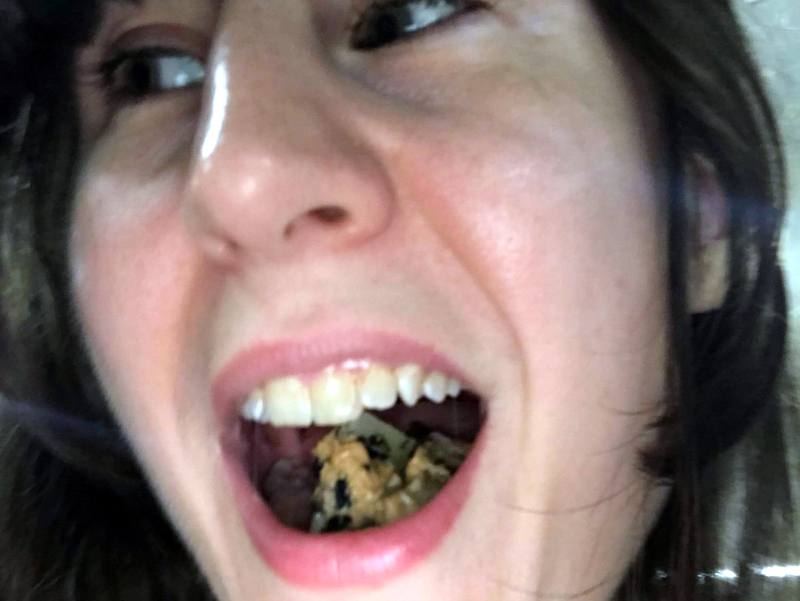 Delicious ants
As a parting gift, Trina tells them to take bags of popcorn dusted with the pulverized bodies of a pestilent worm to the agave cactus, which they tell me has given the popcorn a spiciness I envy.
When it comes time to exhaust our ride tickets, Amber and Veronica suggest one of those rides that drops one from height. I say I will stay behind and hold their bags, but they goad me going on because I would be a coward for denying it and it will not make me vomit. I am game for the ribbing, and don't mind controlled falling. It just is a waste of a ticket, since I am likely to get little from it. Spiciness is my benevolent masochism, but carnival rides that churn one's guts are Amber's. However, the point of tonight is not the ride, it is to dare a new (old) experience with my wife and a friend.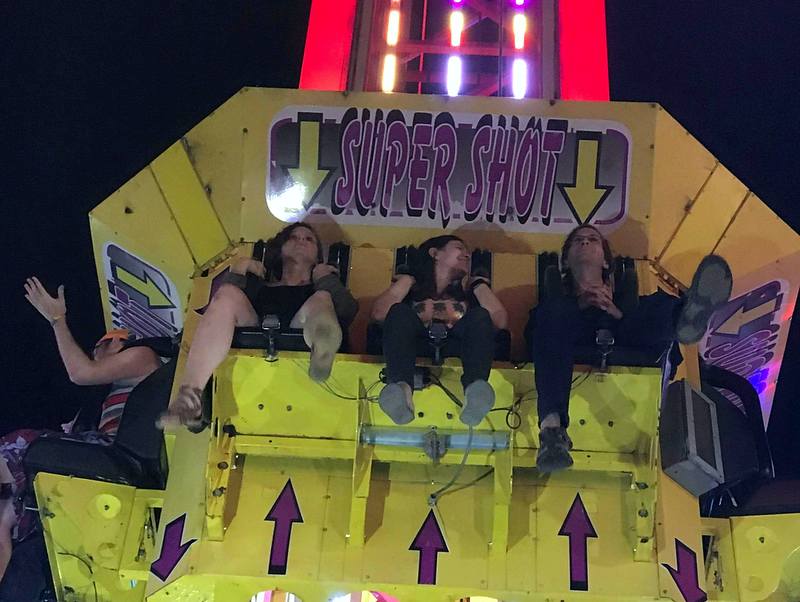 Delicious ants
Kristina stays earthbound, looking petrified on our behalf.
As we have done in years prior, we drag Kristina onto the Ferris wheel, which terrifies her despite being one of the more benign adult rides available. Kristina and Amber rip stiff pages from a catalog of prefab homes on can buy at the fair, sailing airplanes from the apex. Amber's goes lawn dart sharp into the ground by a trailer.
The day is another gem on my chain of warm memories. I have been having a notable yet inexplicable number of good days recently, all of which were facilitated by the company of other people. My soul has figured something out of which I am barely conscious but am trying to follow under pain of erosion. I have had days here, ten at least, and they did not feel the same. I cannot explain this jubilance and I, having a presently low grade mentally illness, wonder if there might be some pathology to it. Why am I suddenly so happy? Why am I so fed by the company of people? Should I merely accept it without analyzing it to death?
It seems improbable.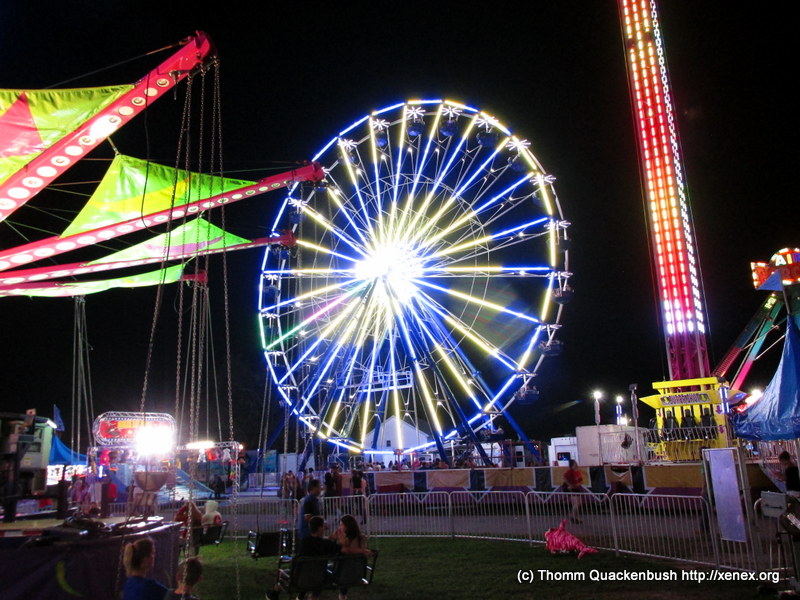 At night